Politics
Joe Kennedy says he cut ties with his college fraternity over its 'racist record'
"Perhaps we have stayed silent for too long."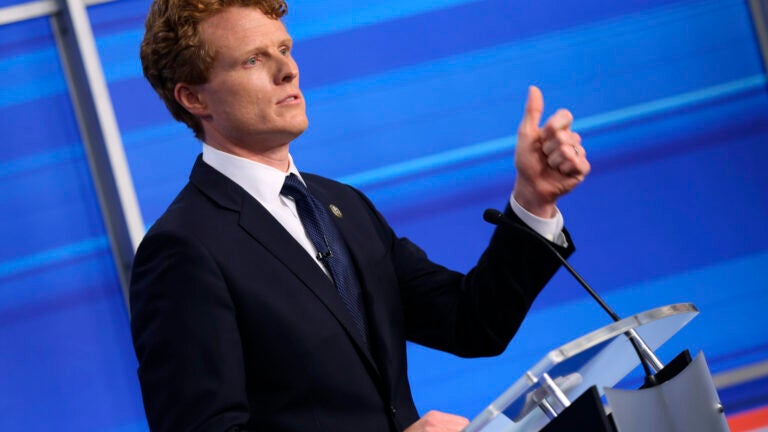 Rep. Joe Kennedy III says he disaffiliated last year from his college fraternity, Kappa Alpha, over the national organization's "racist record" dating back to the Civil War.
And the Massachusetts congressman says it was a "mistake" not to do so sooner.
"This moment that we're in forces a number of things to be clarifying," Kennedy said during a live-streamed conversation with five fellow former Stanford University Kappa Alpha members, including his former roommate and retired NBA player Jason Collins.
The group said they made the decision to separate from Kappa Alpha after the news last summer, following a photo circulated of three of the fraternity's members at the University of Mississippi posing with guns in front of a bullet-riddled memorial to Emmett Till, the Black 14-year-old who was infamously lynched in 1955. Kennedy called the behavior "disgusting and despicable."
However, Kappa Alpha's association with racism goes back more than 150 years; the Virginia-based fraternity has referred to Confederate commander Robert E. Lee as its "spiritual founder" and continues to revere the secessionist slave-holding states' top military leader. With more than 130 chapters, Kappa Alpha has continued to face criticism in recent decades for racist behavior by its members.
Last August, Kennedy and eight other Stanford members wrote a letter to Kappa Alpha's executive director demanding "an immediate, formal severance" from the organization and to be removed from any rosters or alumni lists.
"During our time at Stanford, our chapter was non-affiliated with your organization in every practical sense, but still: Our house bore the KA letters above the entryway we walked through every day," the letter said. "Though we treasure our college memories, in hindsight it is clear that even this level of affiliation was a mistake, and perhaps we have stayed silent for too long."
The letter, which was provided by Kennedy's Senate campaign, went on to "condemn the actions of the individual members, from Mississippi to New Orleans who have acted hatefully."
"We stand in solidarity with people across the country working to root out the continuing scourge of racism on American soil," it said. "Further, we hold your organization accountable for giving its members both encouragement and protection by promoting racist ideas, rituals, and history."
Kennedy, who is campaigning to unseat Sen. Ed Markey, was a Kappa Alpha member at Stanford from 1999 to 2003 and had not previously spoken about the decision to formally cut ties with the group. But in the midst of the racial justice movement in the wake of the killing of George Floyd by police in Minneapolis, he said Thursday that it "was important to talk about this given the discourse that is happening around our country."
During the discussion Thursday night, Kennedy and his former frat brothers said they had no communication with the national Kappa Alpha organization or any of its other college chapters. They said the Stanford chapter was a racially diverse group and described their individual experiences in positive terms; their memberships in the fraternity gave them a convenient housing option and resulted in many long-standing friendships.
However, several members expressed regret for not doing more at the time to learn about the national organization's history and reputation. Kennedy said they "definitely waited too long" to disaffiliate with the group.
"It was sort of a long overdue correction to say, 'Alright, this is not a factor for us, but we cannot be affiliated anymore with these guys,'" Nate Fernhoff, who was the Stanford chapter's former president, said. "We bear that responsibility at the outset for not digging in deeper at the time, I think. But it was really just a non-factor when it came to the practical considerations."
Still, Fernhoff said he was "sickened" by the notion that Kappa Alpha could use their names to promote the national fraternity and suggested Stanford should pull the local chapter's charter (the Stanford chapter did temporarily lose its house last year, but for issues unrelated to racism). At the very least, members said Stanford should do more to educate new students about the fraternity's history.
"I didn't do my due diligence and background about knowing about the history of this fraternity," said Collins, who is Black. "I just assumed that if it's on Stanford University, that it's OK."
Kennedy agreed that it was "on us to hold ourselves accountable." Especially as a white person, he said it was important to reflect on how past actions contributed to structures that "solidify white privilege and supremacy and the way these institutions continue to segregate and dominate society."