Politics
Ayanna Pressley calls for a quarter-trillion dollars to support transit agencies — and subsidize fares — in the wake of the pandemic
"Our investments continue to fall short of sustaining the growing needs that our public transit systems will face throughout this unprecedented crisis."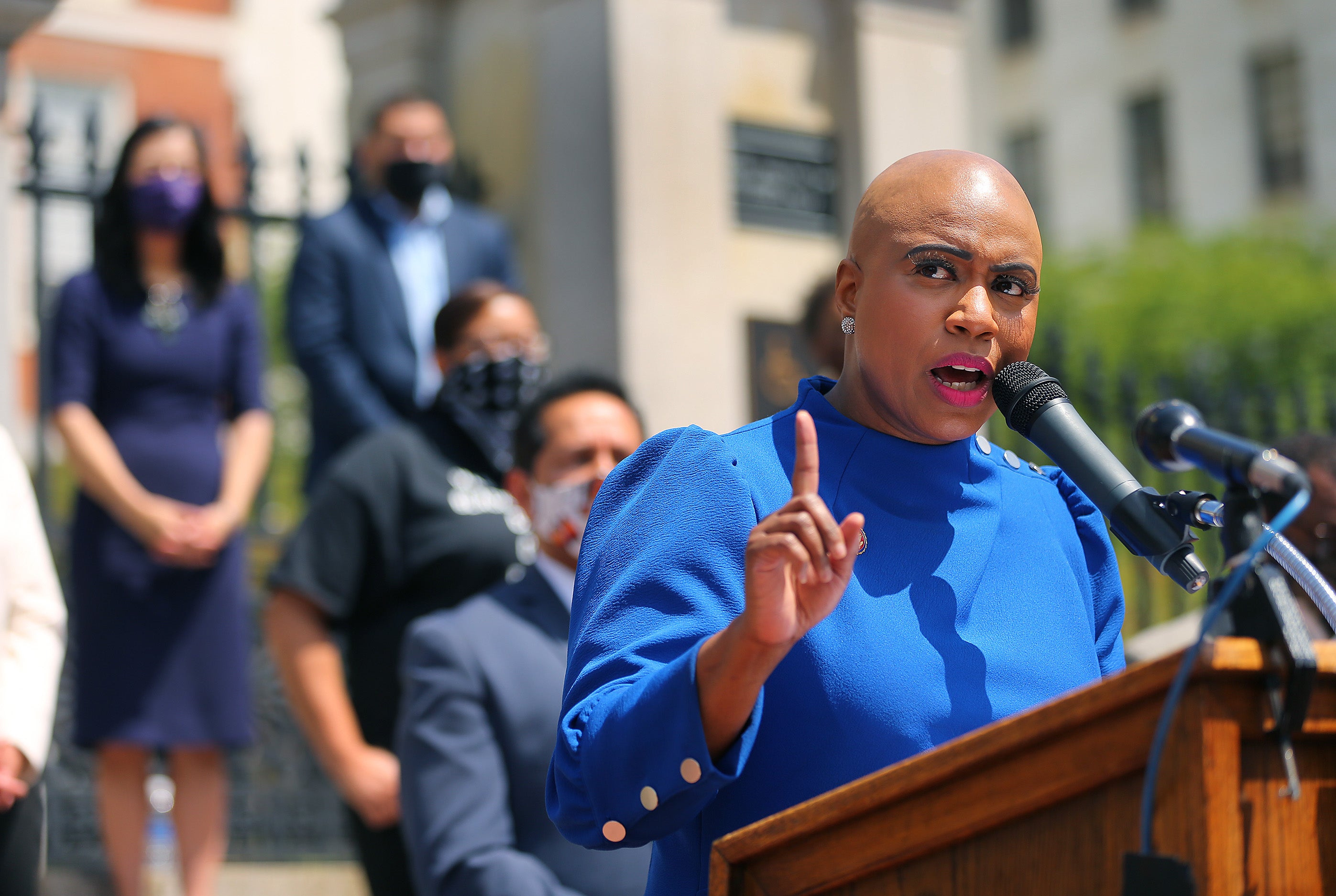 Congress has allotted $25 billion to support public transportation systems battered by the COVID-19 pandemic. And House Democrats have proposed an additional $15 billion in relief funds.
According to Rep. Ayanna Pressley, they need much more.
"Our investments continue to fall short of sustaining the growing needs that our public transit systems will face throughout this unprecedented crisis," the Massachusetts congresswoman wrote in a letter this week to Democratic leaders in the House.
Pressley penned the letter, which was signed by two dozen other Democrats, with her two fellow Future of Transportation Caucus co-founders, Illinois Rep. Jesús "Chuy" García and California Rep. Mark Takano.
They called on House Speaker Nancy Pelosi and Rep. Pete DeFazio, the chairman of the House Committee on Transportation and Infrastructure, to invest a total of $250 billion in emergency funds over the next five years so that public transit agencies can increase available subway and bus service to avoid overcrowding as states reopen, even as the contagious virus continues to spread.
The funding would allow agencies, like the MBTA, to purchase more vehicles and hire more employees, as well as increase their supply of protective gear and sanitizing equipment.
While the procurement of new subways cars and other vehicles often takes years, a senior Pressley aide told Boston.com that it remains unclear when a COVID-19 vaccine will be developed — and even less clear when one will be widely available, especially for marginalized residents who rely on the MBTA.
The letter sent by Pressley, Garcia, and Takano also emphasized the role of public transit in the country's "long-term economic recovery efforts." Still, agencies need money as soon as possible to buy supplies and plan those long-term investments, according to the aide.
The three Democrats — who represent the Boston, Chicago, and Los Angeles areas, respectively — also called for federal fare subsidies, noting that some agencies dropped fare enforcement altogether at the outset of the coronavirus outbreak as a safety measure  (though many have begun to resume collection measures). The move to suspend fares also helped support essential workers who continued to rely on public transit, but exacerbated the financial crisis many agencies are facing after ridership virtually evaporated and is not expected to fully rebound for years.
Pressley, Garcia, and Takano said that federal subsidies for transit agencies to continue waiving fare collection would reduce "the financial burden for riders and essential workers who rely on public transit to commute to work," as well as other vulnerable populations who need to use the system to access medical needs or the grocery store.
"Federally subsidized fares would allow agencies to continue supporting riders during these difficult financial times while still covering critical personnel and operating expenses, implement health and safety measures to mitigate the spread and prevent a second wave as states reopen," the lawmakers' letter to Pelosi and DeFazio said.
The letter comes as transit agencies across the country brace for a financial reckoning. Despite the substantial emergency relief allocated through the CARES Act, the many ways that states fund transit — fares, parking fees, local taxes — have declined across the board in the wake of the pandemic. At the same time, they face increased costs due to cleaning and the need to run more service relative to demand in order to prevent crowding.
For example, the MBTA received $827 million from the CARES Act, which officials say will at least help close budget shortfalls over the next year or so. But beyond that remains uncertain, amid expectations that the pandemic's revenue impact will be long-lasting. A recent report suggested the MBTA may face an "existential crisis," due to both existing and newly exacerbated financial challenges. The agency's advisory board suggested that officials make plans for furloughs and layoffs.
In a letter to congressional leaders last month, a coalition of 15 public transit agencies across the country called for an additional $32 billion in federal assistance to address the impacts of the coronavirus through 2021. The agencies, which did not include the MBTA, said they serve populations that make up 35 percent of the country's gross domestic product.
"The national economy can't rebound without strong public transportation in the nation's major business districts," the letter said, adding that it "would be a disservice to all Americans not to include a robust program to replace lost revenue for mass transit systems in the next federal relief package. Our survival is a matter of national interest."