Politics
Massachusetts has passed new emergency changes for voting in this year's elections. Here's how they work.
"We don't want a single a person to be disenfranchised due to COVID-19."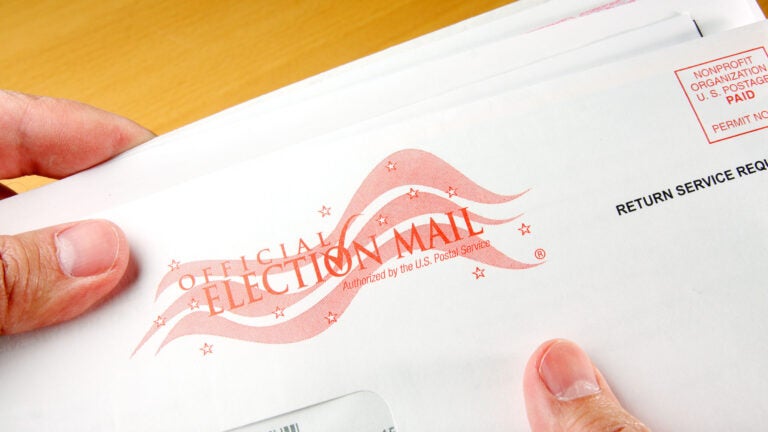 Elections in Massachusetts will be run a little differently this year.
In response to the COVID-19 pandemic, Gov. Charlie Baker signed legislation into law Monday afternoon expanding both early and mail-in voting options for the state's upcoming primary and general elections.
For the first time, Massachusetts will have early voting before its state primary election on Sept. 1, along with four additional days of early voting ahead of the general election. For both elections, all registered voters will have the option to mail in their ballot — with no excuse needed.
"We don't want a single a person to be disenfranchised due to COVID-19," Sen. Barry Feingold, a co-chair of the Joint Committee on Election Laws, said during a conference call Tuesday.
While the major changes only apply to this year, the law's authors view it as a potential experiment for future reforms.
Here's how it will work:
Where do I start?
First, it's worth noting what doesn't change. Massachusetts does not have same-day voter registration, so you need to be registered beforehand.
The deadline has however been shortened from 20 days ahead of each election to 10 days beforehand. That means Aug. 22 for the state's primary and Oct. 24 for the general election.
You can check if you're already registered to vote on the secretary of state's website. If not, you can register online, by mail, or in person at any city or town hall.
Can I still vote in person?
Yes. And due to the new law, voters have more days to visit the polling place.
The new law requires cities and towns to hold seven days of early voting for the Sept. 1 primary election, running Saturday, Aug. 22, to Friday, Aug. 28.
Ahead of the Nov. 3 general election, the law expands the state' 10-day early voting period to 14 days, from Saturday, Oct. 17 to Friday, Oct. 30. And whereas cities and towns previously had the option to hold early voting on the weekend, they are now required to make it available on the two Saturdays and Sundays during this year's two-week period.
But will it be safe?
The idea behind adding more early voting days is to spread out the number of people who will still cast their ballot in person, which has historically been the vast majority of voters.
Secretary of State Bill Galvin's office has already purchased protective equipment to be distributed to cities and towns, and the law requires the state to issue further guidance around social distancing, cleaning, and other safeguards. Rep. John Lawn, the House chair of the Joint Committee on Elections, said those regulations will include rules around protective equipment for poll workers, hand sanitization, and even the use of ballot-marking pens.
The law also makes it easier for local officials to change or consolidate polling places if they determine "public convenience or public health would be better served." But they must continue to have at least one precinct per city precinct or town.
Any such changes have to be made by public vote at least 20 days before the election. Officials are also required to assess whether any polling place changes have a disparate negative impact on any group on the basis of race, income, age, or disability.
"Ultimately, it is up to the cities and towns to designate their polling places, but they will need to ensure that they can comply with social distancing, so we will be monitoring any consolidation of polling places to make sure that is possible," Debra O'Malley, a spokeswoman for Galvin, told Boston.com.
The law also gives local officials more flexibility to hire replacement poll workers, given the concerns about shortages due to COVID-19.
"If clerks find that they do not have enough poll workers, they can now hire workers regardless of residency, party affiliation, and voter status," O'Malley said.
Galvin's office is letting cities and town prominently advertise poll worker openings on their website.
Who can vote by mail?
All eligible voters.
The new law requires Galvin to mail vote-by-mail ballot applications to virtually all voters by Wednesday, July 15 (according to the language of the law, every person who was registered to vote by July 1 will be mailed an application, unless they already requested an absentee ballot). 
Galvin did tell reporters Tuesday that the Legislature still needs to appropriate funding for postage before his office can send out the applications, according to the State House News Service. Legislators said Tuesday that they expect to pass a budget soon, but added that Galvin should have enough funds from the CARES Act and other federal sources.
"We're not talking a huge amount of money to do this," Feingold said.
Galvin's office is required to send a second round of applications for the general election by Sept. 14 to all registered voters who haven't already requested a mail-in ballot.
You can also print the online application or even simply write a letter to your local election office, including your name, address, and where to mail your ballot (election offices include city or town clerks, as well as local election commissions). Galvin's office is also required to implement an online portal for people to request a vote-by-mail ballot.
The application allows you to request a vote-by-mail ballot for the primary, general election, or both. For the primary, you also have to select which party's primary ballot you want.
Galvin's office does however note that if you're registered in a specific political party, you can't request a vote-by-mail ballot for another party's primary (you can check or change your political affiliation online).
"If you are a Republican, for instance, and you send in a request for a Democratic ballot, your local election office will not reject your application, but they [will] send you a Republican ballot," says the state's website.
Independent voters can choose any party's primary ballot.
How does it work from there?
Galvin's office encourages people to send back their vote-by-mail ballot applications, which are pre-addressed to your local election office, as soon as possible. 
"Remember that it can take up to a week for the mail to be delivered in one direction, so it's best to try to apply at least 2-3 weeks before the election," says their website.
At the very latest, your local election office must receive the application four business days before the election.
Galvin's office says that applications can also be faxed or emailed to local election officials. However, typed signatures won't be accepted. So if you're emailing your application, Galvin's office suggests hand-signing a printed application and then emailing a photo of it to your election office or signing the online document using your finger, mouse, or stylus.
Then what?
After your application has been received, you can track when your ballot is mailed on Galvin's website. Unless you have a physical disability or inability reading your ballot, you aren't allowed to let someone else fill it out for you. You also have to sign an affidavit that comes with the ballot affirming its authenticity.
"There is a warning on the application that illegal voting is punishable both by state and federal law," Galvin said Tuesday. "And I assure you if we have any indication of fraud, we'll be up there prosecuting people right away."
How do I return my ballot?
After filling out your ballot, you can mail it back to your local election office in a pre-addressed, pre-stamped envelope that comes with the ballot. However, you can also drop it off in person at your local election office or in special secure drop boxes that cities and towns are required to provide this year.
You can use the same online tracker to confirm that your ballot was accepted and counted.
According to Galvin's office, the most likely reason ballots get rejected is because voters did not sign the required affidavit that comes with it. If that happens, election officials will contact you, and — if there is still time — you can get a new ballot or vote in person.
What's the deadline for returning my ballot?
For the primary, all ballots need to be received by local election offices by 8 p.m. on Sept. 1 — regardless of whether they were mailed in or hand-delivered. In other words, it's not good enough for it to be postmarked by Sept. 1; the ballot needs to be received that day. Galvin's office suggests hand-delivering your ballot if you're unsure whether it will make it in the mail in time.
For the general election, it depends. Ballots that are mailed back need to be postmarked by Nov. 3 and have to reach your election office by Nov. 6 (ballots mailed by citizens outside the country must arrive by Nov. 13, but still be postmarked by Election Day).
But if you hand deliver your general election ballot, they need be returned by 8 p.m. on Nov. 3.
What if I plan to vote in person but get sick ahead of the election?
Given the risks of transmitting COVID-19, the state also provides an emergency exemption for people who are admitted to a health care facility or instructed to self-quarantine within seven days of an election. While you still need to fill out your own ballot, you can designate someone else to pick up, deliver, and return an emergency absentee ballot to your local officials.
What if I simply change my mind and decide I actually want to vote in person?
If you've already mailed back your ballot and it was accepted by the election office, it's too late.
However, if you didn't mail back your ballot or it hasn't been received yet, you should be able to vote in person.