Politics
What will Trump's rally in New Hampshire be like? It's anyone's guess.
The president's campaign is treating the Saturday evening rally as a potential prototype for future events.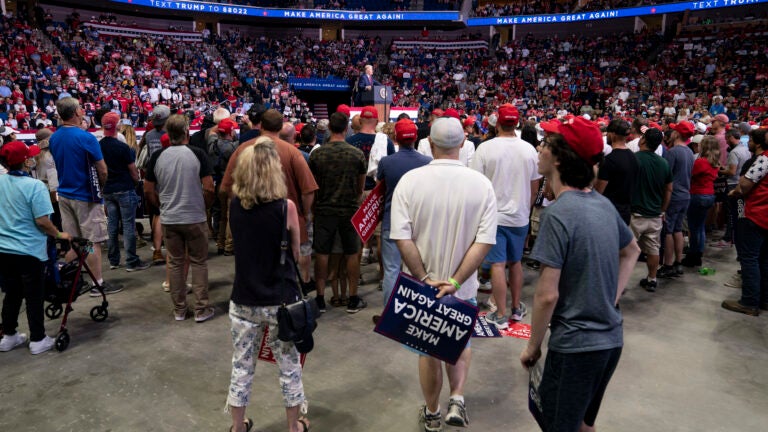 Three days before President Donald Trump's latest rally, in a state that Hillary Clinton narrowly won in 2016, the only thing that seems clear is that the president's team has no idea what to expect.
Trump's campaign is planning an event at an airport hangar in Portsmouth, New Hampshire. But the state's governor, Chris Sununu, a Republican, has said he will not be attending. It isn't clear how many other Republican elected officials will come. The number of attendees could be low, or it could be expansive. There could be lots of people drifting in from Vermont, Maine and Massachusetts.
Campaign officials believe they will be able to prevent the kind of ticket prank that helped turn Trump's rally last month in Tulsa, Oklahoma, into a far smaller event than expected — but they still cannot say for sure. And most significantly, there is the looming threat of the coronavirus spreading in a crowd where attendees will be in relatively close quarters, despite being mostly outdoors.
"It's not what we need right now in terms of COVID," said Tom Rath, a well-known Republican and former New Hampshire attorney general. "We have been very, very fortunate — our number of deaths are quite small."
Sununu, in particular, is threading a needle in a year when he is up for reelection in a swing state, and has gotten praise for how he has handled the coronavirus crisis, Rath said.
In an interview with CNN on Tuesday night, Sununu said he might have a chance to see Trump during his swing through the state, but it would not be at the rally Saturday.
"I'm not going to put myself in the middle of a crowd of thousands of people, if that's your question specifically," Sununu said.
The Trump campaign is attempting a reboot of the reboot that fizzled out just a few weeks ago — the June 20 rally in Tulsa that the president and his team bragged had spurred nearly 1 million ticket requests. In the end, it drew only about 6,200 people to the 19,000-seat arena.
Since then, campaign officials and the White House have discussed ways to allow Trump to hit the stump the way he wants to — at big rallies — without endangering people. On Wednesday, a leading health official in Tulsa said that Trump's rally probably contributed to a drastic increase in coronavirus cases there.
Also on Wednesday, Max Miller, the head of the advance team at the White House, was announced as the deputy campaign manager for presidential operations. Trump asked Miller to assume the role after Brad Parscale, the campaign manager, suggested that Trump choose a person with whom he has a personal relationship to help oversee the rallies.
For now, the campaign is treating the Saturday evening rally as a potential prototype for future events. Some requests from the president have not yet come to pass, according to a person familiar with the planning, such as his interest in adorning his rally with statues of founding fathers. Preserving statues of historical figures, including from the Confederacy, has become a cause for the president in recent weeks.
And Trump campaign officials dismissed the impact of the teenage TikTok users who claimed responsibility for sabotaging the president's rally in Tulsa last month. Those ticket requests were counted when Parscale hyped the rally online, officials said. But they weeded out those requests and still thought that they could fill an arena as well as a space reserved for an overflow crowd with the president's supporters in a red state that he won by more than 36 points four years ago.
Still, contact information from ticket registration for the New Hampshire rally was being cross-referenced with data in previous lists of supporters, in an effort to better protect themselves from online tricksters.
The more visible problem with the Tulsa event, officials conceded, was that they grossly underestimated how frightened their own supporters would be to attend an indoor rally at all. It was not clear whether they would face the same problem for the event at an airfield in New Hampshire.
The campaign this time selected a mostly outdoor venue, and has been "strongly" encouraging attendees to wear face masks, all in the hopes of easing health concerns as officials try to stage large social gatherings amid the coronavirus pandemic. But officials say they are aware that they cannot force people out of their homes and into the venue — and there was a chance that the rally crowd would be thinner than expected, again.
Parscale, chastened by last month's experience, was not hyping any crowd numbers ahead of the weekend rally.
The difficulty in giving Trump the kind of adoring rallies that he seeks has been growing more and more apparent to White House officials and campaign advisers. The campaign last month canceled a planned rally in Mobile, Alabama, where the president was expected to campaign for Tommy Tuberville in his Senate runoff Tuesday against Jeff Sessions.
In the past, when Trump has held rallies in Mobile, he has had to move his event to the Ladd-Peebles Stadium, which seats 43,000 people, because of high demand. But officials say the days of filling stadiums with that kind of capacity were behind them, for now.
Tulsa was not the first time the Trump campaign had been flooded with bogus ticket sign-ups online. Officials say they comb through all of the sign-ups and look to see whether the person requesting a ticket is a registered Republican, or has any history of voting for a Republican candidate at all. If they don't, those requests are often discarded.
"Registering for a rally means you've RSVP'd with a cellphone number and we constantly weed out bogus numbers," Tim Murtaugh, a campaign spokesman, said in a statement. "These phony ticket requests never factor into our thinking. What makes this lame attempt at hacking our events even more foolish is the fact that every rally is general admission — entry is on a first-come-first-served basis and prior registration is not required."