Politics
Joe Kennedy says family trusts have divested from fossil fuel companies
His campaign says the stocks — worth up to $1.75 million — were sold in May.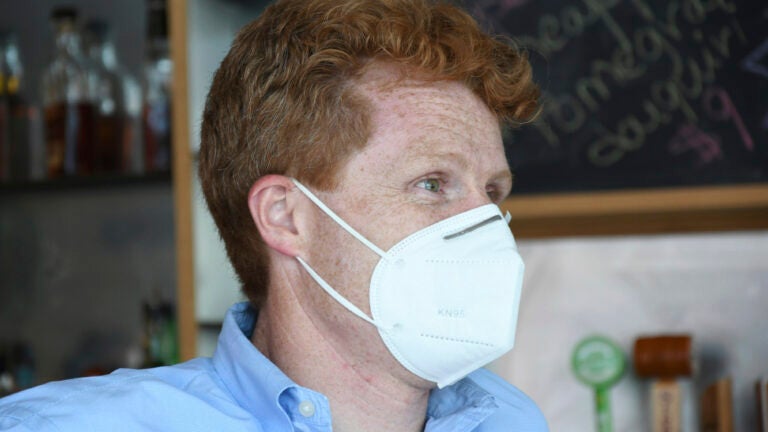 During a Senate primary race forum Wednesday night, Rep. Joe Kennedy III was asked if he would commit to divesting from the fossil fuel industry.
It turns out that he — or, to be more specific, his family — recently did.
Kennedy was a beneficiary of family trusts that contained hundreds of thousands of dollars worth of stocks in fossil fuel companies, including Chevron and ExxonMobil. The investments — first reported by Sludge back in 2018 — had become a point of criticism against Kennedy in his bid to unseat Sen. Ed Markey, the co-author of the Green New Deal, which calls for zeroing out carbon emissions in the United States through the widespread adoption of cleaner energy (Kennedy also supports the ambitious resolution).
However, according to his Senate campaign, the fossil fuel stocks, as well as several pharmaceutical stocks — all held in trusts controlled by Kennedy's mother's family — were sold at the end of the May.
"Congressman Kennedy was formally notified of these divestments last month," Emily Kaufman, the communications director for Kennedy's campaign, told Boston.com. "He has never exercised any control over his family trusts, but fully supports the decision to divest."
Kennedy is not personally invested in the fossil fuel or pharmaceutical industry, according to his campaign; nor did he push for the divestment of the holdings this spring, even if he supported the trustees' decision.
According to his campaign, the assets that were sold include stock in Chevron, ExxonMobil, and NextEra Energy, a Florida-based utilities company. Those holdings were each respectively worth between $100,001 and $250,000, between $500,001 and $1 million, and between $180,004 and $450,000, according to Kennedy's 2019 financial disclosure forms, which were filed on May 14. They also sold between $15,001 and $50,000 of stock in Schlumberger, a multinational oilfield services company.
The trustees also sold between 65,002 and $150,000 in stocks in Abbott Labs, an Illinois-based medical device company; between $300,002 and $600,000 in Johnson & Johnson; and between $50,001 and $100,000 in Walmart.
According to the personal financial disclosure form filed in May, the trusts are largely invested in blue-chip stocks, including well-known companies like Alphabet, Amazon, Coca-Cola, Facebook, McDonald's, Proctor and Gamble, Verizon, and Wells Fargo.
Kennedy also still stands to benefit from $16,002 to $65,000 in Pfizer stock, as well as between $500,001 and $1 million in Merck & Co., another pharmaceutical company.
During a virtual youth forum Wednesday night hosted by Boston Climate Strike and and the gun safety group March for Our Lives, Kennedy was pressed on whether the fossil fuel investments would impact his ability to take on the climate crisis.
While the congressman's Senate campaign against Markey has incited intense backlash from many environmental activists, Kennedy's campaign has tried to highlight his own progressive stances on climate change, including support for net-zero emissions, carbon pricing, and a ban on fracking on public land.
Kennedy said Wednesday night that no one could point to a time that the stocks "ever impacted" his voting record.
"Those assets have been divested months ago," he added.
Later during the forum, Kennedy was asked if he could provide proof that those assets were sold. Kennedy answered "yes." His campaign says the sales will be reflected in next year's financial disclosure report.