Politics
Ed Markey 'ain't no Bernie.' But left-wing groups are rallying behind him all the same.
"He does the dirty, inglorious work of writing the damn bill."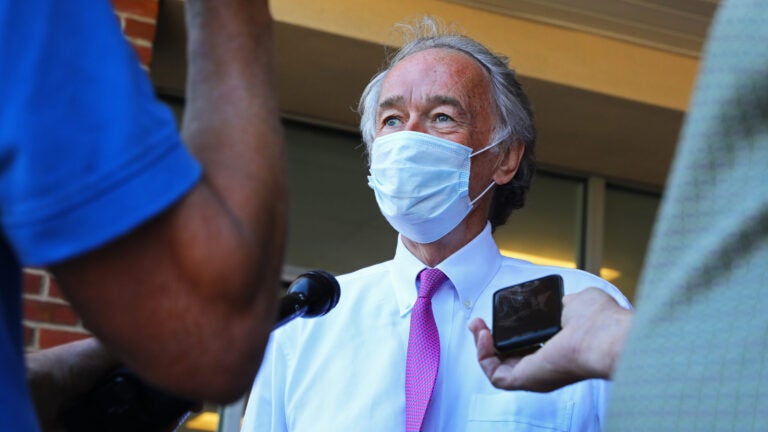 When Sen. Ed Markey first announced his plans to run for re-election in 2020, there was no dank meme stash.
Despite serving in Congress for more than four-and-a-half decades, the Malden Democrat was referred to somewhat derisively as the "other senator" from Massachusetts. Polls showed that roughly a third of Bay State voters didn't even have an opinion of the longtime lawmaker. Speculation ran amok that Markey would face a primary challenger. Far less than being a progressive cult hero, his seat was reportedly considered a target by some on the left.
Then Rep. Joe Kennedy III actually entered the primary race. And with less than 40 days until the Sept. 1 primary, a lot has changed.
Animated by the challenge by the scion of the Kennedy political dynasty, Markey has seen left-wing activists and groups across the country coalesce behind his re-election campaign in a manner reminiscent of the 2020 presidential campaign of Sen. Bernie Sanders — even as the Massachusetts congressman and his supporters try to draw attention to some less-than-progressive aspects of the 74-year-old senator's record.
"Progressive leaders fought for the desegregation of Boston schools. Progressive leaders opposed the Iraq War. Progressive leaders stood together to try and reduce the mass detention of immigrants before Trump got into office," Kennedy campaign communications director Emily Kaufman told Boston.com in a statement.
"Ed Markey did none of those things," she added. "And yes, we hope voters will take note."
And yet, one by one, progressive activist groups have lined up behind the incumbent senator.
Both the national and Massachusetts chapters of Our Revolution, the spinoff group of Sanders's 2016 campaign, have backed Markey. So have other local and national left-wing advocacy groups, from Progressive Massachusetts and Mass. Peace Action to Daily Kos, Indivisible, and the Progressive Change Campaign Committee.
And following progressive primary victories in other states last month, Markey campaign manager John Walsh says they saw daily donations triple in the final week of June.
"What's moving our politics is arriving for Ed Markey," he said in an interview.
In what appears to be shaping up to be a close race, public polling in the high-profile Senate primary race has also shown Markey leading in support from self-described liberals. While Kennedy has his own progressive supporters, Markey received early endorsements from some of the Democratic base's icons, including New York. Rep Alexandria Ocasio-Cortez and Sen. Elizabeth Warren.
Sanders has not endorsed in the race. And according to a source close to the Kennedy campaign, their internal polling has actually found the 39-year-old congressman with a significant lead among the predominantly working class supporters of the Vermont senator's 2020 presidential campaign.
Still, Sanders's more politically active supporters have made their preference clear.
"Senator Markey has been leading in the Senate on the issues that matter to our members," said Paco Fabian, a national spokesman for Our Revolution; over 90 percent of the group's Massachusetts chapter voted to endorse Markey.
Walsh says the support begins with Markey's co-authorship of the Green New Deal with Ocasio-Cortez, whom Markey often mentions on the (mostly virtual, as it is in the era of COVID-19) campaign trail.
"It would be disingenuous to say she doesn't play a role," Walsh said of Markey's association with the charismatic 30-year-old congresswoman, who like Sanders describes herself as a democratic socialist and has quickly become a national icon on the left since her election in 2018.
And then there's the actual substance of the Green New Deal resolution, which calls for a transformative shift toward clean energy to reduce greenhouse gas emissions. Jonathan Cohn, the issues chair for Progressive Massachusetts, says climate change has become "especially salient" for younger voters and that Markey has been doing "solid work" in the space for years.
"It's much to his credit that he's one of the few people in the Senate who actually understands environmental policy," Cohn said.
The combination of factors has contributed to an ironic coolness about the Bay State septuagenarian, who has gone viral for his throwback Nike Air Revolution sneakers and has garnered remarkably fervent online support from young social media users (the Kennedy campaign even refers to his more vitriolic supporters as "Markey Bros," a reference to the Bernie Bro stereotype that became infamous during Sanders's two presidential runs).
Cohn says Markey — who long wielded corny acronyms as part of his communications strategy — has developed an "older dad joke personality" that has endeared him to the younger generation. And his campaign has played up that perception.
Following the Warren presidential campaign's ad strategy, Walsh says they invested in a seven-person in-house digital production staff, along with 15 volunteer video editors, to engage social media users. And while their Newton studio has gone underutilized due to the COVID-19 pandemic, the group has pumped out viral photos and videos highlighting everything from Markey's hightops to his vintage political ads.
According to Walsh, they generated 10 million social media engagements last weekend through a series of ice cream-related posts.
We had just introduced the Green New Deal and Republicans were saying we wanted to ban cows. So we got ice cream. Happy National Ice Cream Day from me and my friend @AOC. pic.twitter.com/0xdSXsBa7i

— Ed Markey (@EdMarkey) July 19, 2020
"We're in a moment where that authenticity rings true to this generation," Walsh said.
Markey's community of keyboard warriors has quickly become prolific, for better or worse. The community includes a Facebook group, Ed Markey's Dank Meme Stash, modeled after a popular, similarly named group of Sanders fans, where users create and share their own irreverent posts. Ocasio-Cortez herself even lauded Markey's social media "meme team."
According to supporters, even more important is that Markey has encouraged their more serious activism — attending last year's youth-led climate strike in Boston and working with the Sunrise Movement to continue to push the Green New Deal onto the agenda, when many other Democrats have quietly distanced themselves from the proposal.
"He was not someone who merely added his name, but someone who has continued to do organizing outside the building," said Solomon Steen, an Our Revolution Massachusetts member who was involved in the endorsement process.
"When we're talking about policy differences, progressives distinguish between those [who] offer mere paper support and those who help us bring an idea over the finish line, even if it takes years," Steen said.
The youth-led Sunrise Movement has credited Markey for being at the "forefront of environmental advancement," even before the Green New Deal. Before his election to the Senate in 2013, the then-congressman helped write the only piece of climate change legislation to pass the House (though it failed in the Senate) and has a long record of environmental advocacy since joining Congress in 1976.
Supporters also say he has been ahead of the curve on other less-headline-grabbing causes, from net neutrality to reigning in nuclear weapons. And over the course of his career, Markey quietly forged a reputation as a policy workhorse who successfully led efforts to regulate soaring cable television prices and increase fuel efficiency standards for cars. More recently, he even got President Donald Trump to sign laws to crack down on robocalls and fund gun violence research at the federal level for the first time since the 1990s.
Steen says that while progressive activists are used to having elected officials "gaslight us" into thinking "small bore solutions will save the day," Markey has been mostly receptive.
"And then he does the dirty, inglorious work of writing the damn bill and building a coalition to pass it," Steen said.
However, that level of engagement hasn't been universally experienced.
Monica Cannon-Grant, a local activist who supports Kennedy and has organized massive anti-racism protests in Boston, described Markey as "arrogant" and aloof when she approached him with concerns about the violence and inequities faced by local communities of color. Cannon-Grant, who recently blasted Markey for critiquing a rapper's lyrics during a 2007 congressional hearing, echoed the Kennedy campaign's suggestion that the senator's popularity on the left precedes his record in some ways.
"Markey got progressive when he partnered with AOC on the Green New Deal," she said. "Prior to that, he wasn't."
As much as Kennedy has argued that there's more to being a senator from Massachusetts than "the way you vote," his campaign has vented that Markey is getting a pass on some previous positions.
"He ain't no Bernie," Kaufman tweeted earlier this year.
As an Irish-Catholic-raised elected official in the 1970s, Markey held a number of socially conservative views, including opposition to busing to integrate schools, as well as support for the death penalty and a constitutional amendment to ban abortion — all of which he dropped in the 1980s.
According to Kennedy, more problematic is Markey's previous support for the 1994 crime bill that led to increased incarceration rates, as well as votes for the North American Free Trade Agreement and the Iraq War — the latter of which Sanders voted against.
He even ripped the landmark 1996 telecommunications law authored by Markey, which has yielded mixed results — Sanders warned against the bill at the time and said on his 2020 campaign website that it gave companies "free reign to monopolize markets and gouge consumers."
During a debate last month in Springfield, Kennedy argued that those votes have had lasting negative consequences on American lives, which he said Markey had not done enough to reconcile.
"If you cast a big vote and it was a mistake and there were unintended consequences to it, then you address it and you do something about it," said Kennedy, who argues he would be more responsive to voices in the communities of color that disproportionately bear the brunt of policies like the crime bill.
"When there's voices that are being raised like John Lewis on the crime bill, you got to listen to folks that are speaking up and speaking out," he told reporters after the debate.
Markey has admitted the Iraq War vote was a "mistake" that he blames on the "lie" about Iraq having nuclear weapons by President George W. Bush. And he has also said the strict sentencing guidelines in the 1994 crime bill were "totally wrong" and has pledged to "correct that."
Since the NAFTA vote, Markey has also taken a harder line on trade, even breaking with Warren to oppose the updated deal passed earlier this year for not doing enough to address climate change.
Supporters also concede that those past votes were mistakes. However, they say such attacks only stick when they're part of a narrative. Fabian cited Markey's "whole body of work" as more meaningful than his votes from the 1990s.
"His Iraq War vote was bad," Cohn said. "But he's not a hawk in the same way as some of his colleagues are."
Walsh dismissed the questions about the old votes as ones Markey "has [been] asked and answered over and over and over again, and they just aren't working." After the Springfield debate, Markey himself said Kennedy "keeps talking about the past and not the future."
"From my perspective, we just have to talk about the solutions that are needed for today," he said.
On those current progressive litmus tests, Markey and Kennedy are mostly on the same page. They both support the Green New Deal and Medicare-for-All — though Markey's supporters note there's a difference between writing the bill and adding your name. Markey was also an original co-sponsor of Sanders's Medicare-for-All bill in 2017, while Kennedy didn't sign on until 2019 after several concerns had been addressed.
Both candidates have recently moved to support recreational marijuana. Despite his previous apprehension about legalizing the drug (which critics often highlight), Kennedy was first to the position by 10 months; Markey didn't publicly support the policy until a few days after Kennedy entered the race.
And in the wake of the coronavirus pandemic, both have called for more support for those affected by the health and economic impacts, including repeated direct cash payments. The two Democrats are also mostly aligned on police reform to address racial injustices brought back into the spotlight by the killing of George Floyd.
According to the website Progressive Punch, Markey does have a slightly more progressive edge over Kennedy, based on votes dating back to 1993. But both received overall scores in the high 90s out of a maximum of 100.
"Whoever wins this race is going to be a strong champion for the values that matter to us in Massachusetts," said Shannon Liss-Riordan, a local labor lawyer who also launched a primary campaign against Markey this year before dropping out in January.
Then what exactly will be the impact of the outcome on Sept. 1?
Kaufman says that Kennedy has more proactively legislated to address racial inequalities "long before this current moment" across education, health, environmental policy, and the justice system; one of the first bills he passed in the House redirected federal funding to improve STEM opportunities for women and people of color.
Based on her personal experience with the congressman, Cannon-Grant expressed confidence that Kennedy would do more to uplift voices of color as a senator.
"I think Joe has put forth the effort to show up in places that most people haven't," she said.
Markey's supporters are not convinced. And if their candidate loses, they wonder what happens to the movement to address climate change before it's too late. Even if the Green New Deal — which framed racial and economic justice as focuses along with fighting climate change — continues to have advocates in the Senate like Sanders and Warren, the defeat of its co-author could have ripple effects for the movement, according to Cohn.
In addition to losing Markey's expertise, he said a Kennedy win would effectively be disincentive for other Democrats to prioritize climate change
"It sends a really bad message about what it means to be somebody who stakes their ground on environmental policy," Cohn said, noting that there will be a lot of competing priorities — and proverbial fires — to address in 2021 if Democrats retake the White House and Senate.
"This one actually has real fires as well," he said. "It needs to be tackled in a comprehensive way and can't be pushed to the side, as it's been by Democrats quite often."
Get Boston.com's browser alerts:
Enable breaking news notifications straight to your internet browser.