Politics
Ed Markey accuses Joe Kennedy of voting to 'hollow out' Puerto Rico
"It's not a vote that I looked forward to casting."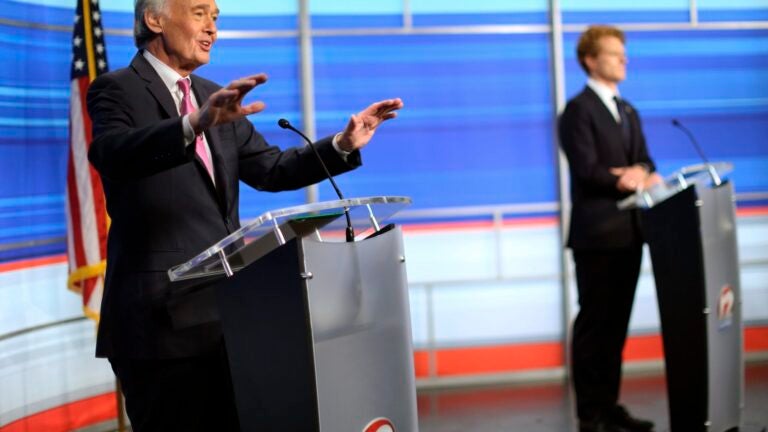 A new front emerged Sunday in the blockbuster Senate primary battle between incumbent Sen. Ed Markey and Rep. Joe Kennedy III:
Puerto Rico.
After several days of criticism from Kennedy and his allies over a 2013 vote for a immigrant detention bed quota, Markey pressed back on his primary challenger for voting for a controversial law known as PROMESA, which was passed in 2016 to oversee Puerto Rico's debt structuring plan and subsequently imposed deep cuts on the U.S. island territory's public services.
"You voted to hollow out Puerto Rico, cut their education, their health care, their housing, and other programs," Markey said. "You took a vote that harmed Puerto Rico in a distinctly serious way."
Markey voted against PROMESA in the Senate, as did Sen. Elizabeth Warren. But in the House of Representatives, nearly the entire Massachusetts delegation, including Kennedy, joined the majority of Democrats to vote for it. (Rep. Stephen Lynch was the only Bay Stater in the House who opposed the bill.)
The 2016 law — passed with broad bipartisan support — created a federally appointed oversight board to address Puerto Rico's unique debt crisis, which had already crippled the island's safety net and infrastructure. However, critics say the locally unpopular board pushed the territory's government to make additional cuts in order to repay Wall Street creditors.
"Congressman Kennedy had a decision to make, and twice he voted for the bond holders to receive their payment and not for the people of Puerto Rico," Markey said during the debate Sunday.
"We have tens of thousands of people here in Massachusetts because of PROMESA and what it has done to Puerto Rico," he later added.
The flashpoint comes amid an ongoing debate about who has been the most progressive and effective between the two lawmakers, both of whom have shifted left in recent years. It also comes as Kennedy has increasingly made the case that he would be more responsive to communities of color.
During the debate, Kennedy conceded that PROMESA had "devastating consequences on Puerto Rico," but said his vote was at the behest of Rep. Nydia Velazquez, a New York Democrat and Puerto Rico native, who "came to me, directly, and said that it was either PROMESA or no help to Puerto Rico at all."
"That was the choice," he said.
🎥: @joekennedy on his involvement with PROMESA & the effects it has had on Puerto Rico #MASenDebate pic.twitter.com/7uxl3QklP6

— NBC10 Boston (@NBC10Boston) July 26, 2020
Specifically referring to the oversight board, Kennedy told reporters after the debate that it "was not a fun vote."
"It's not a vote that I looked forward to casting," he said. "But when you have somebody who is a champion of Puerto Rico, as Nydia is, asking for your help and support, it's hard to also deny the people of Puerto Rico the relief that they need."
Kennedy noted that he has since supported reforms to PROMESA and has been outspoken about getting the island — still recovering from devastating hurricanes in 2017, as well as more recent earthquakes — more federal relief. In a letter to President Donald Trump this past winter, the Newton Democrat said PROMESA should be changed to give the Puerto Rican government authority to make day-to-day decisions — "rather than an unelected, unaccountable financial board" — and "preference" for protecting pensions and social services from cuts.
In hindsight, Kennedy told reporters that it would have been "certainly more politically convenient to vote no" on PROMESA.
"It's also hard if the champion of Puerto Rico comes up and asks for assistance for the people of Puerto Rico," he said.
But at the time, Markey predicted that PROMESA "would do more harm to Puerto Rico than good" and voted against the bill after meeting with a variety of stakeholders, elected leaders, advocates, and constituents.
"The people of Puerto Rico deserve more than this legislation that largely usurps their role in shaping the framework of their own financial recovery," he said in a statement at the time. "This bill imposes on Puerto Rico a fiscal control board without adequate Puerto Rican representation, could subject young workers to a sub-minimum wage while excluding others from overtime pay, and jeopardizes public pension systems."
Markey has since signed onto legislation — sponsored by Warren — that would effectively allow Puerto Rico to terminate much of its more than $70 billion public debt.
"Hurricanes Irma and Maria were fiscal breaking points for Puerto Rico, which was already struggling before the devastation," Markey said in a statement last year in support of the bill.
It also happens that Velazquez is the sponsor of the House version of the proposed debt cancellation bill. However, Kennedy is not listed as a cosponsor.
(Update: Kennedy's campaign said Monday afternoon that he had actually already signed on as co-sponsor to the debt cancellation bill, but was not listed as such on Congress's online databases due to a clerical error.)
Asked about the proposal Sunday night, Kennedy told reporters that the legislation is "certainly something I would consider."
"I'm very happy to take a look at it," he said. "And again, I value Nydia's guidance here quite a bit."
Massachusetts has one of the largest Puerto Rican populations in the country, with more than 300,000 residents from the island as of 2016. And in the wake of Hurricanes Irma and Maria, more than 10,000 additional Puerto Ricans have moved to the Bay State, according to the Census Bureau.
Kennedy, who said he also supports more equitable changes to how Puerto Rico is treated by the federal tax code and Medicaid, added the subject speaks to the fact the 3 million-person island has, as a territory, "been treated structurally differently than, obviously, other U.S. states."
"Puerto Rico has been treated like a colony by the United States government for an awfully long time," Kennedy said.
Both he and Markey say they support the island's right to self-determination and vote to become a state — or even for independence. A non-binding referendum on statehood is planned for November; any such move would require congressional approval.