Politics
The race to replace Joe Kennedy in Congress is getting personal
And one candidate is taking much of the "incoming heat."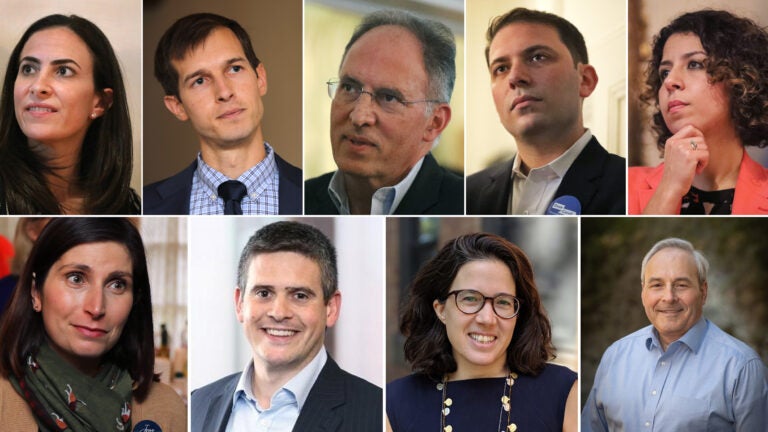 In a race between nine progressive Democrats from Boston's affluent suburbs, standing out can be difficult.
But during a debate Sunday evening in the Democratic primary race to succeed Rep. Joe Kennedy III in Congress, one candidate did receive a remarkable amount of attention — at least from his opponents.
Jake Auchincloss, a Newton city councilor and a former Marine, was repeatedly the subject of both veiled and direct criticism from his peers during the virtually held debate — most notably toward the end of the event, when fellow 4th District candidate Ihssane Leckey suggested he should drop out after violating a pledge against taking campaign contributions from the fossil fuel industry (which every candidate in the race had signed).
Auchincloss, who received a maximum $2,800 donation from the president of a regional gas station chain, said the pledge "entirely lost credibility," pointing out that Leckey has loaned her campaign $800,000, which he said was "largely derived" from Boston Energy Trading and Marketing, where her husband works.
"Just stop lying, Jake!" Leckey interjected. "Stop lying. It's not healthy for our community to run a negative campaign."
The democratic socialist and former Wall Street regulator from Brookline said her campaign hasn't accept "a dime of dark money," as opposed to Auchincloss, who she additionally accused of "pouring" pharmaceutical money into the race.
"I'm sorry, Jake, you should drop [out]," Leckey said.
"I'm not going to respond to that kind of vitriol," Auchincloss said in response. "I want to run a positive campaign."
According to OpenSecrets, roughly $115,000 of the $1.4 million raised by Auchincloss's campaign has come from the health care industry.
His parents — both of whom are prominent figures in the medical community — also recently donated tens of thousands of dollars to a newly formed super PAC. Auchincloss's stepfather, who also donated to the super PAC, told The Boston Globe last week that it "wouldn't be surprising" if the group spent its money to help Auchincloss.
During the debate, Auchincloss went on to to say his record as a city councilor shows there's "no stronger advocate in this race for environment issues," and he has made sustainable transportation one of his core focuses.
Though unlike Leckey and several other candidates in the race, he declined to express support for a single-payer Medicare-for-All health care system, which has become a litmus test on the left in recent years. Instead, Auchincloss said he would prioritize strengthening the Affordable Care Act, which he said hasn't achieved its "full potential" due to Republican efforts to undermine the law.
Jesse Mermell, a former Brookline Select Board member who has been endorsed by Rep. Ayanna Pressley, also criticized — without specifically mentioning any candidate — both self-funding and fossil fuel industry donations occurring in the race.
But beyond campaign financing, Auchincloss's relative moderation was often a point of attack during the debate. A one-time Republican who worked for Gov. Charlie Baker's campaign in 2014, he was often criticized by Dave Cavell, a former speechwriter in President Barack Obama's administration, for his past actions as a city councilor, including a recent vote against cutting the Newton Police Department's budget. Becky Grossman, a fellow 4th District candidate and Newton city councilor, also voted against the cut.
"If we can't vote to defund the police by 1 percent, how are we going to lead on this issue in Congress?" Cavell asked. "Black lives matter, so let's act like it."
Cavell, who most recently worked as a lawyer in Attorney General Maura Healey's office, also took issue with Auchincloss for urging Newton school officials in 2016 to not punish students who flew a Confederate flag outside Newton North High School. At the time, Auchincloss said officials were right to denounce the act but cited legal concerns about free speech and drew a comparison between the Confederate flag and a Black Lives Matter banner or LGBT flag.
"This isn't about free speech, right?" Cavell said. "I was an assistant attorney general; I get that. One is a symbol of hate. The others are symbols of hope. There's no comparison."
Auchincloss has since apologized for the comparison, telling Politico last month that his privilege as a white male "allowed me to see this as a free speech issue." During the debate Sunday, he reiterated that "the Confederate flag has no place near our school or near our children." However, Cavell continued to rip Auchincloss for comparing the symbol of slavery to Black Lives Matter and LGBT flags.
"Dave's a very good speechwriter," Auchincloss shot back. "He's always been very good at one-liners. He's never had to be a policymaker. And when you have to be a policymaker, it means trying to tackle gray areas and areas of complexity. There is no question the Confederate flag is a symbol of hate and bigotry. I tried to keep the city on the right side of the First Amendment … when you're actually in the trenches making policy, you sometimes put your neck out there, you don't always get it right, you learn from it, and you move on."
During closing statements, Auchincloss acknowledged the biggest elephant in the Zoom room.
"Viewers probably will have noticed that I've taken some incoming heat this evening," he said. "Good thing I've got training in the military and in politics to be tough-skinned."
Auchincloss — who has raised the second most in the race behind City Year co-founder Alan Khazei — posited that the reason he was taking heat was because he is "setting the pace" in the primary race in the wake of Kennedy's decision to run for Senate.
However, Cavell's campaign said the reason for their candidate's repeated criticism of Auchincloss was more ideological than political. During the debate, the Brookline resident mentioned early and often his support for progressive agenda items like Medicare-for-All. Mermell and Natalie Linos, a Harvard epidemiologist, also said they supported Medicare-for-All.
"There are important differences in this race," Cavell campaign manager Sarah Thomas told Boston.com in a statement.
"As Dave noted, there's one candidate who has taken money from fossil fuel executives, and one candidate who has sued fossil fuel corporations," Thomas continued. "There's one candidate who compared the Confederate flag to the Black Lives Matter flag to the LGBTQ flags, and one candidate who has sued the Trump administration 50 times and fought for civil rights here in Massachusetts. This is a historic seat and a historic election cycle that require a bold, experienced, progressive leader."
Get Boston.com's browser alerts:
Enable breaking news notifications straight to your internet browser.