Politics
This year's Massachusetts state primary falls on a holiday: Allston Christmas. Here's what that means for voters.
Voting this year will not be "significantly different" for renters who plan to move on the Sept. 1 primary date. In fact, they arguably have more alternatives than ever. But there are some unique intricacies due to COVID-19 voting reforms.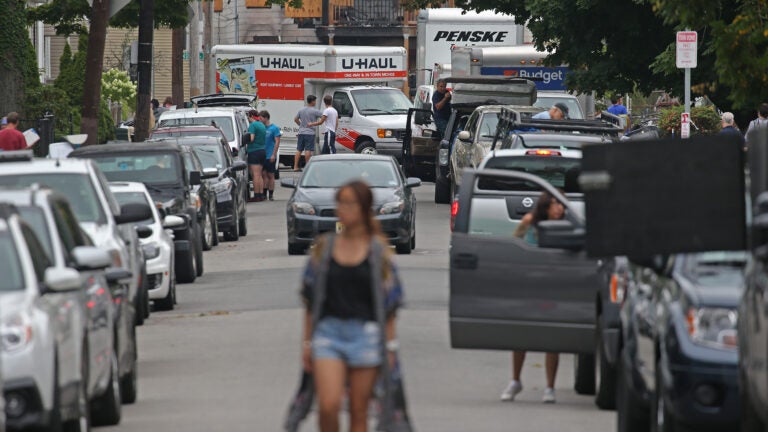 Massachusetts has long held its state primary in September. But this year's election date is particularly novel.
For the first time in recent memory, the primary will be held on Sept. 1. And as much as advocates have long sought to make the Election Day a national holiday, that means the Bay State's primary will instead coincide this year with a colloquial holiday of sorts: Allston Christmas, the traditional move-in day for tens of thousands of renters in the Boston area and beyond.
Officials have estimated in the past that roughly two-thirds of the leases in Boston turn over when the clock strikes midnight on the last day of August. Moving permits around Sept. 1 also traditionally spike, as hundreds of box trucks take to the streets of Boston, Cambridge, and Somerville.
As if the COVID-19 pandemic hadn't complicated things enough.
The good news — particularly for voters with a grueling day of moving planned for that Tuesday — is that, in the wake of the pandemic, Massachusetts also added a full week of early voting for the state primary this year and expanded the availability of vote-by-mail ballots.
Unlike many other states, Massachusetts continues to hold its state primary in September, which perennially creates scheduling challenges around Labor Day, several Jewish holidays, and a federal law requiring ballots to be ready for military and overseas voters 45 days before the November election.
This year, the choice came down to between Sept. 1 and Sept. 8, according to Deb O'Malley, a spokeswoman for Secretary of State Bill Galvin. O'Malley noted that holding a primary on Sept. 8, the day after Labor Day, "comes with its own issues," including potential overtime costs for cities and towns.
"Ultimately, the Legislature opted for the 1st with the knowledge that absentee voting would be available for anyone moving that day and early voting may be added later, which it recently was," she said told Boston.com.
O'Malley said she believes this year will the first time Massachusetts has a Sept. 1 primary, though she couldn't say definitively.
The date gives salience to a number of other questions that local residents who plan to move within Massachusetts — and also vote in the state's high-profile contested primaries this year — may have.
What address should I use to register to vote? What polling place should I use? And where should I have my mail-in-ballot sent?
"The way voters who move on or around September 1st will vote is not significantly different this year."
The questions aren't entirely new.
Due to the state's election rules, Bay Staters have traditionally been required to register to vote 20 days before election day.
"The voter registration deadline for the state primary has always been in August, so the way voters who move on or around September 1st will vote is not significantly different this year," O'Malley said.
In response to the coronavirus, lawmakers shortened the requirement to 10 days — meaning the registration deadline is Aug. 22 — but the advice is the same: Use your current address.
That means that, even if you plan to move on or before Sept. 1, use the address where live on the day you register.
And while Galvin's office does allow registered voters to update their address online, state law says voters can use an old address to vote if they moved to a new city or town within Massachusetts within six months of an election (according to O'Malley, voters who moved within the same municipality where they are registered may vote from an old address indefinitely).
"They may travel back to the polling place where they are registered to vote," O'Malley said. "After September 1st, they can update their address for November."
O'Malley noted that those with plans to move on Sept. 1 can also use their current address and polling place to cast a primary ballot during the new week of early voting, from Aug. 22 to 28.
Officials added the early primary voting — another first for Massachusetts — in the hopes of reducing crowding on election day amid the pandemic. But it's also a convenient option for those who want to avoid a trip to the polls in the midst of unpacking their new home.
Another option would be to vote be mail, which Massachusetts is making available to all voters — with no excuses needed — in the midst of the pandemic. Earlier this month, Galvin's office sent mail-in ballot applications to all previously registered voters who hadn't already asked for an absentee ballot (the application is also available online).
Voters can request a mail-in ballot for the primary, general election, or both.
For the primary, applications must reach your local election office by Aug. 26, at the very latest. Galvin's office strongly encourages sending them at least several weeks in advance, as the primary ballots themselves must be in the hands of election officials by 8 p.m. on Sept. 1.
For the Nov. 3 general election, vote-by-mail ballot applications must reach your local election office by Oct. 28. According to Galvin's website, the ballots themselves need to be postmarked no later than Nov. 3 and reach your local election office by Nov. 6.
Galvin's office will send a second round of vote-by-mail ballot applications to voters who didn't already request one for the general election by Sept. 14. O'Malley says they will subsequently begin sending out ballots by late September.
But what happens if you move from the address where your initial vote-by-mail primary ballot was sent? O'Malley recommends updating your registration as soon as possible after Sept. 1 and sending a new vote-by-mail application for November election.
The last day to register or change your address for the general election is Oct. 24.