Politics
Seth Moulton wants to flip the Senate. He also flipped on a campaign finance pledge.
The Salem Democrat's campaign says the ends justify the means.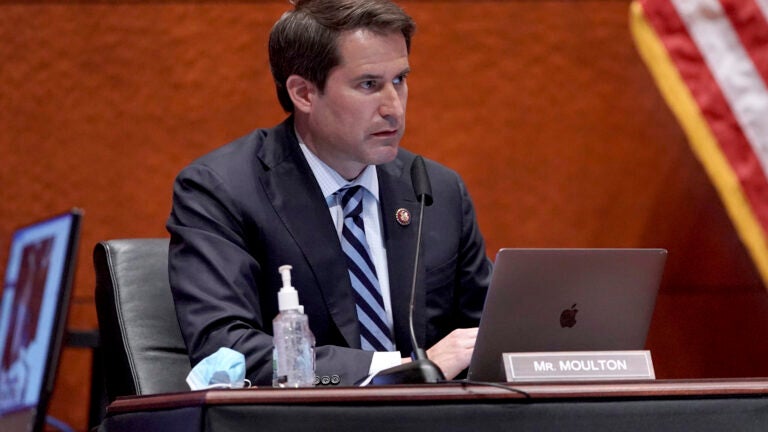 Like virtually every other Democratic presidential candidate, Rep. Seth Moulton swore off money from business-backed political groups known as corporate PACs during his bid for the White House last year.
But his focus — and standards — have since changed (or at least returned to normal).
And the Massachusetts congressman would like donors to know it.
"Note: Congressman Moulton does accept corporate PAC contributions," read an email from Moulton's re-election campaign (emphasis theirs) inviting supporters to a fundraiser back in February.
In the months since, the Salem Democrat and his leadership PAC, Serve America, have accepted $14,500 from corporate PACs, according to campaign finance reports filed earlier this month. The haul includes thousand-dollar donations from PACs set up by Google and Nike, as well as a $2,500 contribution from the General Election Political Action Committee.
Moulton's campaign notes that this is nothing new. A historically prolific fundraiser, the third-term congressman took $547,838 from business-linked PACs (which includes corporate PACs) during his 2018 re-election campaign, according to the Center for Responsive Politics. But they argue the ends justify the means.
"Congressman Moulton has always taken PAC money in his Congressional campaigns, in part because many employees in his district want to support his work through their employers," Michaela Johnson, the press secretary for his campaign, told Boston.com in a statement.
Johnson noted that Moulton is a supporter of campaign finance reform, including a sweeping bill passed by House Democrats last year. Moulton is also — somewhat unusually for a Democrat — a supporter of term limits for members of Congress and is "leading a new coalition" to pair the idea with campaign finance reform, according to Johnson.
"But he also knows that the only way we'll ever be able to pass these reforms is to keep a Democratic majority in the House and flip the Senate and beat President Trump," she said. "In addition to his campaign, he raises money to help Democrats do this. None of this changes how he votes."
Through his campaign committee, personal PAC, and joint fundraising funds, Moulton has focused on raising money for military veterans — like himself — who are running for public office, particularly in swing districts. During the 2018 midterm cycle, his Serve America Victory Fund raised $4.7 million and spent $4.3 million to help other candidates. Of the 34 congressional candidates that Serve America supported, 21 won and 18 flipped seats from red to blue, helping Democrats retake the House majority.
Moulton, who faces two 2020 primary challengers himself, is now hoping the party can do the same in the Senate; Serve America is backing Democratic candidates — all military veterans — in Senate elections in Arizona, Kentucky, North Carolina, and Tennessee.
However, the decision to reverse course on his pledge against corporate PAC money has rankled campaign finance supporters.
End Citizens United, the group that created the increasingly popular pledge, argues that corporate PACs "give money to candidates in order to buy access and influence policy to improve their bottom line." The groups are set by businesses, which aren't allowed to directly donate to candidates, and funded by voluntary employee contributions. They also made up a plurality of PAC giving in 2018.
However, Patrick Burgwinkle, the communications director for End Citizens United, disputed the notion that they are a vessel of employees' political views.
"Corporate lobbyists and C-suite executives control corporate PACs, not rank-and-file employees," Burgwinkle told Boston.com in a statement. "We encourage all Democrats to reject corporate PAC money because government is supposed to work for people, not corporate special interests."
While elected officials like Moulton say the money doesn't affect their votes, some campaign finance reform supporters question is that's true. Will candidates who receive significant financial support from corporate interests really vote for reforms to limit the influence of corporate interests, the argument goes.
Burgwinkle noted that 27 of the 40 Democrats who flipped House seats in 2018 didn't take corporate PAC money. And in general, reducing the role of money in politics is a broadly popular idea. Burgwinkle said Democrats would replicate their 2018 success in the Senate this year by continuing to reject corporate PAC money.
The no corporate PAC pledge first gained steam in 2018 as Democrats embraced it to draw a contrast with the more corporate-friendly Republican Party. And it was universally adopted by all the major Democratic primary presidential candidates, though many eventually dropped their opposition to super PACs, a similar but distinct group that can accept unlimited sums but only spend money on "independent expenditures," like ads (the American campaign finance system is, in a word, convoluted).
Anyway, Moulton isn't the only former Democratic presidential candidate to resume taking corporate PAC money. Reps. Eric Swalwell and Tim Ryan, two fellow more moderate House Democrats, have also followed suit.
Nor is Moulton the only member of the Massachusetts delegation to accept corporate PAC money. According to End Citizens United, the current office holders on the pledge are Sen. Elizabeth Warren, Sen. Ed Markey, Rep. Jim McGovern, Rep. Lori Trahan, Rep. Joe Kennedy III, and Rep. Ayanna Pressley. That leaves out Reps. Richard Neal, Katherine Clark, Stephen Lynch, and Bill Keating.
In fact, in the 2020 cycle, Neal is the top recipient in the entire House of money from PACs linked to corporations and other business interests, totaling nearly $2 million. That's more than a little bit due to the fact that the Springfield Democrat chairs the House Committee on Ways and Means, which is largely responsible for legislation involving the tax code. His primary challenger, Holyoke Mayor Alex Morse, who has sworn off corporate PAC money, has repeatedly needled Neal over the issue.
Get Boston.com's browser alerts:
Enable breaking news notifications straight to your internet browser.