Politics
Joe Kennedy came out in support of legalizing marijuana before Ed Markey. So why is Markey hammering him for it?
"I think it's odd to get criticized as being slow on something where I was actually before him."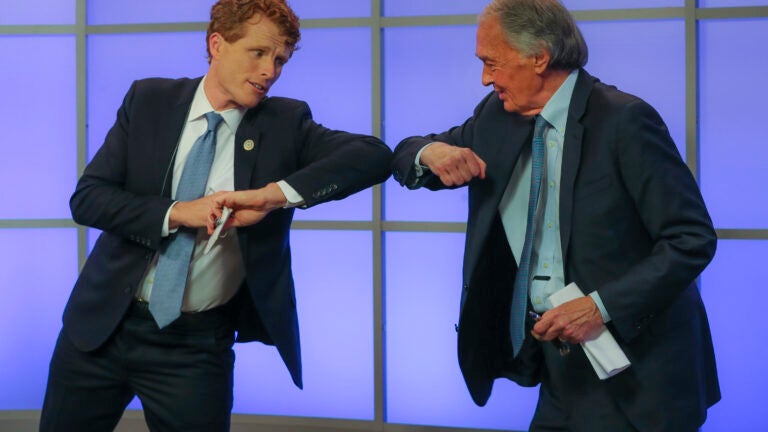 Rep. Joe Kennedy III announced his support for legalizing marijuana at the federal level more than 600 days ago.
And with dozens of recreational pot shops now open in Massachusetts, the debate over legalization has mostly receded from the forefront of state politics. But in his Democratic primary bid to unseat Sen. Ed Markey, the 39-year-old congressman says he still gets pressed about his past opposition.
"It comes up," Kennedy said in an interview this week.
According to the Newton Democrat, he hears less about it on the campaign trail than he does on Twitter, where a brief keyword search will show a relentless stream of criticism.
For the most part, Kennedy says he gets it, noting that his previous position had been "different than the vast majority of folks" both in his party and in his generation. Despite his current support for broad legalization, he made a number of votes up through 2016 against incremental proposals to expand access to marijuana that even many Republicans supported.
However, Kennedy finds it a bit vexing his most prominent critic on the subject has become Markey, given the fact the 74-year-old senator didn't publicly express support for federally legalizing marijuana until more 10 months after he did.
"Welcome to this race," Kennedy said.
After previously opposing the legalization of marijuana for more than limited medicinal use, Markey signed onto three bills on Sept. 26 that would end the federal prohibition of the drug. The move came less than a week after Kennedy officially entered the primary race and subsequently pointed out that he had called for the legalization of marijuana — and that Markey had not.
"I think it's odd to get criticized as being slow on something where I was actually before him," Kennedy told Boston.com.
Kennedy announced his support for federal legalization in an opinion piece for the website STAT on Nov. 20, 2018, the same day that the first recreational marijuana dispensaries opened in Massachusetts.
While he wrote that he still had concerns about addiction, particularly among adolescents, from his talks with mental health advocates, Kennedy said the status quo — in which federal prohibition disproportionately harms communities of color, impedes research and regulation, and complicates state legalization efforts — was clearly worse.
"Our federal policy on marijuana is badly broken, benefiting neither the elderly man suffering from cancer whom marijuana may help nor the young woman prone to substance use disorder whom it may harm," he wrote, adding that in light of the "rapid pace of state-level legalization and liberalization, I believe we must implement strong, clear, and fair federal guidelines."
Still, after a Senate primary debate Sunday night, Markey told reporters that Kennedy's "change on marijuana" was among the questions the congressman still needed to answer, as the two candidates — both of whom have moved to the left in recent years — spar over the "progressive" label.
"The big question is: Is it conviction or political convenience which has led to his changes on these issues over the last several years?" asked the 74-year-old Malden native, whose campaign tweeted a similar rhetorical question Sunday night.
"If this were to be a question of convenience, I would have done it literally years ago," Kennedy told Boston.com in response, noting that, at the very least, it would have made life easier for his staff, "given the amount of pressure and criticism" that came with his past position on marijuana.
Kennedy also categorically denied the change in his views was related to his decision to seek higher office.
"I'm never going to disprove this, but I didn't start thinking about a primary, getting into this race, until mid-summer, seven months later," he said. "It was really not a blip on the screen. It's not going to stop people from saying that, but that's the reality of it."
However, it was not only Kennedy's timing with which Markey took issue. The senator also referred to a March 2018 podcast interview Kennedy did with Vox.com co-founder Ezra Klein, during which he noted how the Massachusetts ballot measure in 2008 made his life more difficult as a county prosecutor at the time.
"Because marijuana was an illegal substance, if you smelled it in a car, you could search a car," Kennedy told Klein at the time.
"When it became decriminalized, you couldn't do that," he continued. "So that was the way that we had — the base case that prosecutors used to search cars that undercovered [sic] contraband, guns, knives, a whole bunch of other stuff — all of that got thrown out the window. That's not to say that's right or wrong. But that is to say when that went through a public referendum, which was how that law was passed, I don't think anybody had much thought to you're actually going to change one of the foundational principles for law enforcement that we use in our court system."
Kennedy went on to voice concerns around impaired driving, mental behavioral health, and addiction, as well as finding the right policy around things like taxation.
However, given the evidence of racial bias in traffic stops and searches, his quote about police searching vehicles has been subject to sustained criticism (as, again, a brief Twitter search will illustrate). Markey said Sunday that Kennedy was looking at the issue "from a prosecutor's perspective."
"I look at these issues not from a prosecutor's perspective; I look at them from a public health perspective," Markey said. "And so that's a significant difference between Congressman Kennedy and myself on these issues."
Kennedy says his 2018 comment about police searches was "an inarticulate effort to point out the challenges of legislating complicated issues by ballot initiative." Even during the interview with Klein, he acknowledged that the concern about disparate racial outcomes was "clearly right." Despite similar rates of use, recent studies have found that Black people are 3.6 times more likely than white people to be arrested for marijuana possession.
"It was probably not the best example to pick, given the example," Kennedy said Wednesday. "But let me clear about this: I have long understood and been aware of the disparate impact that [criminalization of] marijuana has had and marijuana possession has had on racial minorities, particularly Black people, in our criminal justice system, and that is indefensible."
Markey has repeatedly criticized Kennedy for working for a conservative district attorney after graduating from law school. But as someone who has long made mental health one of his cores focuses in Congress, Kennedy contested the notion that his apprehension to embrace legalization was not primarily rooted in public health concerns (several published studies have found an association between heavy cannabis use and both substance abuse and certain mental health disorders, and experts continue to debate the science). Markey has c
"Mental behavioral has been and is a big thing for me," Kennedy said. "And addiction is a big thing for me. And when you talk to experts on mental behavioral health and addiction, they point to very real concerns backed up by research about the proclivities for addiction, particularly when it comes to adolescents and young people, and for people who might be predisposed to substance abuse disorder. That was the part I was wrestling with."'
Kennedy also noted that Markey had previously cited law enforcement concerns for his opposition to marijuana.
"We have to ensure we can police it and that it's only used for medicinal purposes," Markey said during a 2013 debate during his Senate special election race. "That's the role I think marijuana should play."
When asked about his progression on the issue during a Senate debate last month, Markey said that — unlike Kennedy — he "voted to support legalization when it was on the ballot in Massachusetts" in 2016, though he never announced a position at the time.
"Did you make that public?" asked WPRI reporter Ted Nesi.
"I made it public after, after it passed," Markey said. "But it was something that I came out publicly in favor before Congressman Kennedy did."
Asked about the claim, Markey's campaign reiterated that he supported and voted for the legalization ballot question in 2016, but did not provide any supporting evidence.
Markey did sign onto a March 2017 letter defending states' rights to pass their own marijuana laws, amid the threat of a federal crackdown at the time. But since then, his office continued to say only that he supported legalizing medical marijuana; it wasn't until Sept. 30, 2019, that Markey publicly announced his support for all-out national legalization.
"He believes that it is time we remove marijuana and THC from the Controlled Substances Act to help minimize the public safety risks of marijuana retailers — who only operate in cash — by providing financial institutions more certainty in servicing these facilities," Liz Vlock, the Markey campaign's press secretary, said in a statement Thursday afternoon, referring to the banking issues the federal prohibition has caused for dispensaries in the states where it is legal; in Massachusetts, only a handful of local banks are willing to serve adult-use pot shops.
"Additionally, Senator Markey has been a longtime supporter of research efforts regarding medical marijuana, and believes that the Veterans Administration should be able to advise veterans on the benefits of medical marijuana to treat post-traumatic stress disorder," Vlock added.
Markey and Kennedy have also recently emphasized the importance of not only legalizing marijuana but also redressing the harms caused by the War on Drugs.
The three legalization bills that Markey supports would also expunge past marijuana convictions and set aside sales tax revenue for various programs aimed at supporting communities of color. In January, Kennedy signed onto the House version of one of those bills, known as the MORE Act, which would use revenue from legalization to fund community programs and financial assistance for minority-owned businesses in the cannabis industry.
"I think his position and my position aren't actually all that different," Kennedy said Wednesday. "The difference on this is I have been very clear about the position I've taken."
Get Boston.com's browser alerts:
Enable breaking news notifications straight to your internet browser.