Politics
Jake Auchincloss suggests he's the frontrunner to replace Joe Kennedy. His opponents are certainly treating him like one.
The Newton city councilor says his message "is resonating with voters, and it seems lots of my opponents are realizing that, too."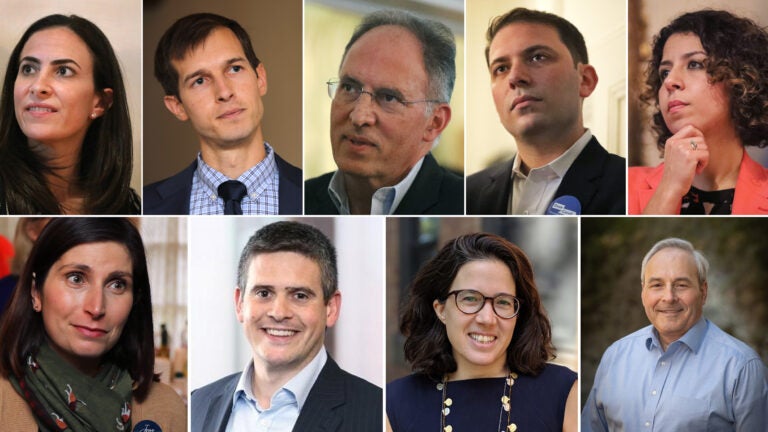 With just a month left until the Massachusetts state primary on Sept. 1, the crowded Democratic primary race to replace Rep. Joe Kennedy III in Congress is heating up — and the knives are out for one particular candidate.
Jake Auchincloss, a 32-year-old Newton city councilor and Marine veteran, is taking a remarkable amount of heat over everything from his campaign's financial backers to his past positions and "disqualifying" statements.
His primary opponents say the criticism is because Auchincloss, who was a one-time registered Republican, isn't progressive enough to sufficiently respond to the needs of the 4th District, which stretches from the affluent Boston suburbs of Brookline and Newton to the working class South Coast cities of Taunton and Fall River.
According to Auchincloss, it's because he's winning.
"I know my message of ensuring Donald Trump's dangerous and hateful politics don't stand is resonating with voters, and it seems lots of my opponents are realizing that, too, so they're trying to tear me down with misleading attacks," he told Boston.com in a statement. "In this campaign and in Congress, I'll keep my focus on fighting against Trump and his dangerous agenda."
But it's not Auchincloss's opposition to Trump with which his opponents have a problem.
While a lack of public polling has made it difficult to tell who is actually leading among voters in the nine-candidate field, Auchincloss is certainly a frontrunner in the money race. With more than $1,167,000 in cash-on-hand as of the last month, he narrowly had the most money left to spend of any campaign as the race enters its home stretch.
Auchincloss's campaign announced earlier this week that it had poured $381,000 into a TV ad highlighting his gun control position, following a smaller ad purchase earlier this month.
Auchincloss, whose prestigious family tree includes luminaries like Gore Vidal and Jackie Kennedy, is also getting air cover from a super PAC funded, in part, by his parents: Hugh Auchincloss, the top deputy to Dr. Anthony Fauci at the National Institute of Allergy and Infectious Diseases, and Laurie Glimcher, the president of the Dana Farber Cancer Institute.
During a debate Sunday, several of Auchincloss's more progressive opponents criticized him for accepting donations from the fossil fuel and pharmaceutical industries. Ihssane Leckey, a former Wall Street regulator and democratic socialist from Brookline, even suggested he should drop out.
Candidates also criticized Auchincloss over some of his past positions, including a recent vote against cutting the Newton Police Department's budget and a 2016 letter he wrote urging school officials against punishing students who flew a Confederate flag outside Newton North High School over free speech concerns.
Auchincloss has since reversed his stance on the Confederate flag, but his letter in 2016 comparing it to a Black Lives Matter or LGBT pride flag has continued to be the focus of intense criticism. After the debate Sunday, primary opponent Ben Sigel, a Brookline lawyer, called on Auchincloss to drop out over the comparison.
"When you intentionally compare in an open letter to the School Superintendent a symbol of hate, bigotry and racism with symbols of hope, progress, diversity, equity and inclusion you are part of the problem and not the solution," Sigel said in a statement.
Since then, the pile on has only continued. During a subsequent 4th District primary debate Wednesday night, Auchincloss called Sigel's statement a "pathetic attempt" even by the "silly season" standards of a race's final month.
"I'm sure Ben would love me to drop out, because it would give him a chance in this race," he added.
Jesse Mermell, a former Brookline Select Board member and communications aide to Gov. Deval Patrick, called out Auchincloss for opposing a $15 minimum wage as recently as 2017 and for working for the Massachusetts Republican Party from 2013 to 2014 to elect Gov. Charlie Baker and several other GOP candidates across the state, including a notably conservative Worcester County sheriff to whom he donated $500.
"While Jesse Mermell is a wonderful communicator, a good tweeter, I've actually done the work and walked the walk," Auchincloss shot back, pointing to his union endorsements, as well as his current support for a $15 minimum wage and Newton's sanctuary city ordinance.
After the debate, Mermell accused Auchincloss of "demeaning sexism."
"Another day, another privileged man trying to diminish the accomplishments of a woman," she said in a statement, adding that she was "proud to be a good communicator and Tweeter."
"But I'm also proud to have been a twice elected local official, a nonprofit executive, a senior leader in the Governor's Office and at Planned Parenthood, and a frontline advocate for more than 20 years," she added. "I asked a tough and fair policy question in the middle of a debate, and was met with a complete dismissal of my professional record."
The criticism peaked Friday afternoon after The Boston Globe's editorial board announced it was endorsing Auchincloss, citing his military service and support for affordable housing reforms in Newton. He has also emphasized his opposition to local education cuts in the midst of the COVID-19 pandemic and support for a "green economic recovery."
However, the editorial board's endorsement also came hours after an old Facebook post Auchincloss made in 2010 in response to an article about Pakistani lawyers burning the American flag surfaced, as Politico first reported.
"So we can't burn their book, but they can burn our flag?" he wrote, alluding to a high-profile controversy at the time over a Florida plan to burn the Quran.
Auchincloss, who was 22 at the time, told Politico it was a sarcastic remark and not "representative of my views, then or now."
"Who among us is proud of every single thing they said or did in college? I'm not. Since that time I've served two tours in the Marines, been elected three times in Newton, and started a family," he said. "This was a sarcastic comment to point out how angry burning the American flag made me."
Leckey, who is the only Muslim in the race, told Politico that the post was "deeply offensive and divisive." Dave Cavell, a former White House speechwriter and assistant attorney general, called the comments "disqualifying" and "indicative of a longer trend of insensitive and offensive statements." Becky Grossman, a fellow Newton City Councilor, called the post "inexcusable."
"The idea of burning the Quran is sanctioning the worst kind of hatred against an entire religion and it has no place in our society," Grossman said.
Sigel said he was "shocked, and quite frankly, appalled" by the Globe editorial board's endorsement, which he said downplayed Auchincloss's "various tone-deaf comments he made on social media as a young man."
"This lack of morality and empathy will not change should he be elected to Congress, and is the exact opposite of who we need representing our struggling community members during this crisis and beyond," Sigel said, who called Auchincloss a "misogynist, silver-spoon Republican" and suggested the endorsement reflected blindspots in the Globe's journalism (even though the editorial board and newsroom are separate entities).
In a thread of tweets, Cavell said the endorsement "contradicts" the editorial board's focus on racial justice and climate action.
"These are not the words of someone who is complaining just because I did not get the Globe endorsement," he wrote. "There are other worthy candidates in this race, people I am honored to call co-candidates. Jake is not one of them."
Get Boston.com's browser alerts:
Enable breaking news notifications straight to your internet browser.