Politics
Ayanna Pressley pushes for coronavirus bill to address the 'impending eviction tsunami'
The Massachusetts congresswoman says Americans are facing an "unprecedented financial cliff."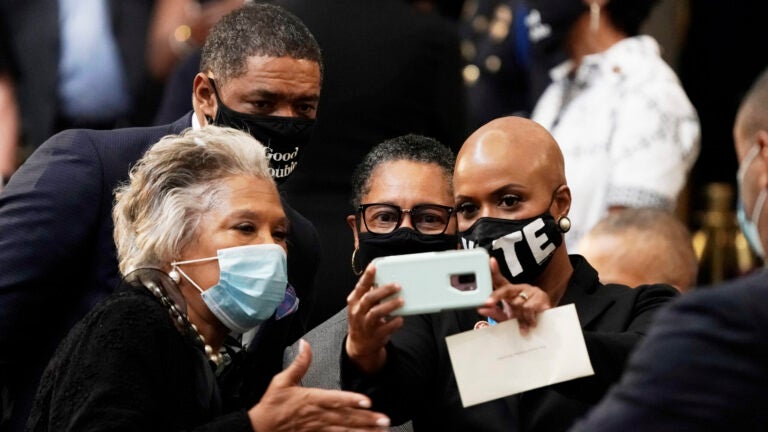 Rep. Ayanna Pressley says the most frequent call she got from constituents as a Boston city councilor was about eviction cases.
Researcher say that, across the United States, about 3.7 million evictions were filed each year — or roughly seven every minute — disproportionately affecting Black renters. In Massachusetts, Black renters were 2.4 times more likely than white renters to face an eviction case.
"This was already a crisis," Pressley told MSNBC in a recent interview.
The COVID-19 pandemic has made the situation far worse, shaking the economic security of millions of Americans. Under the current conditions, some estimates say that more than 29 million individuals are at risk for being evicted by the end of the year.
So as Republicans and Democrats continue to negotiate a coronavirus relief package, the extension of unemployment benefits and additional stimulus payments payments aren't the only things Pressley is pushing to be included.
According to a senior aide to the Massachusetts congresswoman, Pressley has been speaking with congressional leaders about including more robust housing protections in the final version of the relief package, including rental assistance, an extension of eviction and mortgage foreclosure moratoriums, and access to counsel resources.
Since the onset of the coronavirus outbreak, the Boston Democrat has called for a wide array of emergency measures — including rent cancellation — to keep people from even reaching the point where they could be pushed from their home onto the streets, which she sees as an issue of public health as well as economic and racial justice.
However, in the wake of last month's expiration of the federal moratorium on evictions, Pressley partnered with Connecticut Rep. Rosa DeLauro and California Sen. Kamala Harris to introduce a bill to fund legal representation for those facing or at risk of an eviction.
"Housing is a human right, and in the face of an impending eviction tsunami, we must take bold, urgent action to affirm that right and protect the millions of families facing housing instability," Pressley said in a statement last week.
The new bill is similar to a broader resolution introduced in May by Rep. Joe Kennedy III calling for guaranteed legal representation in civil cases involving basic human needs, including housing.
However, the Housing Emergencies Lifeline Program (HELP) Act introduced last week is both more narrow and more concrete, allocating $10 billion to provide a lawyer to individuals facing eviction in housing court.
It would also require the Department of Housing and Urban Development to establish an eviction information database and limit how long certain types of eviction cases can remain on one's record.
Even when such cases are dismissed, they can have lasting, downstream effects; merely being named in a case can put renters on a tenant blacklist. According to the ACLU, Black women in Massachusetts were three times more likely than their white counterparts to have a prior eviction filing that was ultimately dismissed.
While some states, including Massachusetts, have extended statewide moratoriums on nonessential evictions, multiple news outlets have uncovered numerous cases of landlords illegally violating both the state and federal moratorium. Massachusetts Attorney General Maura Healey said in May that dozens of illegal eviction filings were attempted in the Bay State.
For Pressley, DeLauro, and Harris, their bill would provide tenants an additional line of defense, as moratoria on evictions in other states continue to expire. After a right-to-counsel law was passed in New York City for low-income tenants in parts of the city in 2017, researchers found that 84 percent of renters with representation through the programs were able to stay in their home and that overall eviction filings decreased.
Politico reported Tuesday that negotiations between congressional Democrats and the Republican administration have been at a stalemate this week over major items like relief funding for schools, local government, and elections. Democrats also are reportedly not budging on their call to extend the $600 boost to weekly unemployment benefits, which expired over the weekend just as rent came due for many Americans.
According to a U.S. Census survey last week, more than a third of renters were not even mildly confident that they will be able to pay their rent next month; roughly 13.5 percent said they had no confidence at all.
Pressley says that extending the enhanced unemployment insurance, along with recurring economic stimulus payments, are also critical benefits that help keep folks safely in their homes. During the MSNBC interview, she suggested Republicans dragging their feet on such measures were "either clueless, callous, or disconnected from the real hardships and fear that American families are experiencing."
"As workers and families across our country confront an unprecedented financial cliff, Congress must act with the urgency needed to prevent mass evictions," Pressley said in the statement released last week.
Get Boston.com's browser alerts:
Enable breaking news notifications straight to your internet browser.