Politics
Stephen Lynch is running on his unique 'perspective.' So is his primary challenger.
Robbie Goldstein says Lynch is proposing "bandaids on a gushing wound."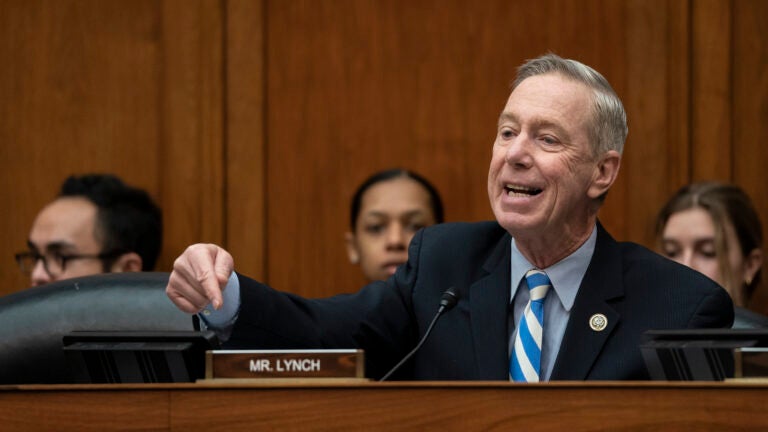 Rep. Stephen Lynch says it's "very difficult" to convey the scope and nuances of one's record in a debate-style format.
However, this week, for the first time in the 2020 election cycle, the Massachusetts congressman had to do his best.
Lynch, a South Boston Democrat with a reputation for being one of the more moderate members of the state's congressional delegation, debated his younger, more progressive primary challenger, Dr. Robbie Goldstein, in a forum hosted by the League of Women Voters and Walpole Media.
Goldstein, a 36-year-old infectious disease doctor at Massachusetts General Hospital, is challenging the 65-year-old, nine-term incumbent amid a national wave of progressive enthusiasm that has resulted in the ousting of several longtime Democratic members of Congress.
But in a race with clear generational and policy differences, Lynch argued that his seniority and perspective as the only former ironworker in Congress would best meet the needs of the 8th District, which reaches through parts of Boston and covers Brockton, Quincy, Walpole, and Weymouth.
"There is nobody in Congress that brings that perspective," Lynch said. "There are a lot of doctors. We've probably got 30 doctors. … That doesn't bring a diverse perspective at all."
Goldstein, who noted there are actually just 17 fellow physicians in the House and Senate, disagreed.
While both candidates are white, he would also be the third openly gay person to represent Massachusetts in Congress, following Gerry Studds and Barney Frank. And as a doctor — particularly one specialized in infectious diseases in the era of COVID-19 — Goldstein said the challenges that patients tell him about concerning the lack of equitable access to health care and living wage jobs in the Boston area "require a fresh perspective in Washington."

"They are the stories that will drive the policy I write," Goldstein said. "They are the stories that will drive the votes that I take."
On policy, Goldstein specifically called for moving toward a single-payer health care system like Medicare-for-All, though he acknowledge it wouldn't happen "overnight" and advocated for intermediary steps like expanding Medicaid, lowering the age for Medicare, and allowing people to buy into state exchanges created by the Affordable Care Act if they lose their job.
He also criticized Lynch for being the only member of the Massachusetts delegation to vote against the Affordable Care Act in 2010. However, the congressman stood by the vote, noting that he supported the House version but that the Senate version (which the House later voted on) taxed union health care plans, gave insurance companies an anti-trust exemption, and did not include the House's proposal for a state-based government-run insurance plan, also known as the public option.
"I've been working to put back the public option to restore this Affordable Care Act to what it was originally intended, and my opponent is looking to rip out the ACA root and branch and now go to a completely different model," Lynch said.
During the forum, Goldstein noted he had his own record of accomplishments, most notably establishing MGH's Transgender Health Program.
But he also painted Lynch, who has long presented himself as a pro-union populist, as too socially conservative — or at least unwilling to embrace needed structural change. Goldstein made several veiled references to Lynch's past opposition to abortion and knocked the congressman for once referring to climate change as an "elitist" issue.
"I see this as an urgent crisis that must be dealt with in the next five to 10 years," said Goldstein, who espoused his support for the Green New Deal.
Lynch noted that he was an original co-sponsor of the Green New Deal, but said the ambitious climate change resolution was just that: a resolution. Lynch highlighted a more concrete, if smaller in scope, bill he has sponsored to restore a directive by President Barack Obama — and since repealed by President Donald Trump — requiring federal agencies to invest in climate resiliency measures.
Lynch also pitched his work, as a member of the House Transportation Committee, to include several amendments into a recent surface transportation bill, including one that would increase funding for zero-emission buses by $1.7 billion over the next five years. Lynch said the measure would be significant for low-income residents and communities of color disproportionately afflicted by respiratory issues due to pollution.
"I got more legislation of mine in that bill than any time in Congress," he said. "It's been a result of my seniority in Congress and my ability to make an impact."
But the question for Goldstein, as it was on several issues, was whether that step forward was big enough.
Similarly, Lynch said he believed the recent police reform passed by the House — which would ban chokeholds and no-knock warrant, as well as implement new accountability measures — was sufficient. Goldstein said it was just the "bare minimum," calling for the abolishment of the legal protection known as qualified immunity, which Lynch has not supported.
And while Lynch deferred to the likely dead coronavirus relief bill passed by House Democrats in May when asked about his views on a post-pandemic economic recovery, Goldstein said the crisis should be a moment of opportunity come Jan. 1, 2021, to invest in the health care system and programs like universal day care.
"Shame on us if we go back to what we had before COVID in January 2020," Goldstein said. "We can build something much better and much stronger as a nation."
After the debate, Goldstein released a blistering statement accusing Lynch of "defending the status quo" and inflating his record.
"What the Congressman has discussed tonight are bandaids on a gushing wound," he said.
"He thinks that the steps his colleagues have taken to address the issues we face — from the COVID crisis to structural racism and institutionalized misogyny — have been enough," the statement went on. "He couldn't point to examples of his own leadership — because all he has done in his tenure is vote yea or nay."
Scott Ferson, a Lynch campaign spokesman, disputed that characterization in an interview with Boston.com, suggesting the two candidates differences were more tactical than ideological and that Lynch was "very much a progressive in that he wants to make progress."
"If Dr. Goldstein means an incumbent who has worked hard every day to represent every one of his constituents and has a record of leadership, then yes, the congressman defends the status quo," Ferson said. "If he means the status quo is not moving forward, then Stephen rejects that, because he is very much trying to make life better for his constituents."
With less than a month until the Sept. 1 primary. the forum Monday came after the Goldstein campaign accused Lynch of trying to "run out the clock" in order to avoid a head-to-head event, which the congressman's campaign denied. More than a dozen local Democratic town committees also sent a letter to Lynch's office in mid-July asking him to accept the invitation to the League of Women Voters event.
The two sides didn't agree to the forum Monday until last Tuesday, shortly after a Boston.com inquiry to the Lynch campaign.
Lynch did not participate in any debates with his 2018 primary challenger, but did debate his 2010 opponent in several, unusually brief events.
However, Goldstein's campaign argues that he's no gadfly; in fact, Goldstein raised nearly four times as much money as Lynch did in the most recent quarter, according to federal filings — though the congressman's campaign still has 10 times as much cash to spend in his campaign account. Since his first election in 2001, Lynch has usually run for re-election uncontested and has easily fended off primary challengers.
"My responsibility is to bring the perspective of the people I represent," Lynch said Monday. "And I think I do that extremely well."
Get Boston.com's browser alerts:
Enable breaking news notifications straight to your internet browser.