Politics
Ed Markey says it took 'two years' for Joe Kennedy to support Medicare-for-All. Kennedy says it took Markey even longer.
"That's not progressive leadership."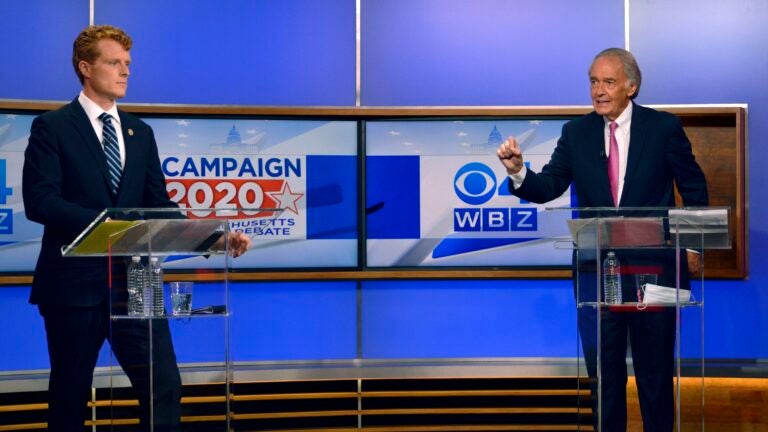 Sen. Ed Markey and Rep. Joe Kennedy both agree that the Democratic Party needs a "big, bold agenda."
They just disagree about who's leading it.
During the fifth — and perhaps most fiery — debate of their Senate primary contest Tuesday night, the two Massachusetts Democrats clashed over everything from racial justice to campaign finance.
However, it was the issue that Democratic voters have often said they care about most, health care, where the two candidates' interpretations of reality also notably diverged.
Markey and Kennedy have both come around to support support Medicare-for-All, the single-payer healthcare proposal championed by Sen. Bernie Sanders, in recent years. But as Markey has aligned himself with left-wing icons like Sanders and Rep. Alexandria Ocasio-Cortez, the incumbent senator has increasingly criticized Kennedy for initial apprehension to Medicare-for-All after it was formally unveiled in 2017.
"When I stood next to Bernie introducing Medicare-for-All, Congressman Kennedy took two years to sign onto Medicare-for-All," Markey, who was one of 16 original co-sponsors of the Vermont senator's bill, said during the debate Tuesday.
Markey noted that the public health and economic crises wrought by COVID-19 had made the need for universal health care even more salient, noting that "millions" have lost their health insurance due to the pandemic in a country that already lagged behind its industrialized peers in terms of in life expectancy and health outcomes.
Similar to the Green New Deal resolution he co-authored with Ocasio-Cortez , Markey said Medicare-for-All was a bill whose time had arrived.
"That is the leadership that I provide, building movements across our country so we can have the fundamental change our country wants and needs," said the 74-year-old senator.
The debate night comments came on the heels of a digital ad released last week by Markey's campaign, criticizing Kennedy for not signing onto Medicare-for-All until late February 2019, nearly a year and a half after Sanders introduced it in the Senate.
In a statement at the time, the Newton congressman — who had said he supported the concept of single-payer health care but had questions about its implementation and political viability — said the revised Medicare-for-All bill introduced in the House in 2019 addressed "serious concerns" that the previously introduced legislation "would have limited access to reproductive care by leaving the Hyde Amendment intact; failed to cover long-term care for those with disabilities; and forced the closure of regional hospitals that my constituents and millions of others across the country depend on."
Still, the Markey campaign cast doubt on the notion that Kennedy would actually "lead the fight for Medicare-for All," as he claimed in a recent TV ad.
"Massachusetts deserves a leader who has always fought for Medicare-for-All, even before it was politically convenient," the Markey campaign said.
Joe Kennedy doesn't lead on Medicare for All. pic.twitter.com/SOI6RMfmkQ

— Ed Markey (@EdMarkey) August 3, 2020
According to Kennedy, the problem with that argument is that Medicare-for-All had been repeatedly introduced in Congress well before 2017 — and Markey, who had been a congressman for 37 years prior to his 2013 election to the Senate, wasn't exactly fighting for it then.
"Senator, it took you 40 years in office to show leadership on Medicare-for-All," Kennedy said during the debate Tuesday night. "Forty years."
That framing has some problems, too. While Medicare-for-All has roots dating back to the 1970s, it wasn't until 2003 that Rep. John Conyers first proposed the "Expanded and Improved Medicare for All Act" to establish a national health insurance plan. The bill had 38 sponsors, including Sanders (who was then Vermont's sole congressman) and former Massachusetts Reps. John Olver and Barney Frank.
That said, Markey was not one of them. And while the then-congressman did sign onto Medicare-for-All twice in 2007 and 2009 when support ballooned to around 90 cosponsors, Markey did not co-sponsor the Conyers bill four of the six times it was introduced while he was in the House, even as fellow Massachusetts delegation members — like Frank, Rep. Jim McGovern, and former Rep. Mike Capuano — consistently did.
"The facts belie what you say," Kennedy said during the debate, disputing Markey's characterization of himself as a leader of the Medicare-for-All movement.
Kennedy linked the point to his larger argument that Markey has not done enough to campaign across the country for the issues and candidates that could enable such legislation to pass.
"Bernie Sanders is out there building a movement," Kennedy said, noting that Markey endorsed against Sanders in 2016, backing Hillary Clinton in the Democratic presidential primary (as did he).
"So the idea that you are somehow leading that same movement that you now claim to hold just is not the case, because you're not here in our communities and you're not out there in every corner of our country galvanizing those forces to actually bring this to pass," the congressman continued. "I traveled to dozens of districts to win the House and hold this administration accountable and pass progressive change, and you, senator, went nowhere."
Asked about his past record on Medicare-for-All, Markey told reporters after the debate that 2017 was the year that Sanders was introducing "the defining Medicare-for-All bill" on the heels of his presidential run.
"And there was a small number of us who joined with him," he added.
Markey also pointed to a 2017 business conference shortly after the Sanders bill was introduced, in which Kennedy expressed doubt that Medicare-for-All could pass even if Democrats controlled the House, Senate, and White House. Following Republican health care reform efforts at the time, Kennedy said Democrats should focus instead on improving the Affordable Care Act.
"Yes, he did sign on in 2019. But that's not progressive leadership," Markey said Tuesday. "And just because you change your position doesn't make you the change candidate in this race."
Kennedy's campaign noted that Markey expressed similar reservations about Medicare-for-All  during a June 2017 town hall in Boston, calling it a "long-term goal." According to a Dorchester Reporter account of the event, the senator said at the time that he and his Bay State colleagues were "practical Bostonian politicians" and would prioritize it later.
After the debate, Kennedy said he was proud of his legislative record and "led the response" to Republican efforts to repeal the Affordable Care Act and block the law's expansion of Medicaid.
And he suggested the fact that Medicare-for-All's top backer has kept his thumb off the scales of the race was telling.
"I don't believe Senator Sanders has formally endorsed in this race," Kennedy said.
Get Boston.com's browser alerts:
Enable breaking news notifications straight to your internet browser.