Politics
Tucker Carlson singled out a Mass. congressional candidate for 'ingratitude.' Here's how she responded.
"My story is an outlier."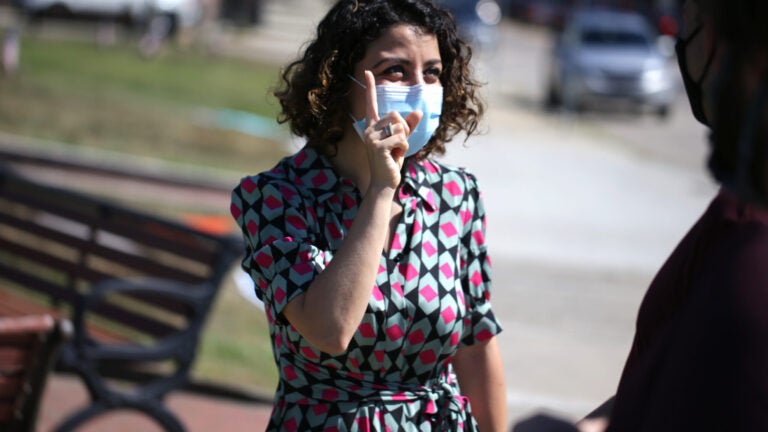 Attention can be hard to come by in the crowded, nine-person field to replace Rep. Joe Kennedy III in Congress.
And yet, Ihssane Leckey, a candidate in the Democratic primary race for Kennedy's seat, found herself the subject of a brief segment on one of the country's most-watched TV shows Tuesday night: Fox News's "Tucker Carlson Tonight."
Perhaps unsurprisingly, it was not for praise.
After spending most of his show Tuesday night criticizing Sen. Kamala Harris as Joe Biden's newly announced running mate, Carlson spent the last few minutes of his primetime hour on the 4th District primary race, which has gone mostly overlooked outside of Massachusetts in the midst of the COVID-19 pandemic and run-up to the presidential election.
Carlson began by labeling Leckey as the "likely successor" to Kennedy in the muddled race, though her campaign's own polling has shown her in a virtual tie for third. It's unclear how closely the national TV commentator has been following the contest; Carlson also incorrectly said that Kennedy, who is running for Senate, was retiring this year.
However, the Fox News host —  whose highly rated show has faced criticism for "race-baiting" — had made himself familiar with Leckey's biography. Born in Morocco, the 35-year-old Brookline resident moved to the United States as a 20-year-old, working what she says were "sub-minimum wage jobs" to attend  community college and eventually Boston University before working as a Wall Street regulator for the Federal Reserve.
"It's a great story," Carlson said. "In fact, it's the American Dream."
However, he took issue with a recent tweet by Leckey, a self-described democratic socialist, pledging to "dismantle every oppressive system that denies us the basic necessities to live."
I came to America with nothing. In 10 years, I went from mopping restaurant floors to taking on the biggest banks on Wall Street.

Now, I'm running for Congress to dismantle every oppressive system that denies us the basic necessities to live.

Join us: https://t.co/WiU9x5ZYtz pic.twitter.com/P855thvehT

— Ihssane Leckey for Congress (@ihssaneleckey) August 6, 2020
Carlson went on to characterize Leckey as not being "grateful" for the opportunities she had in the United States and suggested it was hypocritical that she wanted to "dismantle" systems in a country where her life "improved dramatically."
"It's hard to believe there's a market for that — for that type of ingratitude — but obviously there is; Ilhan Omar is still in Congress," he said, referring to the Minnesota congresswoman and fellow African immigrant who has endorsed Leckey's campaign.
Carlson added that, "unfortunately, when you despise yourself, it's pretty easy to despise your country."
In response, Leckey noted that the reason she is running for Congress is because her path is not attainable for most other Americans. A large body of research has found that upward mobility in the United States — in other words, the American Dream — has been on the decline for decades and is now lower, particularly for communities of color, than countries like Canada and Sweden.
"My story is an outlier," she told Boston.com in a statement Wednesday.
"The reality is that very few people living in poverty in our country are able to overcome the oppressive systems that keep people poor, while making incredible profits for people at the top," she said. "We must not accept poverty in the richest country in the world."
Leckey, who supports more redistributive, social democratic reforms, also said that President Donald Trump and his "allies" like Carlson "use hate and anti-immigrant fear mongering to deny people the basic necessities to live."
"I am running for Congress because I know what America can be if it lives up to its ideals," she said. "We must defeat Trump's hate, eliminate unnecessary suffering in our country, and guarantee health care, a high quality education, good paying jobs and affordable housing for all."
In a tweet Tuesday night after her campaign clipped the segment, Leckey made an additional request of Carlson, who got one other thing wrong about the 4th District race: his pronunciation of Ihssane.
"Since we're going to be doing this for a while, you better learn how to say my name," she said.
Hey @TuckerCarlson since we're going to be doing this for a while, you better learn how to say my name 😂 https://t.co/83g2cjDyq4

— Ihssane Leckey for Congress (@ihssaneleckey) August 12, 2020
Get Boston.com's browser alerts:
Enable breaking news notifications straight to your internet browser.