Politics
Dave Cavell drops out of 4th District race — backing one candidate in the hopes of blocking another
"There is one candidate in this race who I believe has proven himself unfit to represent this District."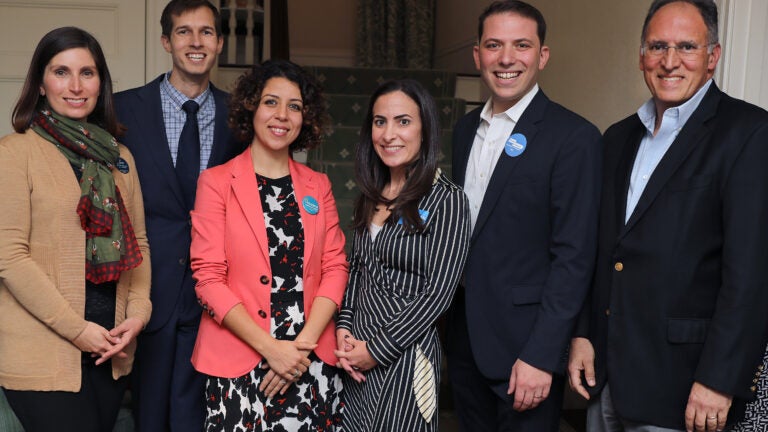 The race to replace Rep. Joe Kennedy III in Congress will enter this weekend with one fewer candidate.
Dave Cavell, a Brookline native and former White House speechwriter, announced Thursday morning that he is suspending his 4th District congressional campaign and throwing his support behind fellow Democratic primary candidate Jesse Mermell in the down-to-the-wire race.
The announcement comes with less than three weeks to go before the Sept. 1 primary election, as internal polling shows Cavell in the middle of the nine-candidate field.
However, his decision to drop out was not solely motivated by the state of his own campaign, but also by his desire to prevent another candidate, Newton City Councilor Jake Auchincloss, from winning.
"There are many strong candidates to represent the people of the Fourth District," Cavell said in a statement Thursday morning.
"Unfortunately, there is one candidate in this race who I believe has proven himself unfit to represent this District," he continued. "In a crowded field without ranked-choice voting, I refuse to make it more likely that the people of our District, particularly Black and brown people, will be represented by someone we cannot trust. This is a moment when all of us must put the best interests of the country and the critical work of progressive, intersectional change before personal politics."
Cavell's campaign confirmed that he was referring to Auchincloss, a perceived frontrunner in the race who has faced intense scrutiny over past positions and social media posts, as well as his campaign's financial backers. Cavell, who ran on ambitious solutions like Medicare-for-All and tuition-free college, had called a 2010 quip by Auchincloss about Quran burning "disqualifying" and repeatedly criticized the former registered Republican for not taking more progressive stances.
"Jake is the elephant in the room — pun intended," Cavell told The Boston Globe in an interview Thursday.
Yael Sheinfeld, the communications director for Auchincloss's campaign, declined to directly respond to Cavell's parting statement.
"While other candidates engage in political back-and-forth, Jake is in Fall River with endorsers Mayor Coogan, Rep. Fiola, and Rep. Schmid, packing food for needy families and discussing his plans for an inclusive economic recovery," Shenfield said. "Jake is focused on the real issues impacting voters across the Massachusetts Fourth. He's going to Congress to deliver tangible results for his constituents."
In the statement released by his own campaign, Cavell said he would be "working with and voting for" Mermell, whom he called a friend and "passionate fighter for progressive values and working people of every race and background." Mermell, who has also been endorsed by Rep. Ayanna Pressley among other elected officials and local groups, is a former Brookline Select Board Member and aide to former Gov. Deval Patrick.
According to internal polling commissioned by fellow candidate Ihssane Leckey's campaign and published this week by The Intercept, four candidates were within the margin of error at the top of the field; Newton City Councilor Becky Grossman had 19 percent support, Auchincloss had 16 percent, Leckey had 11 percent, and Mermell had 10 percent.
Cavell was at 7 percent, according to the poll. And while the 36-year-old lawyer, who left Attorney General Maura Healey's office last year to run for Congress,  expressed "unending gratitude" Thursday to his supporters and campaign staff, he said he was committed to putting "principles and people above politics."
"For decades, the U.S. Congress and this country has looked to the Fourth District of Massachusetts, in good times and bad, for a national leader on reproductive rights, the opioid epidemic, the climate crisis, and so many other critical issues," he said. "I hope that by withdrawing from the race, I can help ensure that this proud tradition continues at this critical time for our country."
Get Boston.com's browser alerts:
Enable breaking news notifications straight to your internet browser.