Politics
Joe Kennedy responds to Ed Markey's 'attacks' on his family, as heated Senate race gets personal
"If he wants to talk about the Kennedys, I'll talk about the Kennedys."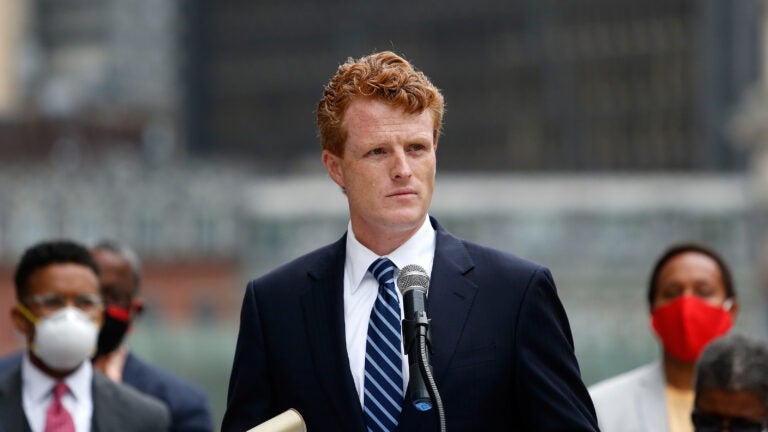 Rep. Joe Kennedy III doesn't often invoke his illustrious family name.
But as incumbent Sen. Ed Markey has increasingly used the Kennedy political legacy against the 39-year-old congressman in their increasingly contentious Senate primary race, that changed Monday.
"If he wants to talk about the Kennedys, I'll talk about the Kennedys," the Newton Democrat and grandson of Robert F. Kennedy said during an eight-minute speech Monday in Boston, contrasting his family's record on racial justice with the 74-year-old senator's own 47 years in elected office.
Here's what my family taught me: A legacy is earned. pic.twitter.com/kSKT8iRMJD

— Joe Kennedy III (@joekennedy) August 17, 2020
"I am a 39-year-old white man of tremendous privilege," Kennedy added. "My own work on racial justice is wholly incomplete. But this fight is in my blood."
The response comes after the nationally watched race turned even more personal last week, as Kennedy amplified his criticism of Markey, a longtime congressman who was elected to the Senate in 2013, for the Malden native's record on racial justice, including his opposition to busing to integrate Boston public schools in the 1970s and his initial response to the parents of a Black college student from Easton who was shot and killed by police.
In turn, Markey — who has emphasized his working-class roots — has used Kennedy's name to paint his challenger as an entitled member of a political dynasty as part of his appeal to win over young progressives.
During a debate last week, the senator upbraided Kennedy over a new super PAC supported by his family members that recently entered the race, amid speculation that the congressman's father, former Rep. Joe Kennedy II, could shift his own leftover campaign funds into the effort, though it's unclear if the elder Kennedy is actually funding the group.
"Tell your father and tell your twin brother you don't want any money to be spent on negative ads," Markey said during the debate.
His campaign quickly capitalized on the exchange with a cutting online ad, as well as a longer, viral campaign video playing off of a famous quote by Kennedy's great uncle, former President John F. Kennedy.
When the government abandons its people, it's up to us to rise up and make a revolution. We're fighting for dignity, for justice, and for our future. Join us at https://t.co/NY8pZcBcFE. #GreenNewDealmaker pic.twitter.com/4V558XjrVw

— Ed Markey (@EdMarkey) August 13, 2020
"We asked what we could do for our country," Markey says in the video released Thursday. "We went out, we did it. With all due respect, it's time to start asking what your country can do for you."
During the press conference Monday alongside Black leaders from across Massachusetts, Kennedy said Markey appeared "intent" on making his family an issue in the race, "weaponizing their history" and "appropriating their words."
"The senator's time would be better spent reconciling his own history with the civil rights movement over the course of the past 50 years," Kennedy said.
In addition to Markey's past opposition to school busing, Kennedy's campaign sent out a press release Monday morning newly highlighting other less-progressive aspects of the senator's record on racial justice — from a 1981 vote against ending tax breaks for a private school that banned interracial dating to his vote to expand the death penalty and incarceration under the 1994 crime bill.
"Sen. Markey has been in government for nearly 50 years," Kennedy said Monday. "He has served in times of tremendous consequence. And he's gotten it wrong — over and over. So he attacks my family."
While he noted that talking about the Kennedy family "is something most of you know I don't do very often," the congressman went on tick off his family's accomplishment on racial justice over the second half of the 20th century.
"President Kennedy was writing the Civil Rights Act," he said. "My grandfather was sending federal marshals to protect the freedom riders and sending the National Guard to a schoolhouse door, fighting his own Party to desegregate the South."
Speaking from Boston City Hall Plaza — in the shadow of the JFK Federal Building, which houses Markey's local Senate office — Kennedy added that "my Uncle Teddy was right here — literally right here — where we stand, getting garbage thrown at his face by an angry mob for daring to defend desegregation," referring to the 1974 incident when Sen. Ted Kennedy tried to address opponents of school busing.
"Meanwhile, Ed Markey was voting to keep Black kids out of white classrooms," Kennedy said Monday. "My uncle lost votes that day he never got back. But he knew the job of a United States senator is to stand up for what is right — particularly when it's hard."
Kennedy — who also plugged his "Aunt Jean" for forging peace in North Ireland and "Aunt Eunice" for founding the Special Olympics — added that Markey seemed "eager to invoke" his father, who represented the 8th District from 1987 to 1999. But he expressed pride in his father's housing work with community leaders in mostly Black neighborhoods like Roxbury and Dorchester "fighting the racist consequences of redlining to bring the American dream of homeownership closer to a reality for all."
"I am proud of our history and their contribution, but I recognize that work is theirs — not mine," said Kennedy, who premised his Senate campaign on showing up in parts of Massachusetts that had been neglected.
In a race defined by disputes over the progressive label and who can better deliver meaningful change as a senator, Kennedy has sharpened his attacks on Markey's record on race in the wake of the racial justice movement — though activists say they both have been imperfect on the issue.
Kennedy acknowledged such Monday. But he said that his family taught him that "a legacy is earned" though actions out of the spotlight and argued that Markey — the co-author of the Green New Deal and vocal Medicare-for-All supporter — has particularly failed to do so, particularly when it came to the effects of government policy on racial inequity.
"I know a progressive movement that demands litmus tests on health care and climate change but not on racial justice isn't progressive at all," he said. "Sen. Markey is trying to convince you that he is going to do something different with the next six years than he has done with the last 47. He is asking you to trust that he can lead a movement he has never been a part of. And he is telling you that he deserves a mantle that he has not earned."
In a statement Monday afternoon, Markey campaign manager John Walsh said that called Kennedy's counterattacks "desperate" and "baseless."
"Senator Markey is running a positive campaign on the issues that matter most to the people of Massachusetts – combating the climate crisis with a Green New Deal, providing universal health care with Medicare For Call, fighting for racial justice and police accountability, and stopping the spread of the coronavirus," Walsh said.
Still, during his speech, Kennedy said he learned from his grandfather that it was sometimes necessary to take on members of his own political party. While he never met the former U.S. attorney general and New York senator, who was assassinated on the campaign trail 12 years before the now-congressman was born, Kennedy said he got to know him through the stories of family members, friends, and strangers.
"I know him through his words, which time and again called out white America for falling short, including members of his own party for being allies in rhetoric but not action," Kennedy said, invoking his grandfather's 1961 speech as attorney general endorsing the civil rights movement.
"We deserve a senator who will not stand by," he added.
Get Boston.com's browser alerts:
Enable breaking news notifications straight to your internet browser.