Politics
Alan Khazei has a plan — for every single city and town in the 4th District
In such a sprawling and "amazingly diverse" district, the Democratic primary candidate says "you can't have just one strategy."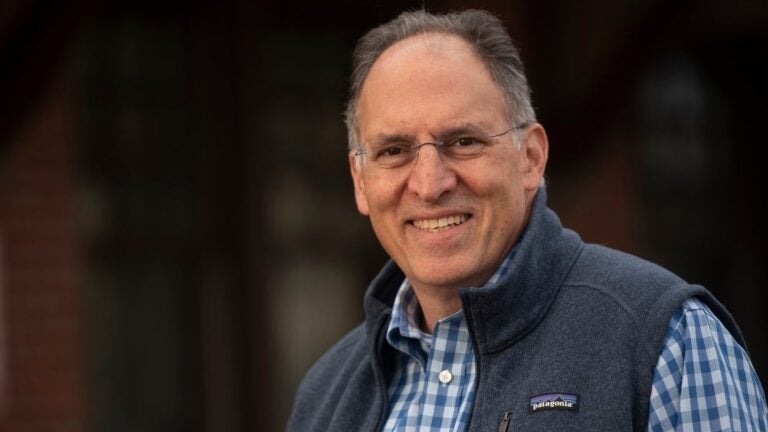 Alan Khazei is running for Congress on several big ideas.
A federal job guarantee. Emergency wage support. A public option for internet service.
But the City Year co-founder is also trying to distinguish himself in the crowded Democratic primary race for Rep. Joe Kennedy III's open 4th District seat through a slew of small ideas.
Khazei rolled out an individualized plan Monday for each and every one of the 34 cities and towns in the "amazingly diverse" district, which reaches from the affluent Boston suburbs of Brookline and Newton — "where 40 percent of the people have graduate degrees, not just college degrees" — to former industrial giants on the South Coast like Taunton and Fall River that he says are struggling to enter the 21st century economy.
"This is a very different district," Khazei told Boston.com in an interview. "You can't have just one strategy."
The overall plan — published on Khazei's campaign website — does outline certain broad priorities that transcend town lines, such as supporting small businesses and passing federal aid to relieve the pressure on municipal budgets in the wake of the COVID-19 pandemic.
However, for each of the 34 municipalities, it also identifies specific hyperlocal challenges, from the lack of affordable housing for the elderly in Needham to the need for a second track at the Franklin commuter rail stop to rising fees at the Rehoboth transfer station.
Khazei, a 59-year-old Brookline social entrepreneur and former Senate candidate, said the approach was inspired by the late Sen. Paul Tsongas, a founding City Year board member who he describes as a mentor. According to Khazei, Tsongas taught him about the "extraordinary convening power" of a member of Congress to bring together local leaders across different sectors to come up with solutions.
So as part of his campaign, he reached out to local legislators and business owners to inform his community-by-community action plan for the 4th District. And if elected, Khazei says he would form advisory boards for each city and town to continue that dialogue.
"I believe that politics works when people are engaged in the process and when — as my good friend Bryan Stevenson says — you're proximate, you are connecting to the people at the grassroots level whose lives are being affected," Khazei said.
And even though he would to go to Washington, D.C., as a freshman congressman, Khazei says he could immediately leverage relationships built through several decades of  advocacy for City Year and other national service programs. His campaign touts prominent endorsements from the likes of former national security adviser Susan Rice, retired Army Gen. Stanley McChrystal, Colorado Sen. Michael Bennet, and former Defense Secretary Leon Panetta.
"I've been in this for 30 years," Khazei said, adding that he's the only candidate in the race, which mostly includes younger legislators and activists from the Boston suburbs, "who has actually gotten things done in Washington, D.C."
And with the new plan pitching his local commitments to the 4th District, Khazei says his national connections would give him more influence than the typical first-year lawmaker to push for amendments to larger bills to get provisions and funding that would advance the newly outlined local goals. For example, in the case of the Franklin commuter rail stop, Khazei says a reason a second track hasn't been added is because the current station isn't compliant with the Americans with Disabilities Act.
'There are public transportation stations all over America that need to be brought into ADA compliance," he said. "So what I'm going to do is reach out to … the other key members that have public transit stations. There is going to be an infrastructure bill — I guarantee you — because after the election that's one thing everybody agrees on. And I'm going to put an amendment in, as part of this, that money should go to make ADA compliant any public transit stop that isn't, and I'll get bipartisan support for that."
It's just one example of how Khazei says he could use his experience to fulfill the needs of the district, which he says are most pressing in cities like Attleboro, Fall River, and Taunton, where preexisting challenges have been exacerbated by the pandemic. In the latter two cities, unemployment has spiked above 20 percent because of the coronavirus.
However, Khazei also says the pandemic has brought a "New Deal moment" — an opportunity for bold, transformational change in the wake of crises. And he says the district's next representative in Congress needs to be ready to ensure any infrastructure or climate change bill benefits the South Coast, which he thinks has the capacity to be a clean manufacturing hub.
In addition to challenges, his new local action plan identifies specific assets unique to each city or town. For example, Fall River's waterfront could be a prime opportunity for multi-use development and tourism, if the city could get federal funding in an economic development bill, according to Khazei.
"I've always learned the way you make changes is you build off of strengths," he said. "A lot of people look at a place and say, 'OK, what's the problem, what do we do about it.' What I've learned is you got to look at what the resources are. And there are great resources in every community in this district."
Get Boston.com's browser alerts:
Enable breaking news notifications straight to your internet browser.