Politics
3 things we learned from the final debate between Ed Markey and Joe Kennedy
"If you're gonna try to stand on the principle, you gotta stand on the principle."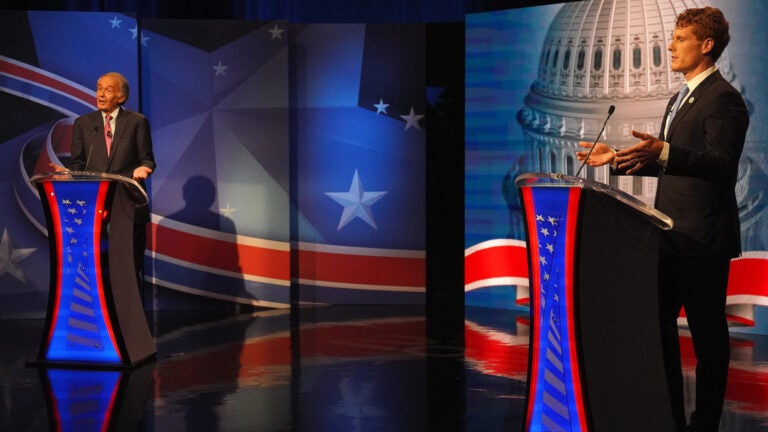 For the final time in their nearly yearlong, nationally watched Senate primary race, Sen. Ed Markey and Rep. Joe Kennedy III faced off in a televised debate Tuesday night, during which the two Massachusetts Democrats traded jabs as the Sept. 1 election nears.
Much of the hourlong debate was spent rehashing familiar themes of the increasingly contentious race.
Kennedy argued that he would act to more urgently and effectively leverage the platform of a Massachusetts senator, while Markey touted the bills he had passed over his 47 combined years in the House and Senate. Both candidates said that, if elected, they would push progressive policies they say are direly needed to address systemic economic and racial inequalities exposed by the COVID-19 pandemic and President Donald Trump's administration.
However, there were also some new notes.
Markey defends his constituent services amid complaints from a second Massachusetts father
Kennedy has criticized Markey over travel records showing that the 74-year-old senator spends less time in Massachusetts than any other member of the state's congressional delegation. And in recent weeks, Kennedy has highlighted Markey's response to the parents of D.J. Henry — the Black college student from Easton who was shot and killed by a police officer in New York in 2010 — who said the senator didn't do enough when they asked for help pressing for a more thorough investigation into their son's death.
But during the debate Tuesday night, Markey was pressed about a second local constituent who accused him of "ignoring their pleas," as moderator Janet Wu put it. WCVB reported earlier Tuesday that Colin Bower, whose ex-wife kidnapped their two sons and took them to Egypt after he was granted sole custody, found Markey to be indifferent when they met in late 2013.
"I'm very proud of my constituent service," Markey said Tuesday, pivoting to several bills he authored to address the opioid crisis that became law in 2018.
"For the thousands of families across Massachusetts who suffered the loss of their children in the opioid crisis, I went to bat for them," he added. "I got the laws changed in our country."
The Malden native said the legislation was informed by visits to cities like Taunton, during which he spoke to "grieving families" that had lost their children to fentanyl overdoses.
"I can't imagine the pain that the Henry family has gone through," he said. "It's unimaginable that they have lost a son. I know that they were not happy with the meeting that they had with me. And I apologize to the family for that."
Markey pledged Tuesday to continue to work with the rest of the delegation, including Kennedy, to seek justice for the Henry family; he recently called on the Trump administration to reopen the case.
Kennedy acknowledged that neither had been successful in their efforts to help the Henry or Bower families, but argued that the two cases were illustrative of how he would approach the job as senator differently. Both fathers, who are supporting Kennedy's campaign, have said the Newton congressman was a more active advocate after hearing their problems.
"Let me be clear, I have not been able to unify and reunify Colin with his kids, and I have not been able to actually deliver on justice for the Henry family," Kennedy said. "But the difference is that you try. The difference that we can make in this position is that you help when people are in need. … I promise you, that as your senator, I will not rest for you and your family."
A small but new policy difference emerges
While Markey has picked up the support of most local and national progressive activist groups, there was one issue where Kennedy found himself to the left of the senator: Life sentences without parole.
Both Democrats, who oppose the death penalty, have said during the campaign that they also support eliminating life sentences without the possibility of parole, even in the most obvious and heinous cases of crimes like murder. But when asked about the case of convicted Boston Marathon bomber Dzhokhar Tsarnaev, Markey said Tuesday night that he "would make an exception for a terrorist."
"But for everyone else, they should qualify for parole," said Markey, who confirmed his position after the debate.
"I believe there should be an exception for terrorists, and I think it should apply to the Boston Marathon bomber," he told reporters.
Kennedy said he would not support such an exception. However, he also stressed that the possibility of parole does not mean it would be granted and that victims' families should play a role in the decision.
"When you start looking at the number of federal sentences that you're saying that there's going to be life without the possibility of parole, and then you start getting exceptions to those, I think you end up kind of starting to swallow the principle," Kennedy told reporters after the debate.
Kennedy noted the subject was a "personal" and "difficult" issue for his family. Sirhan Sirhan, the man convicted of killing the 39-year-old congressman's grandfather, Robert F. Kennedy, has repeatedly been up for — and denied — parole since the 1968 assassination, including most recently in 2016.
"I think people do have a right to hope," Kennedy said after the debate.
"Again, the victims' families need to be involved, and just the fact that you've got an opportunity for parole doesn't, obviously, mean that you're going to be or should be let out," he continued. "But I think if you're gonna try to stand on the principle, you gotta stand on the principle."
What makes two privileged candidates qualified to address working class concerns
Toward the end of the debate, Markey and Kennedy were asked what perhaps may be a point of skepticism for disaffected voters: How exactly would two well-to-do white men — one a longtime fixture of Washington, D.C., and the other a scion of one of America's most famous and wealthy political families — be able to understand and address the hardships faced by working-class families amidst the economic fallout of the pandemic?
Both candidates agreed that Washington, D.C., had become disconnected from those everyday struggles. How would they bridge that gap?
Kennedy acknowledged there was "no doubt that I come to this position with tremendous privilege."
"I've tried to be as upfront and deliberate about that as I can," he said, arguing the importance of being "present in our communities," specifically naming the Boston neighborhoods of Dorchester, Roxbury, and Mattapan, along with Chelsea, Lawrence, and Springfield, and the struggles he heard from business owners in those communities around accessing federal relief funds during the pandemic.
"And so if you are not here. If you're not literally in our streets, in our communities, listening, learning, talking, and using that to drive the policy change back in Washington," he added. "That's how I have led, and I think it's a big difference between me and the senator."
Markey countered that Kennedy may have heard about those life experiences, but — before he was elected to Congress in the 1970s — he lived it. Markey described revisiting his father's former home in Lawrence and meeting the Dominican family who lived there now.
"The accents were different, but the aspirations clearly the same for that family as for the Markey family," said Markey, who has contrasted his working-class roots with Kennedy's family.
For his part, Kennedy said his family had "come up an awful lot in this campaign," but that they taught him leadership "isn't about power" but "humanity."
"Their legacy is my lesson," he said.
In closing, Markey touted his leadership on the Green New Deal climate change resolution, which he said is among a raft of policies needed to address concerns of Massachusetts families. Markey also plugged his sponsorship of a bill to provide monthly $2,000 direct payments to most Americans during the COVID-19 pandemic (Kennedy introduced a similar bill during the onset of the crisis).
"They want their children to dream about the future, rather than have to fear it," Markey said.
Get Boston.com's browser alerts:
Enable breaking news notifications straight to your internet browser.