Politics
Jesse Mermell takes fire — and doles it out — during 4th District debate
"What we need right now are people who are willing to stand out of the majority."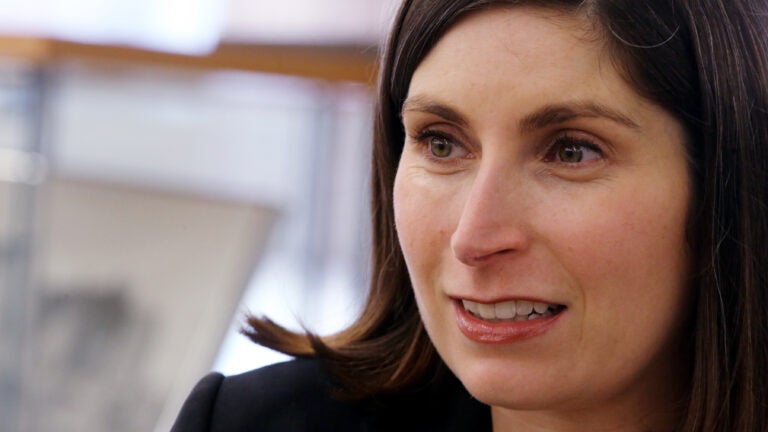 Jesse Mermell is claiming "momentum" in the muddled Democratic primary race to succeed Rep. Joe Kennedy III in Congress.
Even as a new poll out Wednesday shows the top six 4th District candidates in a statistical tie with nearly half of voters undecided, Mermell entered the final two weeks of the eight-way race on the heels of endorsements from former opponent Dave Cavell and Massachusetts Attorney General Maura Healey, among other established local Democrats vouching for her progressive credentials.
But with any perceived momentum also comes increased scrutiny (as Newton City Councilor Jake Auchincloss, a fellow primary candidate, knows well).
And during a virtual debate Tuesday night hosted by Stonehill College, the 40-year-old former Brookline Select Board member, communications director for Gov. Deval Patrick, and nonprofit leader was at the center of several contentious disputes, from health care to her time in elected office.
Democrats' favorite debate: Medicare-for-All — with a local twist
Mermell participated in the second half of the two-hour debate, which was moderated by WPRI's Ted Nesi and split into separate four-candidate groups.
Nesi began the second hour Tuesday night by asking Mermell, Auchincloss, Newton City Councilor Becky Grossman, and former financial regulator and Brookline resident Ihssane Leckey about their positions on Medicare-for-All, the proposed single-payer health care reform that has become a strategic and ideological divider between the more progressive and moderate sides of the Democratic Party.
Mermell stood by her support for Medicare-for-All, noting that it was a position shared by Sens. Elizabeth Warren and Ed Markey, as well as the current occupant of the 4th District seat.
"Anyone who wants to do anything less than Medicare-for-All is looking to take this district backwards, in terms of the type of leadership being provided in Washington," Mermell said, specifically calling out Auchincloss and Grossman.
"I'm disappointed that there are candidates in this race, Jake and Becky, among us tonight, who feel that way," she said.
Grossman acknowledged that the country's current health care system is "incredibly fractured" and expensive, but argued the better strategy was to prioritize passing a public insurance option, as supported by Democratic presidential nominee Joe Biden.
"I think we need to get families and individuals covered in a quality affordable way as quickly as possible," she said. "To my mind, the fastest way to do that is through a public option on the way to Medicare-for-All. That is something that we can put into place when President Joe Biden takes over, and I'm going to be ready to work with him to make that a reality."
But Mermell said it was no time for "incrementalism." While she acknowledged that Medicare-for-All would necessarily involve some sort of transition, she suggested the support was a question of values, particularly given the dire straits of the United States health care system in the wake of the COVID-19 pandemic.
"Incrementalism is not the answer," she said. "In fact, I think that anything less than Medicare-for-All unfortunately will leave us with so many people continuing to lay awake at night worrying about whether or not they can access care and afford it."
Leckey, however, questioned Mermell's commitment to the cause.
The self-described democratic socialist — who said she voted against the Democratic Party platform as a delegate of Sen. Bernie Sanders's presidential campaign because it did not include Medicare-for-All — pointed out that one of Mermell's top supporters is Vertex Pharmaceuticals founder Josh Boger, with whom she founded the Alliance for Business Leadership, a coalition that advocates for corporate social responsibility.
"When we have candidates who are taking the money from the health insurance industry, we're not going to get Medicare-for-All with that," Leckey said. "Let's be clear, with that, there is no trust. If somebody is working against Medicare-for-All and touting Medicare-for-All."
'What we need right now are people who are willing to stand out of the majority'
Mermell also faced scrutiny over her response to a 2010 complaint filed by Brookline firefighter Gerald Alston after his white supervisor Paul Pender used the n-word. Pender received only a two-shift suspension and was later promoted. The complaint by Alston, who is Black, led to a still-unresolved legal battle with the town; he has been on extended leave since 2013.
Last year, the Massachusetts Civil Service Commission ruled that Brookline never took appropriate action against Pender and that Alston was subsequently subjected to workplace retaliation over his complaint.
Mermell was one of the five Brookline Select Board members who unanimously voted in favor of Pender's punishment, which she now calls a personal "failure." And in May of 2019, two weeks before the Select Board voted to issue a formal apology to Alston on behalf of the town, Mermell posted a lengthy personal apology on Facebook saying that she "lacked the courage to say that consequences potentially faced as a result of adopting a more aggressive disciplinary strategy paled in comparison to the consequences born by Mr. Alston in the wake of what he had endured."
During the debate Tuesday, she pledged to use her platform to bring the situation to an" immediate resolution " that centers justice for Alston.
"We followed a unanimous vote having been advised by town counsel, and I've acknowledged that it was inadequate,' Mermell said, when pressed by Nesi if she should have done more.
Mermell also noted that her apology last May occurred "long before any of us knew the seat would be open" (word that Kennedy was considering a Senate run didn't leak out until last August).
Leckey was less generous, accusing Mermell of being "opportunistic."
"What we need right now are people who are willing to stand out of the majority and say, 'No, that is an unjust action to take,'" said Leckey, who launched her campaign for Kennedy's seat when it still appeared the congressman would seek re-election.
"I don't think that we need people who, you know, sometimes mean well but fall short and then it takes them a decade to come out and apologize," she added.
Mermell shot back that it was "unacceptable and insulting" to suggest that her apology — which she also issued directly to Alston — was anything but genuine.
"I wish I had a time machine and made that apology earlier," Mermell said. "I've been clear about that."
And as Nesi noted Wednesday, Alston himself appears to be satisfied by Mermell's efforts to redress the 2010 vote.
Gerald Alston – the Brookline firefighter who was the target of racism and whose case has come up from @jessemermell's time on the Select Board then – posted this to FB last night after the #MA04 debate

Full debate here: https://t.co/ZC9Fh2G7du #mapoli pic.twitter.com/rItGIf85lL

— Ted Nesi (@TedNesi) August 19, 2020
"It's not about the mistake you make [it's] what you do after that truly determines who you are," Alston wrote on Facebook after the debate Tuesday night.
Did Auchincloss 'mansplain' to Kamala Harris?
Mermell also went on the offensive at times; during an exchange about how to address economic recovery from COVID-19, she drew attention to what was at first a seemingly obscure bill proposed in 2018 to provide a refundable tax credit to low- and middle-income individuals who are "rent burdened," meaning that they pay more than 30 percent of their wages in rent and utilities.
However, it soon became clear why Mermell had dialed in on the legislation.
"That bill was widely, widely praised by housing advocates, but Jake actually tweeted — I believe it was in late July of 2018 — criticizing that bill, and telling the person, the senator, who wrote it to 'study economics,'" Mermell said.
"That's a direct quote," she continued. "As it turns out, that senator majored in economics at Howard University, chaired their economic society, and just last week was nominated to be the next vice president of the United States."
Auchincloss's tweet — replying to Sen. Kamala Harris — has since been deleted, but Mermell questioned if he thought it was appropriate to "mansplain" to a sitting senator.
FACT CHECK: In 2018, @JakeAuch criticized a policy to create a refundable tax credit to help working families pay their rent & mocked the Senator who proposed it.@KamalaHarris, the next VP, studied Economics at @howardu & chaired the Economics Society. #mapoli #ma04 #MA04Debate pic.twitter.com/a6Himn37ba

— Jesse Mermell (@jessemermell) August 19, 2020
Auchincloss —who has faced intense scrutiny over a series of past statements and his brief time as a registered Republican — said that he couldn't "off the top of my head talk about a tweet from two years ago," though he defended his "progressive" record as an advocate for affordable and inclusive housing in Newton.
"I can't give you the answer there," he said. "What I will say is that I'm incredibly excited about this ticket. And I am incredibly confident in its ability to beat Donald Trump. And I think that we have a smart and highly capable vice president nominee who is going to help lead this country forward and build coalitions."
Mermell pressed to know if Auchincloss disagreed with Harris's housing bill or if he was "walking back" his criticism of "a Black woman senator."
Auchincloss called the "ad hominem attacks" counterproductive. But with two more debates this week in the down-to-the-wire race, the chances seem slim that they will let up, especially since he's no longer the only target.
Get Boston.com's browser alerts:
Enable breaking news notifications straight to your internet browser.