Politics
Trump vs. Biden: Here's what to know about the 2020 presidential debates
President Donald Trump and former Vice President Joe Biden were supposed to face off three times.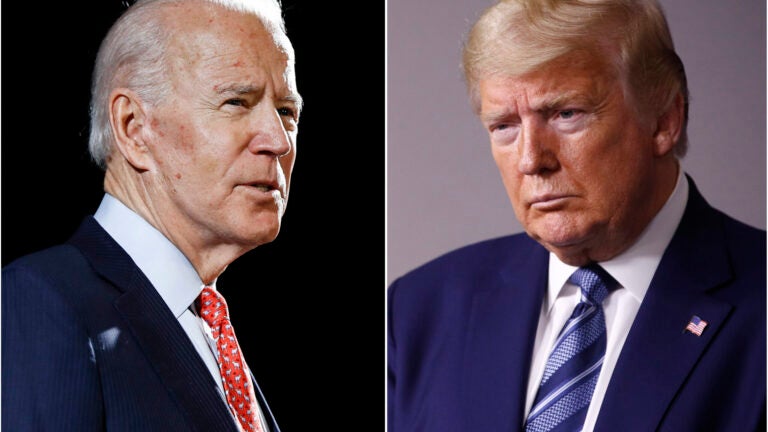 For decades, the presidential debates have provided voters a glimpse into how the candidates match up on national issues and against each other. 
With Nov. 3 nearing, it's time to put the 2020 general election debates on your radar. 
Ahead, read a breakdown of how the debates are shaping up and what comes next. 
The presidential debate schedule
The first presidential debate between President Donald Trump and former Vice President Joe Biden kicked off on Tuesday, Sept. 29, at Case Western Reserve University in Cleveland, Ohio, according to the Commission on Presidential Debates. 
In 2004, the school was also the site of the vice presidential debate between then-Vice President Dick Cheney and Democratic vice presidential nominee Sen. John Edwards. The Cleveland Clinic, which co-hosted, served as the CPD's health security advisor. 
The vice presidential debate between Vice President Mike Pence and Sen. Kamala D. Harris (D-Calif.) was slated for Wednesday, Oct. 7 at the University of Utah in Salt Lake City. It was divided into nine 10-minute segments.
The second presidential debate, which was originally set to take place Thursday night at the Adrienne Arsht Center for the Performing Arts in Miami, has now morphed into two separate dueling town halls. 
At first, on Oct. 8, the CPD announced that due to growing COVID-19 safety concerns the second presidential debate would be conducted virtually. 
Then, President Trump refused to take part in the virtual format, and the Biden campaign announced a solo town hall event. Soon the CPD said the campaigns of both candidates, who qualified for participation in the debate, "made a series of statements concerning their respective positions regarding their willingness to participate in a virtual debate on October 15, and each now has announced alternate plans for that date."
The two live events are scheduled to be broadcast simultaneously on rival networks  —  NBC and ABC — though recordings of each will be available to viewers afterward. 
Starting at 8 p.m. Eastern time, Biden is slated to appear at an ABC News forum held at the National Constitution Center in Philadelphia, according to the New York Times. The town-hall style event will be moderated by ABC's chief news anchor, George Stephanopoulos, and is expected to last 90 minutes. 
President Trump's NBC News event, also beginning at 8 p.m. Eastern time, will be held outdoors with a live audience at the Pérez Art Museum in Miami and will be moderated by the "Today" show host Savannah Guthrie. The network noted in a statement Wednesday that health officials, including Dr. Anthony Fauci, "have concluded 'with a high degree of confidence' that the president is 'not shedding infectious virus.'"
.@NBCNews will host a live town hall event with President Trump, moderated by @SavannahGuthrie tomorrow at 8 p.m. The event is set to take place outdoors and accordance with guidelines set forth by health officials. pic.twitter.com/0jffij4PpZ

— TODAY (@TODAYshow) October 14, 2020
The broadcast town-hall-style event with Trump and Florida voters is expected to last for about an hour.
A third and final presidential debate, moderated by White House correspondent Kristen Welker, remains on track for Thursday, Oct. 22, at Belmont University in Nashville, Tennessee. 
The CPD confirmed on Oct. 9 that Biden and Trump have both agreed to participate in the Oct. 22 showdown. 
The final debate is set to begin at 9 p.m. ET and run for 90 minutes without any commercial breaks. 
Following the tradition of past election cycles, the first and third presidential debates have been divided into six 15-minute segments, according to the CPD. Each topic for the segments will be selected and announced by the moderator at least one week before the debate.
Unlike years past, the CPD said there will only be one moderator in an effort to have as few people onstage as possible during the ongoing coronavirus pandemic. Each moderator will be announced in early September. 
Just like everything else during 2020, the debates have been faced with uncertainty as well. 
The University of Notre Dame was originally set to host the first debate before withdrawing in late July, citing coronavirus-related concerns. Similarly, the University of Michigan in Ann Arbor was set to host the second debate until college officials cancelled in late June, saying it would not be feasible for the campus to host the debate as planned.
Get Boston.com's browser alerts:
Enable breaking news notifications straight to your internet browser.