Politics
Nancy Pelosi says Joe Kennedy endorsement is 'consistent' with her practice of supporting House Democrats
"I support my members when they run for re-election and when they run for other office."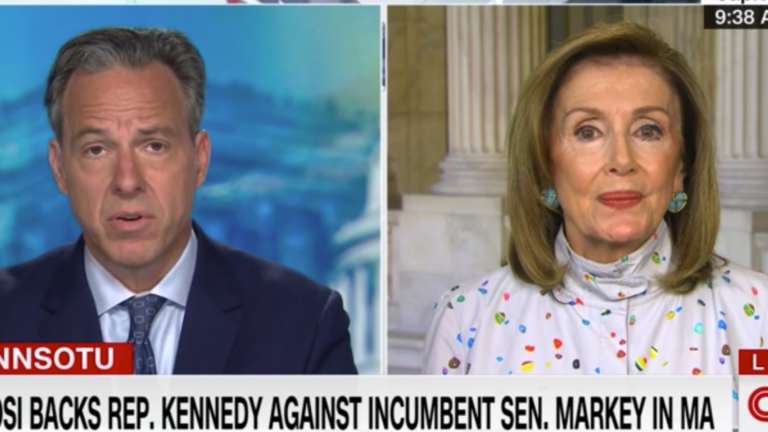 Rep. Nancy Pelosi says she supports incumbent House Democrats, even if they're running for Senate.
During an appearance Sunday morning on CNN, the House speaker defended her decision to endorse Rep. Joe Kennedy III's campaign to unseat Sen. Ed Markey last week — a move which drew swift criticism from progressive groups and elected officials alleging a "double standard" given the Democratic congressional leadership's opposition to primary challengers.
Pelosi, however, says she has been "consistent."
"I support my members when they run for re-election and when they run for other office," the California congresswoman, who has led the House Democratic Caucus since 2003, told CNN's Jake Tapper.
"People can support whoever they want, and our members do," Pelosi said during the interview Sunday. "I support my members, and I have consistently, proudly supported my members in their re-elections — and that's been consistent — against any other people who are running against them. They can run against them, and members can support them. But I support my members, and I am so proud of Joe Kennedy."
Pelosi said Kennedy, who campaigned for Democratic candidates across the country during the 2018 midterms, was " instrumental" in helping the party retake majority control of the House of Representatives.
"He knows that, to achieve progressive change, you must be on the front lines leading movements of people," Pelosi said in a video Thursday.
Her surprise foray into the high-profile Massachusetts race — between two progressives aligned on most major issues — came with less two weeks to go before the state's Sept. 1 primary election and just days before early voting began Saturday, and with mail-in voting already well underway.
The endorsement also puts Pelosi at odds with New York Sen. Chuck Schumer, the Democratic minority leader in the Senate, who has fundraised for Markey's re-election campaign, as well as the Democratic Senatorial Campaign Committee, which has backed the incumbent senator.
Following the announcement last week, Markey's supporters accused Pelosi of going against the Democratic Congressional Campaign Committee's controversial policy of blacklisting firms and strategists who work with Democratic primary challengers, a rule effectively meant to insulate incumbents from left-wing insurgents. However, according to Politico, House Democrats have argued the policy doesn't apply to Senate races.
Markey, who served together in the House with Pelosi for more than 25 years before his 2013 election to the Senate, said Thursday that "any candidate would be proud to have her endorsement."
"I congratulate Congressman Kennedy on securing her support," he said.
Get Boston.com's browser alerts:
Enable breaking news notifications straight to your internet browser.