Politics
Ayanna Pressley grills postmaster general over mail delays amid pandemic
"The only thing you should be delivering is your resignation."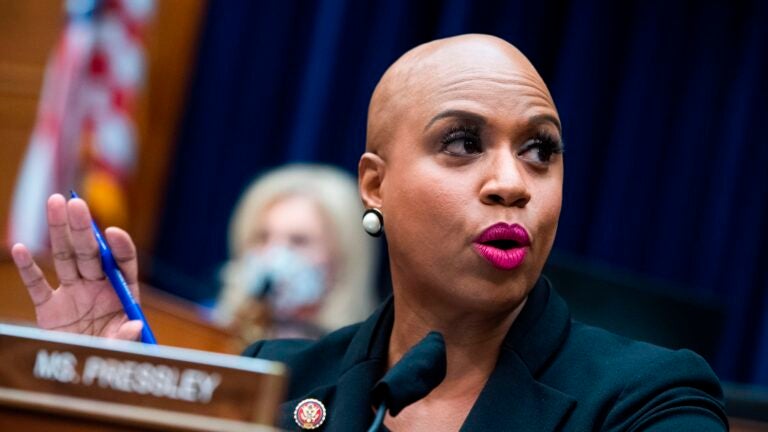 Rep. Stephen Lynch wasn't the only Boston Democrat to lambast Postmaster General Louis DeJoy on Monday.
During the House Oversight and Reform Committee hearing, Rep. Ayanna Pressley pressed Dejoy for answers on several topics, including the COVID-19 pandemic's impact on the U.S. Postal Service's workforce and the effect of recent cost-cutting measures on mail delivery. The increasing heated line of questioning culminated in Pressley calling on DeJoy to resign.
"In my opinion, the only thing you should be delivering is your resignation," the Massachusetts congresswoman said.
Dejoy, a supply-chain businessman and prolific Republican Party donor who was appointed postmaster general in May, has acknowledged that the recent changes instituted under his watch have had "unintended consequences" on postal service.
But under questioning by Pressley, DeJoy denied that the agency's management-level hiring freeze and push for early retirement among non-union workers would exacerbate the delays, even though he told lawmakers last week that decreased "employee availability" due to the pandemic had slowed service.
"No, no, no, no, no," DeJoy said Monday.
Still, Pressley said that overseeing a "systemic slowdown of mail delivery during a pandemic within months of a national election is incomprehensible."
"At best, these actions represent irresponsible leadership from a novice who has absolutely no business leading a government agency," she said. "At worst, they are cruel, unethical, and anti-democratic."
According to The New York Times, experts predict the number of American voters who will submit their ballots through the mail will double this fall due to the coronavirus, which has raised suspicions among Democrats that the recent changes to the Postal Service under President Donald Trump are about more than fiscal matters — though Dejoy has said his top priority is ensuring that election mail arrives on time.
Pressley, who first called on DeJoy to resign earlier this month, has said it's the House's responsibility to hold him "accountable."
Robert Duncan, the chairman of the Postal Service's board of governors, which appointed DeJoy, told Pressley during the hearing Monday that the group of directors had been unaware of several details about the checkered history of DeJoy's former company, New Breed Logistics.
As NPR reported last week, in 1997, the National Labor Relations Board found that the trucking company's hiring practices were motivated by anti-union animus; in 2013, New Breed paid $1.5 million to four warehouse workers to settle a sexual harassment and discrimination lawsuit; and in 2014, four women at the company suffered miscarriages after their requests for lighter duty while pregnant were denied by supervisors.
Duncan said they were not aware of each of those incidents when they selected DeJoy, who was the CEO of New Breed from 1983 to 2014, when the company was sold to a larger firm for $615 million.
Pressley said Monday that the historically diverse, 669,00-person Postal Service workforce deserves a "better leader."
"For generations, working for the USPS was one of the only living-wage jobs accessible to Black and brown Americans," she said. "No doubt many of these families have a personal story of how the USPS job made it possible for them to buy their first home or to send their child to college. Now, it is well documented that many of these same families have been disproportionately impacted by the COVID-19 pandemic and will bear the brunt of any efforts to dismantle the USPS."
Pressley also pressured DeJoy for more detailed, localized data on the pandemic's effects on the agency's workforce. After he told her that 83 USPS workers have now died from the coronavirus, Pressley requested data on the number of COVID-19-related deaths, positive tests, and quarantines of postal workers by congressional district "disaggregated" by congressional district. In the Boston-area alone, Pressley said that 225 postal workers had contracted the disease.
"I will look into our ability to provide that to the Congress, and, if it's available, we'll certainly do it," DeJoy said.
Get Boston.com's browser alerts:
Enable breaking news notifications straight to your internet browser.