Politics
Michael Dukakis and Barney Frank defend 4th District candidate against 'uninformed' attack
An old statement is coming back to bite Alan Khazei in the race to replace Joe Kennedy III. But two high-profile Massachusetts Democrats are backing him up.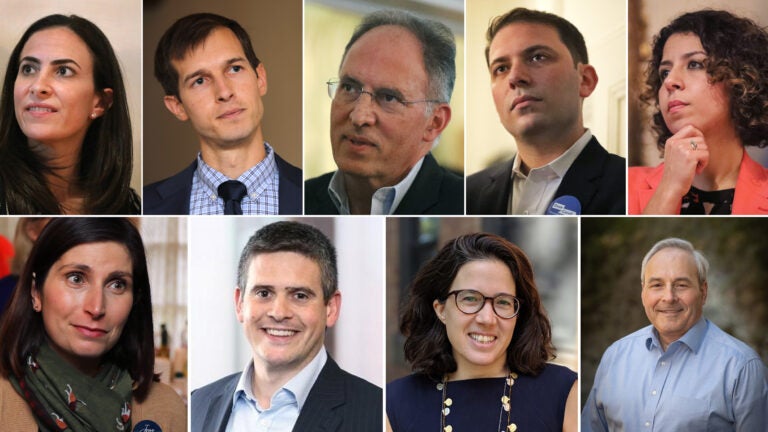 During a Democratic primary debate last week in the race to succeed Rep. Joe Kennedy III in Congress, candidate Alan Khazei repeatedly tried and failed to get any of his opponents to denounce a recent super PAC ad attacking his record on reproductive rights.
So his campaign is bringing in some heavy hitters — at least as far as local Massachusetts politics goes.
In a joint statement shared Tuesday with Boston.com, former Gov. Michael Dukakis and former 4th District Rep. Barney Frank expressed "deep disappointment at the inaccurate and unfair attack" on Khazei, whom they called a "strong" pro-choice Democrat.
While the two longtime Bay State elected officials said they were not publicly supporting any candidate in the eight-way primary contest, they felt obligated to speak out in Khazei's defense.
The ad in question — first released last month by Women Vote, a super PAC affiliated with the group Emily's List, which works to elect more pro-choice Democratic women — suggests the City Year co-founder and Brookline resident would be "willing to use women's health as a bargaining chip."
"Alan Khazei would have let congressional Republicans strip women's health care from the Affordable Care Act," a narrator says in the 15-second ad, referring to comments that Khazei made in 2009 as Congress debated President Barack Obama's signature law.
Then a candidate in the Senate primary race to replace the late Sen. Ted Kennedy, Khazei said he would have "reluctantly" voted for the final version of the health care reform bill even if it included the controversial Stupak-Pitts amendment.
The amendment would have extended an existing ban on the use of federal funds for abortion (except in cases of rape, incest, or where the woman's life is endangered) to apply to subsidized insurance plans offered through Obamacare's state exchanges.
While most congressional Democrats opposed the Stupak amendment, it was included and approved in the initial House version of the ACA to appease pro-life members of the party.
However, as expected, the amendment was not included in the Senate-approved version of the bill. That version was subsequently sent back for a revote in the House, where even anti-abortion Democrats — including Rep. Bart Stupak himself  — ultimately agreed to sign on. (As part of the deal, the Obama administration said it would issue an executive order to ensure that existing restrictions against public funding of abortions could not be circumvented.)
Khazei now says that he "backed Speaker Nancy Pelosi's strategy."
However, at the time, he went even further.
After the House's initial vote on the bill that did include the Stupak amendment in November 2009, the provision became an issue of contention between the Massachusetts Democrats in the special election Senate race, with candidates disagreeing on whether they would tolerate increased restrictions on abortion in order to expand overall healthcare coverage.
Then-attorney general Martha Coakley said she would vote against the final version of the bill if the Stupak amendment was still included. Khazei, however, criticized Coakley for that stance and said he would vote to pass the landmark law and "then work day and night with pro-choice groups and citizen activists to change that legislation and elect members of Congress who will preserve a woman's right to choose no matter their income level."
It's those comments that are under renewed scrutiny, as Khazei runs to replace another Kennedy.
We just can't trust Alan Khazei to protect reproductive freedom. Khazei said he would have let Congressional Republicans strip funding for women's health from Obama's Affordable Care Act during negotiations, using it as a bargaining chip.

Posted by Women Vote on Saturday, July 25, 2020
In the increasingly contentious and up-for-grabs race, Women Vote is spending money on online ads and mailers knocking the top two male candidates, Khazei and Newton City Councilor Jake Auchincloss (as The Boston Globe reported last month, the group takes issue with Auchincloss's time as a Massachusetts Republican Party employee working to elect Gov. Charlie Baker).
Khazei has decried the "false" third-party attack and pointed to female supporters vouching for his "life long record in support of women's rights including the right to choose."
In their statement, Dukakis and Frank — residents of Brookline and Newton, respectively — say that the Women Vote ad is not only a "distortion" of Khazei's overall record, but it "builds on and reinforces an attitude which obstructs serious efforts to enact important policy into law."
"Apparently, the criticism of Alan Khazei is that he speculated that he might have voted for the bill after the final House-Senate agreement, even if it were not as good as we would have liked it to be," they said, adding that "the thrust of the criticism does not focus on this highly hypothetical and uncertain point, but gives the false impression that Khazei would have refused to fight for the pro-choice position."
According to Emily's List, that's sort of the point.
While the group does not dispute Khazei's pro-choice stance, they argue that his 2009 comments illustrate how he would — or perhaps wouldn't — prioritize abortion rights in difficult legislative fights.
"At a time when women's rights are under attack from Republicans and this Administration, Massachusetts voters deserve a leader who will never waiver from protecting women's reproductive freedom, even when tough decisions need to be made," Emily's List spokesperson Mairead Lynn told Boston.com in a statement.
"When push came to shove, Alan Khazei said that he would have stripped women of their rights even as other Democratic leaders refused to accept that was a compromise that needed to be made," Lynn said.
Dukakis and Frank say that approach would have meant that "millions of low-income people who now have health care would not have it," even if legislators were never ultimately forced to take that hypothetical vote due to the Obama administration's deal to remove the Stupak amendment from the final legislation.
"When every tactical decision that has to be made in stressful circumstances to achieve a major advance is subject to retroactive, uninformed criticism based on the worst possible interpretation of the motives of those who are fighting the good fight, the result will be a lot of self-righteous rhetoric and no constructive action," they said.
Get Boston.com's browser alerts:
Enable breaking news notifications straight to your internet browser.