Politics
Confronting a powerful Democrat in Richard Neal, Ocasio-Cortez supports Morse
The endorsement by the first-term progressive from New York came after a tumultuous few weeks for Morse.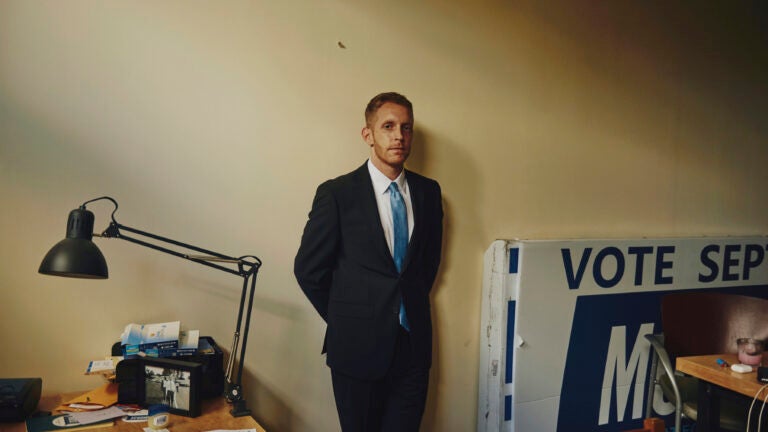 WASHINGTON — Taking on one of the most powerful Democrats in Congress, Rep. Alexandria Ocasio-Cortez on Tuesday used her political action committee to endorse Alex Morse, the small-city mayor who is challenging Rep. Richard E. Neal, D-Mass., the chairman of the Ways and Means Committee.
The endorsement from Courage to Change, announced by Morse in a statement Tuesday, gave a significant lift to his upstart campaign a week before what is expected to be a heated primary election that pits the Holyoke mayor against Neal, 71, who has been in Congress since 1989, the year Morse was born.
It was also a remarkable intervention by Ocasio-Cortez, the first-term progressive from New York who has become the face of the insurgent left, against one of her party's most influential members. As chairman of the Ways and Means panel, which controls tax legislation and social safety net programs, Neal holds enormous sway over all manner of policy issues. He is the most prominent Democrat Ocasio-Cortez has sought to oust since taking office.
Ocasio-Cortez herself had no immediate comment on her decision to wade into the contest, a spokeswoman said Tuesday, referring reporters to Morse's campaign.
The endorsement came after a tumultuous few weeks for Morse, who considered dropping out of the race this month after accusations of "numerous incidents" of unwanted and inappropriate advances toward students at the University of Massachusetts, Amherst, where he was a guest lecturer.
Morse acknowledged some consensual relationships with students and apologized to anyone he had made uncomfortable with his behavior. But he opted to remain in the race after The Intercept published messages from some of the students who had lodged accusations, revealing that they had discussed how they might damage his campaign. One suggested the effort might help his career prospects with Neal, though Neal has denied any involvement.
The Massachusetts Democratic Party also acknowledged that it had provided legal advice to the College Democrats about handling a letter raising the allegations.
Because Neal has been in Congress for more than three decades, the race is seen as the next big test of the strength of the Democratic Party's liberal wing and its ability to oust mainstream incumbents. Ocasio-Cortez became the most recognizable symbol of that power in 2018, when she upset Rep. Joseph Crowley, a 20-year veteran who was a member of the party leadership.
"When Alexandria Ocasio-Cortez took on her own entrenched incumbent in 2018, she changed public service for the better, further inspiring me and so many others to fight for our districts and empower those who have long been forgotten," Morse said in a statement. "I am honored to have the congresswoman's Courage to Change in our corner, and it will be the honor of my life to bring the people alongside me to Washington."
Shortly after winning election, Ocasio-Cortez put Democrats on notice that she planned to actively support insurgent candidates looking to knock out incumbents who were not sufficiently progressive, a notion that caused consternation in the party's ranks.
But since taking office, she has been careful about which lawmakers she has chosen to target. Her political action committee, started this year, has endorsed fewer than a dozen candidates, most of them women. One of those candidates, Jamaal Bowman, last month defeated Rep. Eliot Engel of New York, the long-serving chairman of the Foreign Affairs Committee.
Last week, after House Speaker Nancy Pelosi took the unusual step of endorsing Joseph P. Kennedy III of Massachusetts in his bid to unseat Sen. Edward J. Markey in the state's heated Democratic primary, Ocasio-Cortez declared on Twitter that "no one gets to complain about primary challenges again."
Neal is a staunch ally of the speaker, with whom Ocasio-Cortez has occasionally tangled in the past.
Bowman, along with Justice Democrats, the insurgent group that helped kick off Ocasio-Cortez's inaugural campaign in New York, has also endorsed Morse.
Get Boston.com's browser alerts:
Enable breaking news notifications straight to your internet browser.