Politics
Richard Neal's campaign is demanding local TV stations remove an attack ad. Here's why.
The ad highlights one of the more "politically sensitive" aspects of Neal's record. But the congressman's campaign argues it suggests they committed a crime.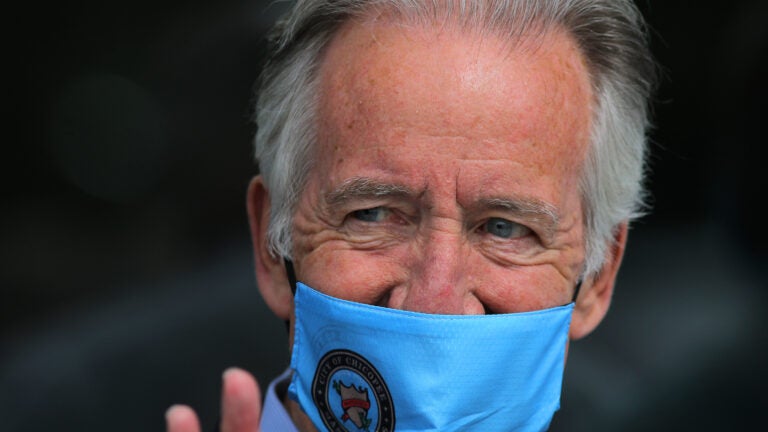 Rep. Richard Neal hasn't shied away from his distinction as the top recipient in Congress of donations from business-affiliated political action groups.
But in the final stretch of a nationally watched primary race against Holyoke Mayor Alex Morse, the Springfield Democrat's re-election campaign is trying to take down a third-party TV ad highlighting that fact.
In a letter first reported Wednesday by the website Sludge, a lawyer for Neal's campaign made the unusual demand that several Western Massachusetts stations remove the "false and defamatory" ad by the national progressive group Justice Democrats — which has supported Morse's campaign for more than a year — criticizing his acceptance of corporate PAC donations.
Officially known as "separate segregated funds," corporate PACS do not directly use company money for political contributions, but are set up by firms to raise and pool voluntary contributions from executives, stockholders, and their families, which can then be used to donate to campaigns or pay for ads.
Neal has become the House's top recipient of corporate PAC money since the beginning of last year when he became chairman of the powerful Ways and Means Committee, which has jurisdiction over the tax code and social services like Medicare and Social Security. According to the Center of Responsive Politics, he has received $1.97 million from corporate PACs — slightly more than Republican Minority Leader Kevin McCarthy and Democratic Majority Leader Steny Hoyer — so far during the two-year 2020 campaign cycle.
And while Neal's campaign does not dispute that record, they do argue that the Justice Democrats ad suggests he takes money directly from corporations, which would be illegal.
"To attack Representative Neal's reputation in his community, the ad purposely confuses the illegal corporate contributions of which it falsely accuses him, with the entirely legal contributions he actually received from PACs," wrote Neal's lawyer, Brian Svoboda, in the Aug. 19 letter.
A narrator in the 30-second ad does say that "Neal took more money from corporations than any other member of Congress." However, the line is said along with a visual of an article headline and a bar graph that specifically refer to the "almost $2 million" the congressman has received from corporate PACs. The narrator also mentions "corporate PACs" at the end of the ad.
Svoboda did not acknowledge those aspects of the ad, but argued that, as a PAC itself, Justice Democrats should know better than to make an "unqualified statement" conflating direct donations from corporate funds with donations made through corporate PACs. He went on to suggest potential legal action against the two TV companies, Chicopee-based WWLP and Western Mass News, the news operation of several Springfield-based broadcast affiliates.
"Because you need not run this ad, you enjoy no immunity from liability for its false claims, and are fully responsible for the defamation and any other torts that might result from their dissemination," Svoboda wrote.
In a response obtained Wednesday by the political newsletter Too Much Information, a lawyer for Justice Democrats argued that the Neal campaign could not ignore the other details — the on-screen graphics, the later narrator comments — in the  ad referring to corporate PACs.
"The Neal Campaign's assertions are frivolous," wrote the group's lawyer, David Mirani. "It could not be clearer that the Advertisement is accusing Neal of accepting more funds from corporate political action committees than any other Member of Congress. Justice Democrats in no way accused the Neal Campaign of violating campaign finance law by accepting contributions from general treasuries of corporations – it is simply highlighting a politically sensitive (but legally permissible) practice."
Additionally, Mirani added that the Neal campaign not disputing his record of accepting corporate PAC money solidifies the ad's "core" claim.
Neither of the two TV stations immediately responded to requests for comment Thursday.
For his part, Morse has seized on Neal's acceptance of corporate PAC money to make the case that the congressman is more beholden to special interests than his constituents. Unlike Neal, Morse has embraced ambitious progressive agenda items like the Green New Deal and single-payer health care. He has also pledged not to take a "single dollar" from corporate PACs.
"You should never have to wonder who I'm fighting for, who your member of Congress is fighting for," Morse said during a debate earlier this month, linking money Neal received from industry groups to the delay of legislation to address surprise medical bills in the Ways and Means Committee.
Neal — who has the support of elected officials from House Speaker Nancy Pelosi to Gov. Charlie Baker — has steadfastly defended his history of accepting political donations — arguing that he has consistently supported campaign finance reform proposals and used the money to support other Democrats across the country.
"I have contributed to every single member of the Black Caucus, every single member of the Hispanic Caucus, every member of the equality caucus, and I have recruited candidates with Speaker Pelosi, help them with message discipline, and help to fund their campaigns," he said during the same debate. "We have a durable congressional majority today, in some measure because of the efforts that I've made."
Neal also rejected the suggestion that the corporate PAC donations affect his stances.
"If you contribute to my campaign, you buy into my agenda," he said. "I'm not buying into yours."
Get Boston.com's browser alerts:
Enable breaking news notifications straight to your internet browser.