Politics
How exactly would Stephen Lynch and Robbie Goldstein vote differently in Congress?
"We've been very clear about the policy distinctions."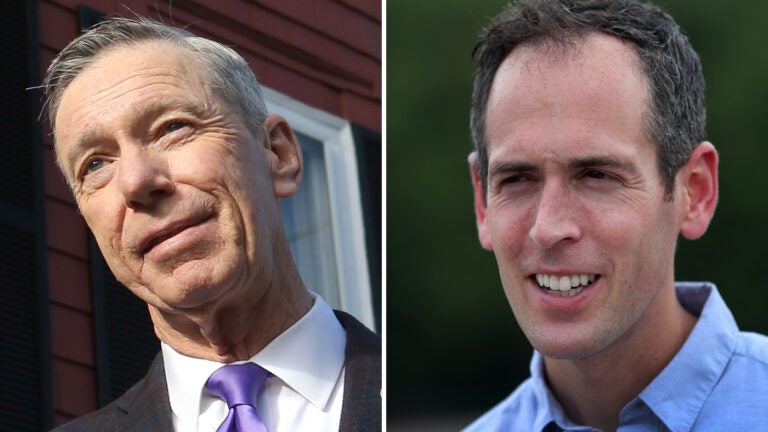 Dr. Robbie Goldstein says he thought he'd been pretty clear about the reasons for his Democratic primary campaign against longtime Rep. Stephen Lynch.
So he found a recent quote by the South Boston congressman's spokesman suggesting that "there isn't a whole lot of oxygen" between how the two Democrats would actually vote a bit "shocking."
"We've been very clear about the policy distinctions between me and the congressman," Goldstein said in recent interview.
In the midst of several other competitive Massachusetts primaries headed toward the finish line Tuesday, the 36-year-old infectious disease specialist and Massachusetts General Hospital doctor has been running an unabashedly progressive campaign against Lynch, a nine-term incumbent and former ironworker with a reputation as the most moderate member of the state's all-Democratic federal delegation.
The big divide between the two campaigns is over Medicare-for-All.
Goldstein has framed his 8th District congressional campaign — launched months before the onset of the COVID-19 pandemic — around his expertise on health care and support for the proposed single-payer system championed by Sen. Bernie Sanders.
Lynch instead favors a public health insurance option and, as Goldstein often mentions, was one of the few Democrats who voted against the Affordable Care Act. Goldstein says the vote should be "disqualifying," though Lynch says his opposition was based on the bill's impact on union health care plans and the final version's exclusion of state-based public options.
"Rep. Lynch voted against the largest expansion of healthcare since Medicaid," Goldstein tweeted last week. "I will get us to [single-payer]."
That criticism can also cut both ways, as Lynch's spokesman, Scott Ferson, frames Goldstein's support of a national single-payer system as  "dismantling" the popular health care law (even if Medicare-for-All would ostensibly guarantee universal coverage).
"He has an odd way of trashing Congressman Lynch's vote in the House against the ACA, because he wanted it to be stronger," Ferson told Boston.com.
But with Medicare-for-All unlikely to be advanced under a potential Joe Biden administration, what would actually set Goldstein and Lynch apart at least in the immediate future?
In a series of tweets last week, Goldstein ticked off the past Lynch stances he finds objectionable, from a 2017 vote with just seven other Democrats for a Republican proposal to prohibit individuals from receiving a health care tax credit until their citizenship was verified "no matter how long that process takes" to the congressman's support of a GOP-backed bill to increase penalties on immigrants who illegally reenter the United States.
"I'm hopeful that we will have a Democratic president in January of 2021," Goldstein told Boston.com. "And when that happens, we will evaluate what's happening on our southern border, and we will fix our immigration system, and I would expect that I would vote in the opposite way of Congressman Lynch on both of those bills given his prior voting record."
Goldstein also points to his support for a bill backed by Rep. Ayanna Pressley that would eliminate the legal doctrine known as qualified immunity, which effectively shields government officials from civil lawsuit except in the most obvious cases of misconduct.
And he thinks there will "certainly" be a vote on the Hyde Amendment, which bans federal funds from being used for abortions. Goldstein says it should be repealed.
"We can go down a long, long list," he said.
Still, Ferson argues the policy differences aren't as big as they seem.
Lynch has generally backed Democratic efforts to reform the immigration system. And while opposed to so-called sanctuary cities, he has more recently been critical of President Donald Trump's immigration policies and rhetoric.
Lynch also voted in July for a sweeping police reform bill that included eliminating qualified immunity for law enforcement officers. During a forum in early August, he said its passage by House Democrats was one of the chamber's "proudest" accomplishments, even if it wouldn't go as far as Pressley's bill, which would repeal qualified immunity for all public officials (Lynch and Rep. Richard Neal were the only two members of the Massachusetts delegation who did not co-sponsor her standalone bill).
Ferson couldn't say Monday what Lynch's position was on the Hyde Amendment, which he noted hasn't come up for an up-or-down vote since the 1990s.
"It was a hot button issue, frankly, I think before Stephen was even elected to Congress," Ferson said.
More recently, the amendment has been tacked on to larger spending bills, meaning that not only Lynch but also staunchly pro-choice Democrats often incidentally cast votes in favor of it.
Lynch — who has personally identified as pro-life but believes abortion is a constitutionally protected right — has more recently taken to speaking out against state-level restrictions on reproductive rights.
"That's where the fight is now," Ferson said.
More broadly, Ferson contends that Lynch's seniority on congressional committees like Oversight and Reform and Financial Services gives him a "leadership" advantage in the race and opportunities "that a freshman member would not be afforded."  The congressman made headlines last week for his televised excoriation of Postmaster General Louis DeJoy over recent mail delivery delays.
However, Goldstein — whose campaign manager has referred to the incumbent as a "do-nothing moderate" — noted that only five bills authored by Lynch have been signed into law. Two of them renamed post offices.
According to Ferson, Lynch has been more focused on committee work and in-district support services. Additionally, since Lynch was elected in 2001, his party has controlled the House of Representative for a total of six years.
"Democrats weren't passing a ton of legislation when Republicans controlled the House of Representatives," Ferson said, even if Lynch "works in a bipartisan fashion on a lot of things."
But ultimately, Goldstein argues that the 8th District's representative should be championing more transformative policy at the federal level.
"I think the voters should know that by now," he said. "It's what we've been talking about for 10 months. It doesn't need to be what Congressman Lynch wants to talk about."
Get Boston.com's browser alerts:
Enable breaking news notifications straight to your internet browser.