Politics
Rachael Rollins would be 'shocked' if Ayanna Pressley doesn't someday run for Senate. Pressley is not ruling it out.
"She will pursue every opportunity to have the greatest positive impact for the people she represents."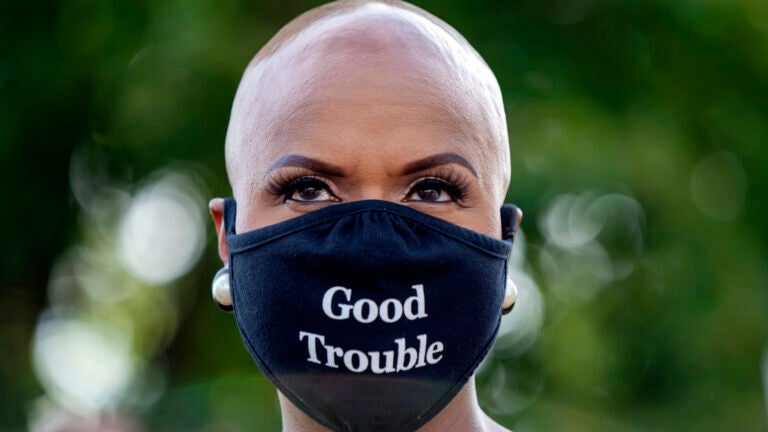 Rep. Ayanna Pressley never endorsed in the yearlong Senate primary race between incumbent Sen. Ed Markey and Rep. Joe Kennedy III.
But even as ballots are cast on Tuesday, the Massachusetts congresswoman's presence has continued to linger on the periphery.
From the beginning of the race, local politicos have speculated publicly and privately that Kennedy's decision to challenge Markey was at least partly an effort to get ahead of running in a potentially tougher open primary in a field including other rising Democratic stars, such as Pressley, the state's first Black congresswoman.
Kennedy's campaign is adamant that's not the case, citing the urgency of addressing systemic inequalities that have reached a breaking point.
But in a New York Times article Monday, Suffolk County District Attorney Rachael Rollins — who is supporting Markey in the Senate primary — gave the theory its most prominent voice, suggesting that Kennedy was running this year to avoid a future Senate primary race against Pressley.
"I'd be shocked if Ayanna didn't jump," Rollins told the Times.
Asked about her comments, Rollins told Boston.com in a statement that her "comments, opinions and speculations are my own." But she also effusively praised the freshman Democrat's "bold, activist leadership" during her short time in Congress.
"I believe Congresswoman Pressley would be exceptional at anything she put her heart and mind into," Rollins said. "She is hard-working, thoughtful, ever prepared, always willing to listen, shows up with a smile and relates deeply with people. She would represent our Commonwealth incredibly well in the Senate, but we desperately need her voice, legislation and policies in the House. Basically, as long as she is representing our Commonwealth, I'm happy."
For her part, Pressley is not ruling out the possibility of running for higher office, even if there are far more pressing issues at hand.
"In a moment when our communities are facing overlapping crises of public health, economic inequality, and systemic racism, Congresswoman Pressley is focused on her role in the House of Representatives – advocating and legislating for the policies that will support everyone in the Massachusetts 7th – and on working to ensure that Democrats take back the White House, the Senate, and hold the House in November," a spokesperson for Pressley told Boston.com.
"Congresswoman Pressley has always said that she will follow the work, and she will pursue every opportunity to have the greatest positive impact for the people she represents," her spokesperson added.
Kennedy had likewise acknowledged a potential interest in running for an open Senate race in 2017. And with two now-septuagenarian senators (one of whom he endorsed for president), that possibility didn't seem too distant, especially after John Kerry and the late Ted Kennedy held onto the two Senate seats for several decades.
However, within a year of Pressley's upset primary victory over Rep. Michael Capuano in 2018, things apparently changed; the Newton Democrat shifted left — albeit with substantive explanations — on marijuana and health care over the course of several months and announced last August that he was thinking about taking on Markey instead of waiting for an open seat, even though one would ostensibly open up if Sen. Elizabeth Warren — the Democratic presidential primary candidate Kennedy endorsed six months earlier — was successful in her White House bid.
Kennedy has argued that — unlike Warren — Markey hasn't done enough to effectively use his platform as a Massachusetts senator.
"We're in the midst of a global pandemic, a moment of profound racial reckoning, and a crisis of economic injustice," Emily Kaufman, a spokeswoman for Kennedy's campaign, told Boston.com. "Joe got into this race because he believes Massachusetts needs more from their U.S. Senator — now."
In previous interviews, Kennedy said it wasn't until the summer of 2019 that he considered challenging Markey — who has turned out to be a formidable opponent himself.
The decision has resulted in a race that many Democrats wish wasn't happening, with Tuesday's election set to knock one or another well-liked elected official out of politics.
Kennedy feels the risk is worth it; since last summer, he has said that he didn't think "this is a moment for waiting." But of course, Pressley isn't one for waiting either.
Get Boston.com's browser alerts:
Enable breaking news notifications straight to your internet browser.