Politics
Here's how Boston.com readers cast their votes in Tuesday's primary – and how it went
"Democracy in action! Can't wait to do it again on Nov 3!"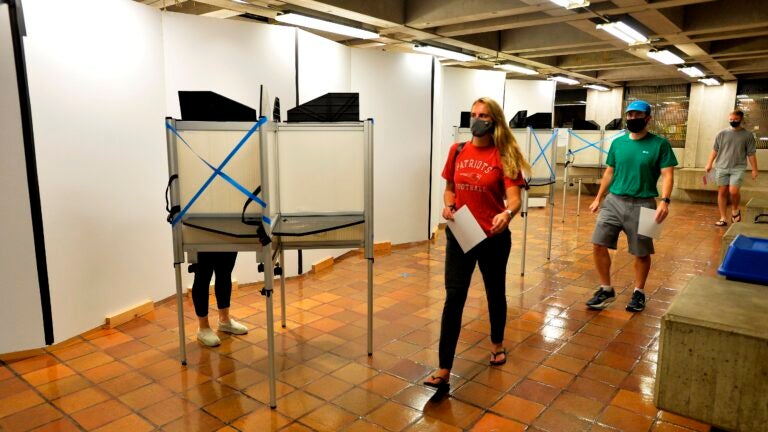 When it comes to voting, it seems like a lot of Boston.com readers are old school.
We asked you how you planned to vote in Tuesday's primary election, and almost 1,200 readers responded. Of those, the largest chunk — 39% — said they planned to, or had already, hoofed it to their local polling place on primary day.
But taken another way, that means a sizable number — 61% — voted in a non-traditional manner. (Or, in the case of 4% of respondents, didn't vote at all — shame on them.)
Here's how it broke down:
In person on Primary Day: 39%
Absentee or early ballot, dropped off: 23%
Absentee or early ballot, mailed: 20%
I early voted: 13%
I'm not voting: 4%
Other: 1%
We're still waiting to see the final breakdown of voting tallies statewide, but given that as of Monday morning more than 850,000 voters had already cast their ballots, according to Secretary of the Commonwealth Bill Galvin, we suspect they'll mirror our readers' voting habits.
In the meantime, of the readers who opted to share a description of their voting experiences, it seems the vast majority of them thought it couldn't have gone better. Here's a sampling of those responses:
"It was excellent! I was in and out in only a few minutes, and hand sanitizer was readily available. Everyone was wearing a mask and was in great spirits — thank you, volunteers!" — Susannah, East Arlington
"I voted in person and felt safe. Everyone wore masks, booths were spaced out, pens were being sanitized, and hand-sanitizer and wipes were provided. There were no lines so the process was quick and efficient." –Matt, Wakefield
"It was very smooth, there was no line, we walked in and voted and were out in five minutes. As both strength and weakness a democracy requires informed voters and active involvement. That this is being discouraged and prevented by those in power is all the more reason to participate or lose the ability to do so. Stay safe out there people! Let's take care of each other and mask up." — Danny, Pembroke
"The polling location was not crowded, and everyone on the staff was masked, as were the voters. There was a lot of signage requiring masks, too. There was the usual row of standing booths with partial side blocking between each carrel, so as long as everyone kept their mask on (they did) it was as low-risk as it could be without blocking off every other carrel to provide more space between voters, which would also increase wait times and cause more proximity in the waiting line, so not ideal either (especially in highly populated areas, which this is not). Upon checking in, we each received a pen (as opposed to them being mounted in each booth) and we dropped them in a box at the check-out table after voting; presumably they're being sanitized before being brought back to the box at the check-in table. The check-in & check-out tables were pivoted 90 degrees so that the person recording the voter was at least 6 feet away, instead of just across the short side from the voter. On the way out, there was a giant pump of hand sanitizer. I felt safe and will vote in person again in November." — Sarah, Wenham
"My voting station was where it always is in the community center gymnasium. This time the doors to the outside remained open. There was no line so I walked right in and walked up to get my ballot and there was plexiglass in front of the poll worker and me — both of us were wearing masks. After I was handed my ballot I walked to my area and every other 'booth' was blocked off with tape. Each voting cubby has a sanitizing wipe. After I filled out the ballot I inserted it into the machine. It was easy and I felt totally safe." — Kathryn, Newton
'Wonderful experience just to vote! I even brought my 5-year-old granddaughter and explained it all to her." — LouAnn, Lowell
"It went extremely smoothly — no lines, everybody obeying social distancing and wearing masks. There was no problem at all! Better than any previous years. Everybody was polite, courteous and respectful. Democracy in action! Can't wait to do it again on Nov 3!" — Can, Newton
"I went early, standing in a very respectful and socially distanced line until the polls opened and was able to vote within five minutes of being in the building. Everyone had a mask on and were standing about six feet apart as we went to our district to collect the ballot. I have multiple serious health issues but am literally willing to risk my life to vote." — Anne, Wakefield
Not that there were no issues. Some voters told us they ran into snags, especially with getting their mail-in ballots:
"I had planned on mailing in my ballot but it didn't arrive until the night before the election. I had no faith the U.S. Post Office could deliver it to city hall by 8 p.m. that same day. I could not find the drop box that was supposed to be nearby and City Hall was in the wrong direction so I voted in person." — Andy, Boston
"Not enough social distancing inside the polling place and two election officials troubleshooting for voters were not wearing masks. The doors were open to the fresh air and there was spacing outside the poll to get in. I wish the polls would have been held in parking lots." — Anonymous
"I had intended to vote by mail. However I didn't receive a ballot despite having requested one a week prior to the August deadline. As a result, my husband and I drove two hours each way in order to vote in person. (Voting was the only reason for the trip and we made a round trip today for a total of four hours.) I'm not sure if our ballots didn't arrive because of an issue with the Elections Board or the USPS. (I did get an email receipt that my email request for a ballot was received.) I voted at about noon and there were only 203 votes cast before mine and my husband. That's a good deal lower than normal but perhaps not surprising. I appreciate your interest on how voting went and look forward to the results." — Moira, Boston
"The entrance to the middle school in Watertown was moved way around back with no indication at the place where voters normally, in past elections, had entered. They would have had to climb a bit of a hill to the parking lot to the enter the front door. There are many elderly in the neighborhood which made it very difficult for many to navigate besides having to walk way around back to vote. I blocked this driveway with my car and directed folks to an easier way to get to the new entrance. A police cruiser came along and I explained what I was doing. They said nothing [and] drove away. I then drove a couple of elderly men to the voter entrance door and back to their homes after. When I returned to the driveway, a sign holder showed up and made quite a scene about my being parked in a crosswalk. I moved off it but continued to block the entrance. She screamed at me, would not listen to my explanation, threatened to call the police and I encouraged her to do so. When police arrived, they explained I could not block the driveway from workers who needed to get in. I explained that I moved out of the way whenever that happened. They said I could no longer stay there and I left after saying it was too bad I could not continue doing what I felt was a good deed." — Gordon, Watertown (soon to be 81 and carrying oxygen)
"Long lines. Not enough poll workers. Need more poll workers and they need more training. A lot of confusion." –– Paul, Malden
"I originally wanted to vote by mail but the ballot did not arrive in time. I mailed in my application on Aug. 8. The tracker said my ballot was mailed out to me on the 18th but it did not arrive until the 28th, not giving me enough time to mail it back. It took ten days for it to go from Boston City Hall to Brighton. None of the early voting locations were convenient to get to and I didn't have time to go all the way to City Hall to drop off the ballot. So I was forced to go in person." — Anonymous
Responses have been lightly edited for length and clarity.
Get Boston.com's browser alerts:
Enable breaking news notifications straight to your internet browser.