Politics
Jake Auchincloss is widening his lead over Jesse Mermell. But the race isn't over yet.
Bill Galvin asked for a court order Wednesday to allow three communities in the 4th District to finish tallying about 1,400 to 1,500 uncounted ballots.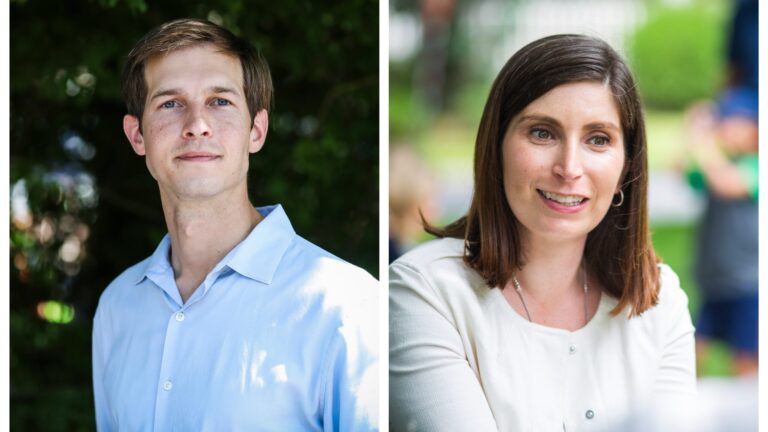 With just a fraction of votes left to be counted in the 4th District congressional primary race, Newton City Councilor Jake Auchincloss appears to be inching toward the Democratic nomination to replace Rep. Joe Kennedy III in Congress.
However, it is going to take a court order before he — or anyone else — reaches the finish line.
Secretary of State Bill Galvin announced Wednesday afternoon that he is seeking a court order to allow local election officials in Massachusetts to finish counting ballots that were received on time.
The petition comes after Galvin's office said they heard that several election officials had been unable to complete their tally by the end of Tuesday night, due to the volume and last-minute arrival of many mail-in ballots due to emergency voting changes implemented in the wake of the COVID-19 pandemic.
And while the requested court authorization would apply statewide, Galvin is particularly focusing on several communities in the still-too-close-to-call 4th District race between Auchincloss and former Brookline Select Board member Jesse Mermell.
Deb O'Malley, a spokeswoman for Galvin's office, told Boston.com that they believe there are 1,400 to 1,500 ballots left to be counted in Newton, Wellesley, and Franklin.
That estimate suggests Mermell does not have enough runway to close the gap.
According to the latest vote count by the Associated Press, Auchincloss — with roughly 22.4 percent of the vote in the seven-way race — has a 1,506 ballot lead over Mermell, with 96.36 percent of precincts reporting. O'Malley said Wednesday afternoon that officials believe the current margin between Auchincloss and Mermell is actually over 1,700 votes.
However, Mermell's campaign has floated the possibility of requesting a recount.
Galvin says the reason a court authorization is needed to finish vote counting is because existing state laws lack procedures for tallying state primary ballots after Election Day. His petition, filed in Suffolk Superior Court, would ensure that the remaining ballots can be tallied in a manner that is open to public observation.
"On Election Day, there are strict procedures in place to make sure that ballots are counted in public view, where anyone may observe the process," Galvin said. "It is important that we preserve that same level of transparency for ballots counted after Election Day."
Mermell's campaign manager, Katie Prisco-Buxbaum, who wrote a letter Wednesday morning urging local clerks to release more robust data on the counted ballots, said the campaign was pleased with the move.
"This is exactly in line with the concerns our campaign raised earlier today," Prisco-Buxbaum said in a statement. "Given the unprecedented nature of this election process, we believe it is incumbent on all communities to be clear about how many ballots are outstanding, including ballots that arrived as polls closed, so that we can have the utmost confidence in the end result."
In her earlier letter to local clerks, Prisco-Buxbaum asked for a breakdown of the types of ballots left to be counted, as well as a tally of blank ballots, provisional ballots, and ballots that were received after the 8 p.m. deadline Tuesday before Mermell's campaign makes any decisions "on further counting requests."
According to O'Malley, candidates can request a districtwide recount if the final margin is within 0.5 percentage points and they submit 500 signatures by the end of the week (the current margin between Auchincloss and Mermell is 1.0 percent, according to the AP). However, candidates can also petition for a recount precinct by precinct no matter the margin.
In a tweet Wednesday afternoon, Auchincloss also voiced support for Galvin's petition, writing that every vote in the district "received before 8PM last night must be counted."
The petition comes just a week after the Massachusetts Supreme Judicial Court struck down a lawsuit by another 4th District primary candidate requesting a 10-day extension on the state's deadline for mail-in ballots, which had to be received by local election offices by Sept. 1. The lawsuit would have forced officials to accept and count all ballots received by Sept. 11, as long as they were postmarked by Sept. 1.
Galvin's office — successfully — argued the extension would have made it difficult for them to comply with a federal law requiring them to send general election ballots to military and overseas voters by Sept. 19. Of course, if Mermell requests a recount by Friday, his office could face a similar time crunch.
Get Boston.com's browser alerts:
Enable breaking news notifications straight to your internet browser.