Politics
Jesse Mermell concedes primary race to Jake Auchincloss — and calls for election reforms
"I won't be filing for a recount, but that doesn't mean that I'm content with the returns."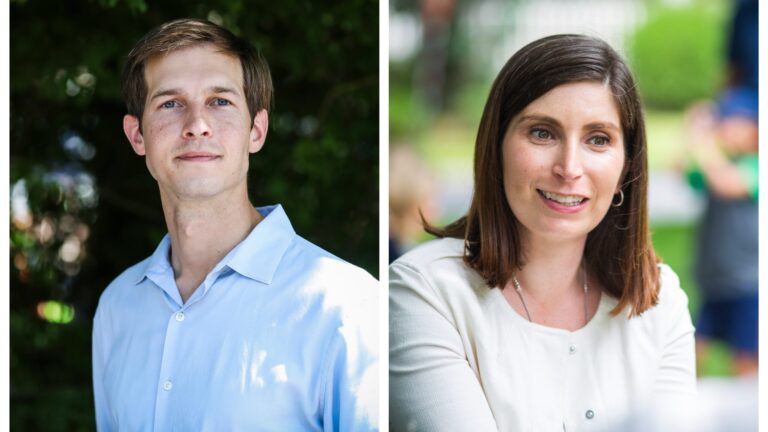 More than 60 hours after polls closed in the Democratic primary to replace Rep. Joe Kennedy III in Congress, Jesse Mermell conceded the 4th District race to Newton City Councilor Jake Auchincloss.
"Today, we're ending the quest that began 11 months ago, and of course it is a tough day for our team," Mermell said in a recorded YouTube video Friday.
The announcement came after several communities in the congressional district finished counting ballots Thursday afternoon into Friday morning, due to the volume and late arrival of many mail-in ballots.
The unofficial results — with 100 percent of precincts reporting — show Auchincloss, a former Marine, on top with 22.4 percent support in the nine-way race and a margin of victory of more than 2,000 votes.
Mermell, who came in second with 21.1 percent of the vote, had pushed to ensure that all votes received by the 8 p.m. deadline Tuesday were counted and floated the possibility of requesting a recount (her campaign even began soliciting the necessary signatures). However, the former Brookline Select Board member and aide to former Gov. Deval Patrick said Friday that she had decided against it, even if she continues to harbor "serious concerns" about how the ballot-counting process unfolded.
"I won't be filing for a recount, but that doesn't mean that I'm content with the returns," Mermell said.
Mermell said she was grateful to local and state election officials working amidst "the most unprecedented of circumstances" due to COVID-19 and local mail delivery delays, but called for reforms to ensure residents have "faith that their ballots will be counted," especially amid President Donald Trump's seeming efforts to undermine mail-in voting. Massachusetts Secretary of State Bill Galvin had to get an emergency court order to allow some cities and towns to finish tallying thousands of ballots that went uncounted on election night, and has said he expects the Nov. 3 general election to be even more straining on local officials.
"I hope my opponents in this race, the clerks, Secretary Galvin, legislative leaders, and the governor will see that there are some strong signals here that, despite everyone's best efforts, we might not be ready for November, and the clerks in particular need our support," Mermell said.
"Voting by mail is wonderful," she added. "Expanding turnout and participation in our democracy is wonderful. And yet we have to live up to a better standard, if we're going to continue to say that every vote should count."
Mermell also offered to help supporters of Question 2, the Massachusetts ranked choice voting ballot question that will be decided this November.
"If the ranked choice voting campaign needs a new face, give me a call, guys," she said. "I've got some time on my hands."
Earlier this week, the Yes on 2 campaign called the splintered 4th District race a "prime example" of why ranked choice voting is needed, after a similarly crowded primary race in the 3rd District was won by a candidate with less than 25 percent support in 2018. Auchincloss has also said he supports ranked choice voting, which was first implemented statewide by Maine after a 2016 ballot measure.
Mermell — who ran as a progressive and had been endorsed by several prominent Massachusetts Democrats, including Rep. Ayanna Pressley and Attorney General Maura Healey — said she called and congratulated Auchincloss on his victory earlier Friday morning after their "hard fought" campaign, though she did not immediately endorse her more moderate opponent in the general election against Republican nominee Julie Hall, a former Attleboro city councilor.
During a separate press conference Friday afternoon, Auchincloss thanked his opponents for a "substantive" race — "especially" Mermell, who he said "deserves time to think about this race."
"I'm happy to give her the time and the space that she needs. I'm confident that Democrats are going to unite in this election to ensure we defeat the Trump Republican agenda," he said.
Auchincloss also said he wanted to put to rest the "narrative" that he was the "centrist" candidate among a field of progressives, pointing to his positions on renewable energy, gun control, Newton's sanctuary city ordinance, and making public transportation free "as a matter of racial and economic justice."
"I am a progressive Democrat," he said. "I'm a pragmatic progressive, and I'll act as such in Congress."
Get Boston.com's browser alerts:
Enable breaking news notifications straight to your internet browser.