Politics
Charlie Baker says Trump's order extending unemployment benefits is not 'sustainable'
The Massachusetts governor called on federal legislators in "both parties" to "step up" and pass another coronavirus relief bill that includes "a longer-term, more traditional unemployment benefit program."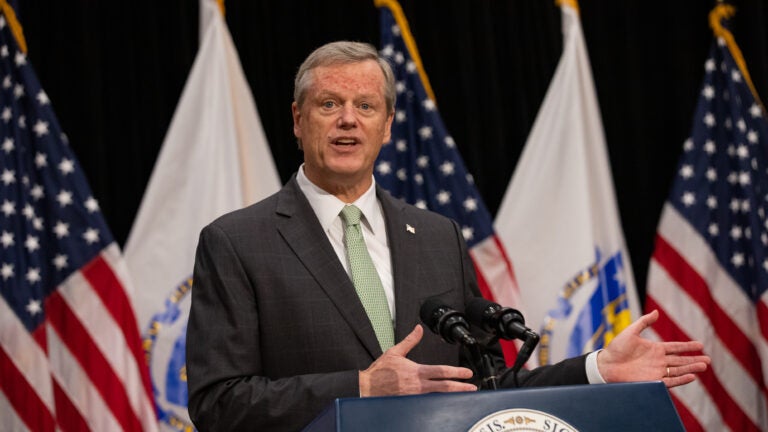 Massachusetts residents on unemployment insurance are getting a $300 boost in weekly benefits through an executive order signed by President Donald Trump last month, after a program in response to the COVID-19 pandemic providing an extra $600 per week expired at the end of July.
Gov. Charlie Baker said Wednesday that, under the new program, officials began sending retroactive payments covering the first three weeks of August to roughly 235,000 claimants in Massachusetts last week.
However, the Republican governor went out of his way to stress that the executive order, which diverts money from the Federal Emergency Management Agency, is not a "sustainable solution." And he called for federal lawmakers to "step up" and pass additional COVID-19 relief legislation that includes both "a longer-term, more traditional unemployment benefit program" and more financial assistance to the states and localities that "have borne much of the burden of making sure that their communities are safe" during the pandemic.
"People in both parties need to come together to make this happen sometime soon," Baker said during a press conference Wednesday afternoon.
"It's the right thing to do for workers who lost their jobs because of the measures many of us had to take to stop the spread of COVID-19," he continued. "And it's critically important to ensuring that state and local governments can continue to support their communities as we work our way through the rest of this pandemic."
Baker's comments come as Republican leaders in the Senate failed to advance a GOP-backed bill Thursday that would extend the $300 weekly boost to unemployment benefits through December.
The bill, however, did not include any financial aid for state and local governments and was blocked by Democrats, who passed a more robust House bill in May — and have continued to press the White House — to extend the $600 boost in unemployment benefits and provide hundreds of billions of dollars in state and local aid.
During his press conference Wednesday, Baker indicated that he sided more with Democrats on the issue, arguing that any COVID-19 bill should include aid for local governments.
"To do something and not include states and local governments as part of the picture just doesn't make a lot of sense, because the one thing I do hear from Washington a lot is they want to see the economy advance, they want to see the economy improve, they want to see people back to work," he said. "It's awful hard to do that if you're not offering support to the two entities in government, us and the locals, who have been investing an enormous amount of money in fighting and battling our way through this pandemic."
During a separate press conference Thursday afternoon, Baker noted that he had not been shy about his "dismay with the federal response to this pandemic," from the process of procuring medical supplies and equipment to Trump's suggestion that local aid be used as leverage to get cities to change sanctuary policies. His criticism Thursday however was more general.
"I think the federal government's response overall on this — especially for state leaders and healthcare providers and others who are playing this game on the ground — has made it much harder for all of us," Baker said.
Get Boston.com's browser alerts:
Enable breaking news notifications straight to your internet browser.