Politics
A task force recommended 5 ways Boston could reform its police. Here's what you should know.
"Every recommendation, there's strong, valid points there."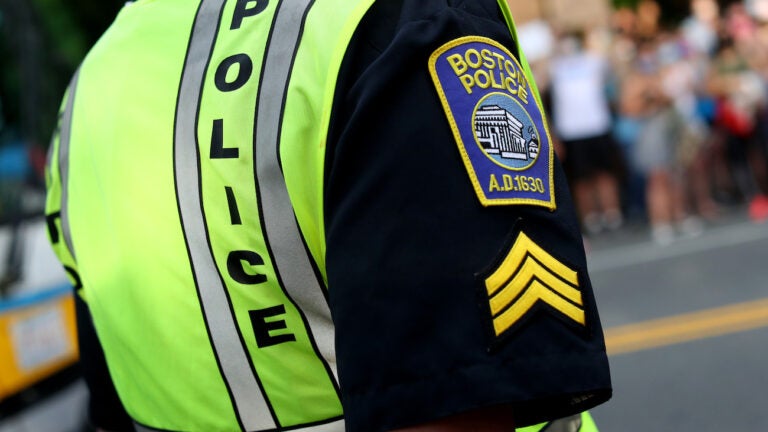 The task force charged with recommending how Boston can take on reforming its police department has offered that the city create a new office to review and resolve civilian complaints against police — one that would include subpoena power.
The Office of Policing Accountability and Transparency would have authority that outreaches the existing Community Ombudsman Oversight Panel, including through advising on policy issues, investigating the disparate treatment of Black, indigenous, and people of color by city police, and compiling regular reports on progress made to the department's reform goals, according to the group's recently released 17-page draft report.
The proposal is among five recommendations outlined by the 11-member task force, convened in June by Mayor Marty Walsh to hash out how Boston could reform the department amid the national racial justice movement born out of police brutality against Black Americans this year.
"I was very impressed with the work that the committee did, the task force," Walsh told reporters Thursday. "I said to them, you know, every recommendation, there's strong, valid points there."
The group frames its report as a foundation — not an end — to help the city navigate changes in the police department. Aside from the creation of OPAT, the task force also says officials should seek to diversify its police force, expand the police body-camera program, enhance and clarify use-of-force policies, and "adopt data and record practices that maximize accountability, transparency and public access."
"To bring about meaningful reform to the BPD, reform that is internalized and put in to practice on a day-to-day basis, there is more work to be done," the report says.
Here's what to know:
What the report says
Like the Community Ombudsman Oversight Panel, or Co-Op, its recommended replacement, OPAT, would review and resolve complaints made against the police department's Internal Investigation team, but it would also take on reviewing citizen complaints against police, according to the task force report.
"OPAT, via its Civilian Review Board (CRB), should conduct independent investigations of civilian complaints," the document says. "Complaints appropriate for review include, but are not limited to, complaints involving: (1) in-custody death or serious bodily injury, (2) excessive use of force resulting in death or serious bodily injury, (3) allegations of perjury against a BPD officer, or (4) allegations that a BPD officer's conduct was motivated by discriminatory intent."
The office, among other responsibilities, should also suggest revisions to existing department policies that "perpetuate discrimination" to the police commissioner and contain a leadership team of three commissioners who oversee the office's three units: the Internal Affairs Oversight Panel; the CRB, and the Executive Administration, which would handle day-to-day duties, the report recommends.
The task force suggests the CRB should have between seven and 11 members appointed by the mayor "with advice from City Council and the Boston community." OPAT should establish its main office "in a neighborhood where residents have been adversely impacted by FIOs [field, investigation, and observation] and excessive use of force."
The report also urges the police department to create a formal diversity and inclusion policy, along with a specialized unit to evaluate employment criteria and standards to ensure they meet the skills needed for a given position. The unit would annually review the department's progress towards meeting diversity and inclusion benchmarks.
To help meet those goals, the city should seek to revise the civil service system to prioritize hiring city residents.
"Currently, military service veterans are given preference on the eligibility list of civil service positions and have two points added to their overall score for promotional examinations. The Task Force recommends developing a similar BPS [Boston Public Schools] preference," the report says. "The preference would apply to all individuals who received a high school diploma from a BPS institution, placing qualifying individuals on equal footing with veterans."
The task force also recommends the city update the department's bias-free policing policy and improve racial equity training.
Additionally, the report says BPD should expand its body-worn camera program to all uniformed officers and require that the devices be kept on at all times. Individuals recorded by police, or their next of kin, should be given "unfettered access" to video footage, and the public should be able to access videos through information requests, according to the task force.
"To create a BPD that protects and serves the entire Boston community, it must commit to putting
clear, forceful disciplinary policies into effect for use of force and related violations," the report says. "More important though, BPD must also commit to applying these policies consistently and in good faith."
The report suggests the department work to resolve all current cases involving excessive force and wrongful death, and it should release all data and records in those types of cases. The department should also create a list of zero-tolerance offenses for its officers, and develop data and record practices that increase transparency and public access, such as publishing information regarding the sensitive conduct of officers, the report says.
What Mayor Walsh says
Walsh, announcing the release of the report Thursday, told reporters he was impressed with the task force and said the effort to reform policing "has always been about more than just a moment."
"It's about the process of change," the mayor said. "Our steps in June were not one-time responses. These recommendations are not one-time actions. The activism should not be a one-time thing either. The goal is continued dialogue and improvement. It's a conversation and we all need to stay engaged in it."
In June, Walsh vowed to cut police overtime spending by 20 percent, or $12 million, and use the money for community programs to address local inequality. Asked whether putting the recommendations in place could be done without increasing the police budget, Walsh said he didn't recall reading that in the report, but "that's something that we're going to see."
He estimated the large majority of the recommendations, or 70 percent of them, would be able to happen under the city's purview, while some would require legislative and contractural changes.
"Some of the reform that's in this has to be negotiated (with the police unions), some of it is civil service, some of it can be done just by the mayor and police commissioner," Walsh told GBH Friday. "And a lot of the recommendations are going to be instituted and followed up on."
What City Councilors say
City Councilor At-Large Michelle Wu, who has offered her own recommendations for reforming the police, told The Boston Globe the report's suggestions are "specific, actionable, and impactful."
"The city should use its full power to actualize these steps," Wu said.
Meanwhile, Councilor Andrea Campbell, who has pushed for the creation of a civilian review board, specifically with subpoena power, in a statement said the report "is a call to action for all city leaders to make sure this time isn't like the others, when entrenched political forces water down the reform our policing system desperately needs."
"It's up to all of us to pass the bold, politically-challenging reforms we need to make sure all Boston residents feel that their police force is working to keep them safe, and to be unafraid to have the tough conversations about why Black and Brown residents often do not feel protected by police," Campbell said.
The task force is hosting a listening session on the draft report on Sept. 22.
This report is a call to action for all city leaders to make sure this time isn't like the others, when entrenched political forces watered down the reform our policing system desperately needs.

My full statement on police reform task force recommendations released today: pic.twitter.com/hJO95kCqp7

— Andrea J. Campbell (@CampbellforD4) September 10, 2020
Read the full draft report:
Get Boston.com's browser alerts:
Enable breaking news notifications straight to your internet browser.