Politics
Charlie Baker rips Senate's handling of Supreme Court vacancy
"It's a big part of why most people in this country think Washington is a problem."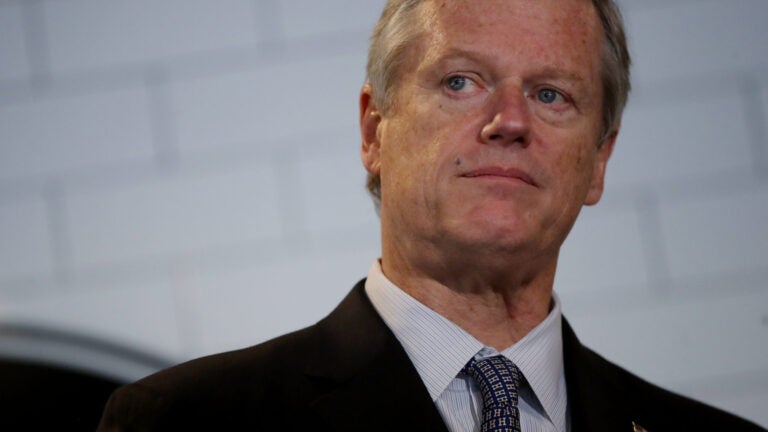 Gov. Charlie Baker has made it clear he thinks President Donald Trump and the Republican-controlled Senate should "allow the American people to cast their ballots" before nominating or confirming a judge to replace the late Supreme Court Justice Ruth Bader Ginsburg.
But what the Massachusetts governor really wants them to do is actually pass COVID-19 relief.
During a press conference Wednesday morning, Baker ripped fellow Republicans in Washington, D.C., for pushing to fill Ginsburg's seat with a conservative justice just weeks before the presidential election, making a desperately needed coronavirus relief package even more unlikely to pass in the near future.
After the GOP opposed an election-year Supreme Court nominee by President Barack Obama in 2016, Baker called the current effort "100 percent ends-justify-the-means, classic Washington behavior."
"It's a big part of why most people in this country think Washington is a problem, period," he said, launching into an impassioned diatribe on the federal government's response to COVID-19.
"I sit here as the governor of the commonwealth of Mass., where we have basically been playing this hand around COVID as best we can, with a really uneven, inconsistent response from the federal government, who has far more tools in their toolbox than any state's ever going to have to manage their way through this," Baker said.
"And they are now going to wrap themselves up in a conversation about the Supreme Court, which is important, but nobody looks good with respect to how they've chosen to position themselves over the course of the last four years on this issue at a point time when what I would really like to see them focus on is the pandemic — which has killed 200,000 people in the United States of America so far, and continues to wreak havoc on our economy and our communities across not just the commonwealth but across the country," he continued. "So yeah, I'd like to see them focus on the pandemic."
The comments received applause inside the barbecue restaurant in Lowell, where Baker and other officials had gathered to announce new state grants to support businesses in the wake of the pandemic.
Baker, who often faults both parties for the lack of bipartisanship on the national level, did note that Democrats had also changed their position on election-year nominees since 2016, when Obama's nomination of Judge Merrick Garland eight months before the election was denied a vote by the Republican-controlled Senate.
"The Democrats all said it was incredibly important to move forward to put in a person on the bench, right?" he said. "And the Republicans all said, 'No, that's a really bad idea.' Four years later, only because the circumstances have changed, Republicans say, 'We need to move forward, it's a critical issue for the country,' and the Democrats say, 'No, we should wait until after the election.'"
With early voting already underway in some states, Baker suggested in a tweet Saturday after Ginsburg's death that the Senate should apply the same principle and wait until after the election to replace the liberal justice (though he didn't say whether he supported a vote in the lame-duck session or after the next inauguration).
"The Supreme Court is too important to rush and must be removed from partisan political infighting," Baker wrote.
During the press conference Wednesday, he added that it was particularly "frustrating" that federal legislators hadn't at least passed legislation to address areas of "common ground," such as emergency funding for schools.
According to The New York Times, House Democrats included $100 billion for K-12 and higher education in a larger $3.4 trillion coronavirus relief package that passed in the chamber in May, while Senate Republican included $105 billion for schools in a $1 trillion bill introduced in July. The GOP bill also reportedly designated 10 percent of the money to private schools and tied some funds to the resumption of in-person classes — two things that House Democrats' bill did not do.
Still, Baker said it was an example of a subject on which Congress should have been able to figure out a deal, given the critical nature of reopening schools after losing nearly half a year to remote learning last spring due to COVID-19.
"They could do some really positive important work, not just for Mass. but for the country," he said. "It would sure be nice if they can focus on that."
Get Boston.com's browser alerts:
Enable breaking news notifications straight to your internet browser.