Politics
'Appalling and outrageous': Charlie Baker responds to Donald Trump's refusal to commit to a peaceful transfer of power
"A huge part of this nation's glory, to the extent it exists as a beacon to others, is the peaceful transfer of power based on the vote of the people of this country."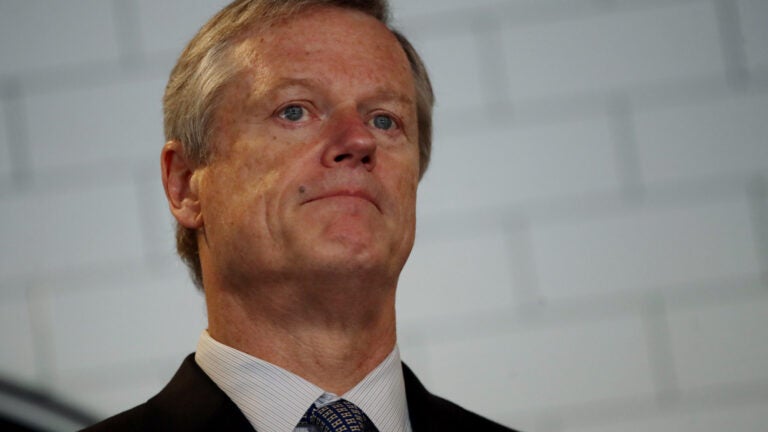 Massachusetts Gov. Charlie Baker said Thursday that it was "appalling and outrageous" for President Donald Trump to suggest he wouldn't peacefully leave office if he loses the Nov. 3 election and pledged to do everything in his power to uphold the results.
"A huge part of this nation's glory, to the extent it exists as a beacon to others, is the peaceful transfer of power based on the vote of the people of this country," Baker, a fellow Republican, told reporters Thursday. "Mail-in ballot balloting has been with us forever."
During a press conference Wednesday night, Trump said "we're going to have to see what happens" when asked if he would commit to a peaceful transfer of power if he loses to Democratic presidential nominee Joe Biden. The Republican president continued to dubiously cast doubt on mail-in voting, which has been expanded by many states in the wake of the COVID-19 pandemic.
"You know that I've been complaining very strongly about the ballots, and the ballots are a disaster," Trump said.
Asked about the president's comments, Baker — who dismissed Trump's suggestion in July that the election should be delayed due to concerns about mail-in voting — reiterated that the system, which Massachusetts expanded this year for the Sept. 1 state primary and Nov. 3 general election, has been largely unproblematic.
"I voted mail-in in the primary," he said, adding that the system in Massachusetts was similar to the way mail-in ballots work in most states and "basically absentee balloting on steroids."
"Part of the reason we put that program in place was because we weren't really sure where COVID was going to be for the primary or the general election, and we wanted to make sure people who were concerned about going to polling places would have an option," Baker said. "And it worked just fine — the same way it worked just fine across the rest of the country."
But more to the point, Baker noted that the peaceful transfer of power was central to the democratic process and had occurred in far more fraught and difficult times in the history of the United States.
"How about Abraham Lincoln?" Baker said, referring to the 1860 election, during which Lincoln was elected with just shy of 40 percent of the popular vote, but 52 percent of the electoral vote, at a time when the country was on the brink of the Civil War.
"There was tremendous concern — because of the fact that our country at that point in time was basically unraveling — that the Electoral College wouldn't stand up and do what they were supposed to do and vote on behalf of the people who had actually won the presidential election in their state," Baker said. "And they did — immediately on the day that they were asked to do it."
"It is appalling and outrageous that anyone would suggest for a minute that if they lose an election they're not going to leave, period," Baker continued. "I know that I speak, I assure, for the vast majority of the elected officials in the United States of America when I say that."
The moderate Republican governor has repeatedly criticized Trump's divisive rhetoric and policies, particularly in the wake of the COVID-19 pandemic and recent racial justice movement.
But his comments Thursday come as many congressional Republicans, including some Trump allies, similarly assured the public there would be a peaceful transfer of power if Trump loses.
"Fundamental to democracy is the peaceful transition of power; without that, there is Belarus," Utah Sen. Mitt Romney, a former Massachusetts governor and the Republican presidential nominee in 2012, tweeted Wednesday night. "Any suggestion that a president might not respect this Constitutional guarantee is both unthinkable and unacceptable."
According to the Associated Press, Biden noted that Trump says "the most irrational things" when asked about the president's latest remarks.
"I don't know what to say about it," Biden said. "But it doesn't surprise me."
Baker said Thursday that "one way or another" voters would speak this November and that public officials would do "everything we can to make sure that the people's will is followed through and executed on"
"This is fundamentally why there is a United States of America in the first place," he said.
Baker, who did not support Trump in 2016, has said he also doesn't plan to vote for the president in 2020, though he has not publicly backed Biden (nor did he back any of Trump's Republican primary challengers).
Still, following the record-setting turnout in the Massachusetts state primary, Baker said that "people think there's a lot at stake in this election."
"And there is," he said.
Get Boston.com's browser alerts:
Enable breaking news notifications straight to your internet browser.