Politics
A lifelong fight for justice: Local women in law reflect on the impact and legacy Ruth Bader Ginsburg leaves behind
"Her passing has left so many of us reeling."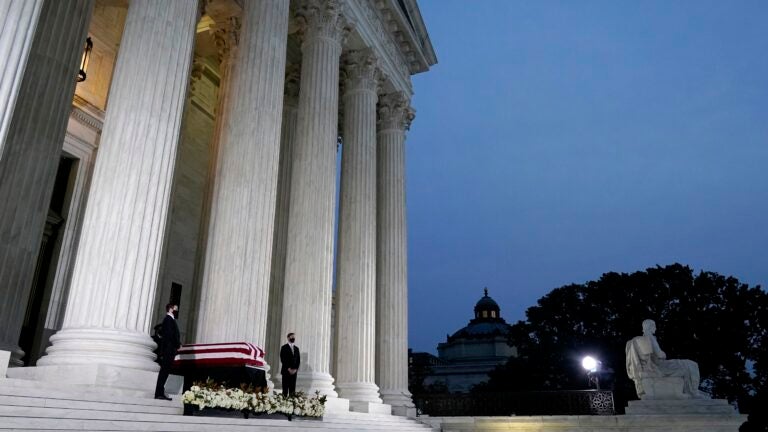 Rachel Samuels had just gotten back to her apartment when her little sister called. Normally, their phone conversations consist of casual chats about life, but just by the tone of her voice Samuels knew something was seriously wrong. 
"Rachel, did you hear?" her sister asked her. And then, she continued very quietly, "RBG just died." 
Samuels, a second-year Boston University law student, said she broke into tears as she grappled with the news. 
"I spent a lot of time crying. A lot of time wishing it were a joke but knowing it's not actually a joke," she said. "And being mad about the fact that I don't have time to be sad. There's too much to do in this country. There's too much to do even at BU to make it a better place."
As Treasurer and Wellness Chair of the BU Women's Law Association, Samuels said every woman she's talked to remembers exactly where they were and what they were doing in the moment they heard about Supreme Court Justice Ruth Bader Ginsburg's death on Sept. 18.
"I don't think I expected that level of pain, [or] intensity," she added. "That moment will stick with me. And I think for a lot of women in the legal profession, and outside of it, that moment is going to stick with them."
While much of the nation spent the week grieving Ginsburg, who was the second woman to serve on the high court, many local law students and practicing lawyers were especially rocked by the wake of her loss. 
For Samuels, RBG — who was well known for arguing groundbreaking sex-equality cases as a litigator long before being appointed to the Supreme Court — made it possible for women to feel like they belong in the legal world. In undergrad, she said people constantly told her "Oh you're a woman, you'd be a horrible litigator," or, "You can't debate. You're a woman, you're too emotional."
"And yes, I'm very emotional. I like to joke that I cry at Disney movies. But seeing someone like RBG be on the Supreme Court … helped me realize that I could do anything I wanted to as long as I tried," Samuels said. 
Ginsburg's career, however, wasn't free from criticism. She wrote opinions on issues such as racial justice and indigenous rights that have since been critiqued and re-examined.  
"I don't agree with all of the decisions she wrote or signed on to," Samuels said. "But she spent her entire career trying to figure out how to advance equality on the basis of gender. And for all of the decisions I disagree with I will always be grateful, because so many of the things women do without thinking twice about, especially the things they do without a man next to them, are because she fought for our right to do those things."
The success Ginsburg had in heavily male-dominated spaces, Samuels added, made it clear that women could break past the same barriers because of their gender, not in spite of it.
"Everything we do, in many ways, is traced back to the fact that she proved that we can do it," Samuels said. "And not only can we do it, we can thrive and we can succeed."
RBG was likely the sole reason many women believed they could come to law school in the first place, she said. 
And for president of BU's WLA, Sara Hickey, that sentiment rang true. 
"I didn't grow up with any family members who were lawyers or who had gone to law school and so I didn't have any role models," Hickey said. "Seeing someone in such a high and important position, making major, major decisions in terms of women's rights and equal rights and basic human fundamental values, was huge."
An aspiring judge and also a second-year law student, Hickey said RBG represents the "ultimate success story."
"She serves as the catalyst for the furtherance of the fight for equal rights, whether it's for women, or for minorities," she said. And that fight can't die with her, Hickey added.
With RBG's death came intense political turmoil over the rush to fill her vacant seat. Hickey said she's holding tightly onto her hope that the Supreme Court replacement will not have views completely opposite to the late Ginsburg's. 
Whether or not the fight for equality continues nationwide, Hickey said she believes RBG's work will continue to inspire change through grassroots organizations as well as other women in high school and college who look up to her legacy. 
"In terms of sweeping women's rights across the country, it's hard to tell [whether or not] there might be people who take advantage of her not being around anymore, which is such a terrible thing to think of," she said. "All of the work that she's done, the years and decades of work that she's done, I really hope that still sticks around and people honor her by that."
Nicole Forbes, current president of the Women's Bar Association of Massachusetts, elaborated on the way Ginsburg's work as a litigator articulated and conceived concepts that changed the way the law saw women.
"Her passing has left so many of us reeling," Forbes said. "She is who so many women lawyers want to be when they 'grow up.'"
The Notorious RBG — a nickname Ginsburg earned due to her sharp tongue and outspoken demeanor — would even invert arguments against gender equality by using cases that presented men as the victims of discrimination to fight for and advance women's rights, Forbes said.  
"She challenged these artificial barriers, and she talked about a realization by men and women of their human potential," Forbes said, adding that the late justice was not only inspirational because of her work in the legal world, but also because of her "beautiful outlook on what was meaningful in life."
"She wanted to be remembered as [someone who made] life a little better for people less fortunate, to not live for oneself but to live for one's community," Forbes said. "When you go back and look at her words, they can be really inspiring to us at a time that's really difficult and feels like a dumpster fire at moments."
On a more personal level, Forbes said RBG was also proof that you could be petite and still pack a big punch. 
"She's like the original pint-sized powerhouse," said Forbes, noting that she herself rounds up to 5 feet 2 inches on her driver's license. 
Yet another reason Ginsburg was so often revered as an icon during her later years, Forbes said, was because of the way she publicly made and stood by her dissents. 
"Her taking such a public stance on some of these things I think really rallied the troops and really gave a voice to what so many of us were thinking, and emboldened so many people to also similarly stand up and voice their dissent," Forbes said.
After first hearing about RBG's death, Forbes said she felt "total shock."
Then a roller-coaster of emotions followed.
"Despair, anger, rage," Forbes said. "After that news I just wanted to curl up in bed, eat a lot of ice cream, and drink a lot of wine."
But as she took time to pour over Ginsburg's past writings, decisions, and all the famous stories she told, Forbes began to feel inspiration instead. "You have your day of mourning. But the next day you wake up, put on your 'Notorious RBG' shirt, and you take up the torch." 
Now more than ever is the time to fight as tirelessly as she did, Forbes said, adding that in some ways women lawyers particularly have an obligation to keep her work alive. 
"It's okay to rage about all of this, you know? It shouldn't have come down to just one woman against all these institutions," Forbes said. "She couldn't ever save us. We are the ones that have to do that work."
Get Boston.com's browser alerts:
Enable breaking news notifications straight to your internet browser.