Politics
Why did Donald Trump reference Elizabeth Warren during his debate with Joe Biden?
"You got very lucky."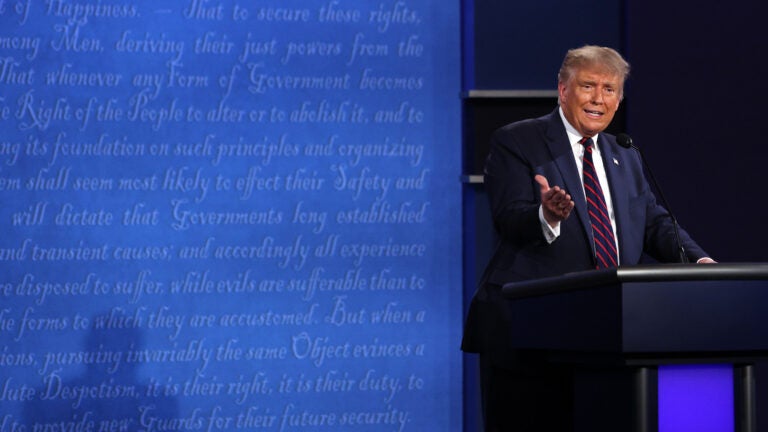 Sen. Elizabeth Warren wasn't on stage during the first 2020 presidential debate Tuesday night
Yet the Massachusetts senator was still derisively mentioned by President Donald Trump.
During one of the earlier exchanges of the contentious and often incomprehensible debate, the Republican president misleadingly asserted that Democratic presidential nominee and former vice president Joe Biden support the same Medicare-for-All health care program proposed by Sen. Bernie Sanders.
"Joe you agreed with Bernie Sanders, who is far left, on the manifesto, we call it," Trump said, referring to a document with policy recommendation produced by a post-primary Biden-Sanders unity task force — though the document makes no mention of Medicare-for-All or single-payer health care.
Biden, who consistently opposed Medicare-for-All during the primary, reiterated his support for building on the Affordable Care Act by establishing a nattional public health insurance option that would compete with private plans.
"I'm not going to listen to him," Biden said during the debate. "The fact of the matter is I beat Bernie Sanders."
"Not by much," Trump shot back.
"[If] Pocahontas would have left two days earlier, you would have lost every primary on Super Tuesday," he added using the nickname he has often deployed for Warren, a derogatory — and some argue racist — reference to her claims of Native American ancestry.
"You got very lucky," Trump told Biden, referring to the timing of Warren's exit from the race.
Warren suspended her own Democratic presidential primary following Super Tuesday in March after Biden won the Massachusetts primary, at a time when she faced pressure from many Sanders supporters to drop out on the basis that the two New Englanders were splitting the progressive vote. After other more moderate candidates dropped out and threw their support around Biden to help lift the former vice president to win a majority of Super Tuesday states, the logic (which some dispute) is that Warren could have done the same to boost the Vermont senator and fellow progressive, even though her campaign argued they still had a path to victory.
Trump's comments Tuesday night suggest he agrees with that theory. However, in the one-on-one race with Sanders, Biden went on to win nearly every single one of the post-Super Tuesday primary contests, as Democratic voters prioritized perceived electability in the general election.
"I got very lucky?" Biden said. "I'm gonna get very lucky tonight as well. … The fact is that everything he's saying so far is a lie. I'm not here to call out his lies; everyone knows he's a liar."
Warren did not directly respond to Trump's comments Tuesday night. But she did invoke her family, specifically her older brother's death due to COVID-19, to highlight a subject more pressing than the re-litigation of the Democratic primary.
More than 200,000 Americans are dead.

That's not just a number. It's someone's grandmother, someone's father, someone's best friend.

It's my brother, Don Reed.

Trump has spent this pandemic lying, pointing fingers, and playing politics—leaving a nation behind to grieve.

— Elizabeth Warren (@ewarren) September 30, 2020
Get Boston.com's browser alerts:
Enable breaking news notifications straight to your internet browser.