Politics
More than 15,000 readers voted, here's who they say won Tuesday's debate
"Trump lost the second he wouldn't condemn violent white nationalists."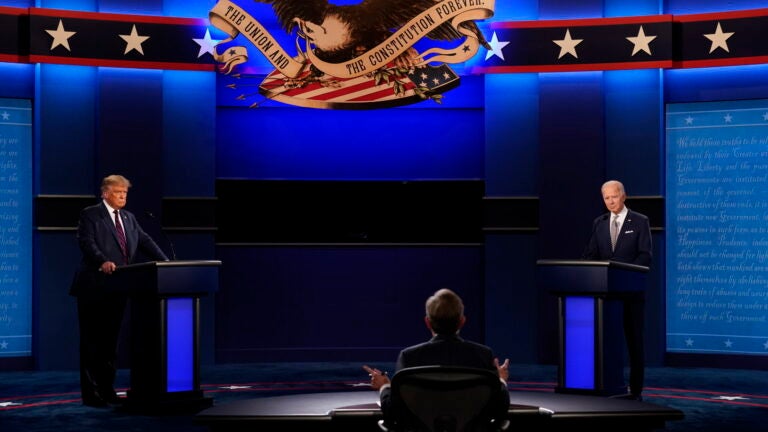 Pundits called it a "dumpster fire" and a "sh**show." It led some local politicians to tweet clown emojis and the words "racist scum." Late-night show hosts decried it as nightmarish. The next morning, Google searches for "how to apply for Canadian citizenship" surged in Massachusetts and across the country.
Tuesday's presidential debate in Cleveland between President Donald Trump and Democratic Challenger Joe Biden evoked strong emotions.
We asked our readers before the debate if they intended to tune in. Nearly 900 of you responded (872). Out of responses, 53% said yes while 44% said no. 3% chose "Other." Several readers echoed that the debate wouldn't change their minds either way about who to vote for. Mike, a reader in Brookline questioned the purpose of the debate format: "I just wish they went more into details on issues because it feels impractical for people to explain how they plan on solving very complicated problems in 2 minutes or less."
Following the 90-minute debate moderated by Fox News' Chris Wallace, we asked our readers the subjective question: Who won Tuesday's presidential debate?
Here are the results.
8,425 chose Joe Biden as the winner, and 6,164 chose Donald Trump. Out of the submissions, 21 people wrote a variation of "America lost." For many, choosing a clear winner wasn't applicable. 117 wrote "Neither" while 144  others wrote "No one." Other "winners" named were Chris Wallace, The Proud Boys*, and Bernie Sanders.
*The Proud Boys are a far-right group that has endorsed violence. President Trump, when asked by Wallace to condemn them and white supremacy, did not.
Here's what some readers had to say about the presidential debate.
Some submissions were lightly edited for length and clarity.
"Mr. Trump's actions were the actions of a bully. I am an independent, and I was shocked by his interruptions and his refusal to show an ounce of respect to either Mr. Biden or the moderator. Biden is not completely innocent – he did tell Trump to "shut up" and he did call Trump a "clown"; however, these actions could be seen as a direct result of Trump's insults. I voted for Trump in 2016, and was viewing him favorably before the debate. Now, I see that he, as Biden says, "does not know what he is talking about." He tried to taunt and insult Biden. Biden's son, Beau Biden, died after serving in the military. Trump did not even acknowledge his sacrifice! Instead, he immediately tried to coerce Biden into making a gaffe and tries to insult Biden's other son, Hunter."
—
"Trump needed to win or change the narrative of the campaign, and he did neither. Biden won slightly, and it was a missed opportunity for the president to make up ground."
—
"I fear for our democracy much more than I did when the debate started."
—
"Chris Wallace needed a toggle switch to mute the mic of the one not speaking. Both were guilty of interrupting, but Trump did it every time Biden spoke. Failure in the ability to listen and respond appropriately shows a lack of leadership. This flaw can be seen in the worst managers in the workplace, all the way to the President. No leader should have that.
Biden also managed to speak to the people more often. When Trump answered, he spoke to either Wallace or Biden. He never spoke to the camera. The few times he tried, it seemed disingenuous and shifty, reminiscent of Nixon in 1960. Biden meanwhile was able to speak to us watching without a problem.
Trump continued to go off-topic and lied 30 seconds into the debate. While both candidates spoke untruth during the debate, Trump couldn't seem to speak truth at all when fact-checking.
Then there's the phrase "Proud Boys, stand back, stand ready". That's chilling as a person of Irish, Romani gypsy, and Cherokee heritage. The president just told a white supremacist group recognized by the FBI as a domestic terrorist group to be ready. That is scary, and should be to all Americans.
It is now crystal clear who this Independent is voting for. Definitely NOT Trump."
—
"Very chaotic debate. Probably not going to sway anyone. Trump won based on aggressiveness but just barely. People will say Trump was nasty but Biden was just as nasty, calling Trump a clown and telling him to shut up."
—
"Trump lost the second he wouldn't condemn violent white nationalists."
—
"I'm a Biden supporter and I thought he looked weak and tired. Trump won because he destroyed the debate and the concept of debates (thank you). Trump destroys, full stop, so we didn't learn anything new there. Perhaps the debate will have some impact on the Congressional races."
—
"It is sad to say this, but mics need to be muted if people aren't talking. Trump just became hostile and it was impossible to listen to. The only thing I really remember from the debate was Trump refusing to condemn hate groups."
—
"That was a disaster. It just makes me sad that this is where we are at with politics. No meaningful discussions, just yelling, name-calling, and accusations with no substance for voters. I just feel sad as an American this morning. No one won this debate, and the real losers of this debacle are the American people. We deserve better."
—
"Terrible, but Biden talking straight to Americans was a winner. Trump never once spoke directly to the people, but was only concerned with bullying both Biden and even Wallace. Gave us a clear indication of how he runs his presidency … with fear."
—
"What a mess. Trump lost my vote. Omg….I became a never trumpet tonight."
—
"I want Leslie Jones as the next moderator."
—
"Do we have a 'door number three?'"
Get Boston.com's browser alerts:
Enable breaking news notifications straight to your internet browser.