Politics
Elizabeth Warren says she won't meet with Amy Coney Barrett
"We need to treat this nomination like the illegitimate power grab it is."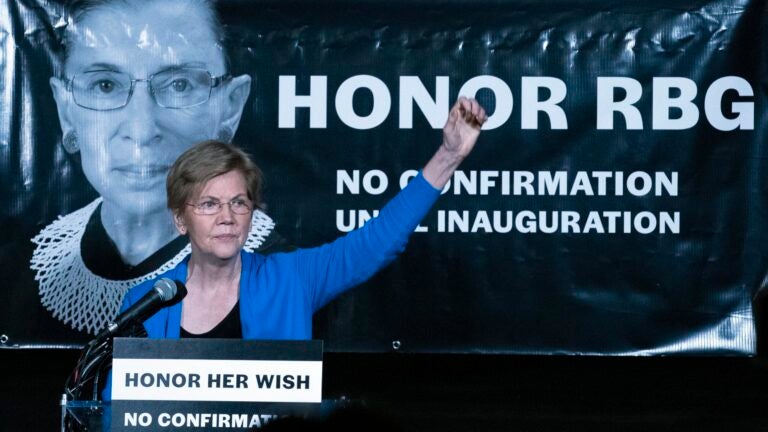 Judge Amy Coney Barrett is in Washington, D.C., this week to meet with U.S. senators ahead of her likely Supreme Court confirmation hearings.
Sen. Elizabeth Warren won't be one of them.
In a statement Tuesday afternoon, Warren announced she would not meet with Barrett, a conservative federal appeals court judge who President Donald Trump nominated last week to fill the seat of the late liberal Supreme Court Justice Ruth Bader Ginsburg.
"I will not lend legitimacy to Mitch McConnell's efforts to steal another Supreme Court seat," the Massachusetts Democrat said, alluding to the Republican Senate majority leader's refusal to hold a vote on President Barack Obama's nominee to the court nine months before the 2016 election, successfully holding it open until Trump took office and nominated Justice Neil Gorsuch.
With five weeks left until the Nov. 3 election, Warren has said the exact name of Trump's nominee "in many ways doesn't matter."
Aside from Republicans' reversal on election-year Supreme Court nominees, Warren said last Friday after Barrett was nominated that whoever Trump picked would side with the GOP in the partisan fight over health care and abortion. The second-term senator, who has long-criticized the Supreme Court for favoring corporations, said Tuesday that she expects Barrett to follow in that mold.
"The nominee has already made it clear that she will try to deliver a death blow to health care coverage for millions of Americans and to erase protection for people with pre-existing conditions," Warren said. "She's an extremist who was picked to overturn Roe v. Wade, rubber stamp Trump's attacks on immigrants, strip away voting rights, and complete the decades-long assault on our judiciary by billionaires and giant corporations to tilt the courts in their favor. Too many lives are on the line. We need to treat this nomination like the illegitimate power grab it is."
Barrett herself has suggested that she supported legal challenges to the Affordable Care Act, which is the subject of another forthcoming Supreme Court case (some legal experts say it's unclear how she would rule on the latest case, even if she would give the court a 6-3 conservative political majority).
Trump has also vowed to only appoint Supreme Court justices who would overturn the Roe v. Wade decision legalizing abortion nationwide. While Barrett hasn't explicitly said how she would rule if Roe v. Wade returned to the court, her record suggests support for more restrictions on abortions.
During the first presidential debate Tuesday night, Trump said he thinks Barrett will be "fantastic" and suggested she could be confirmed this fall before or after the election.
"We have plenty of time, even if we did it after the election itself," Trump said. "I have a lot of time after the election."
Warren has called on Republicans to honor Ginsburg's dying wish and not name a replacement "until a new president is installed," particularly given McConnell's actions in 2016.
Though she hasn't gone as far as fellow Massachusetts Sen. Ed Markey in explicitly calling for Democrats to add justices to the Supreme Court if they take power and if Republicans push through Barrett's confirmation, Warren has expressed openness to the strategy.
"If Mitch McConnell and the Senate Republicans ram this nomination through, it is our duty to explore every option we have to restore the Court's credibility and integrity," she said during a Senate floor speech last week.
Get Boston.com's browser alerts:
Enable breaking news notifications straight to your internet browser.