Politics
A group of top CEOs pledged to change the way they do business for the common good. Elizabeth Warren says they haven't.
"Their actions show this was just an empty publicity stunt."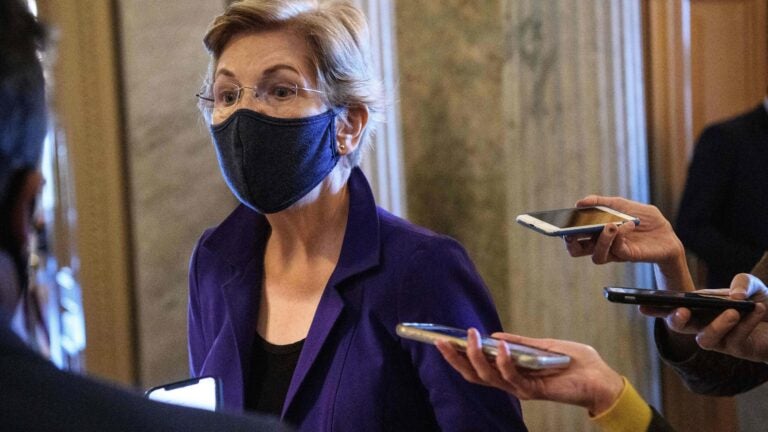 Remember when a group of nearly 200 high-profile CEOs announced last year they were redefining the purposes of their businesses to prioritize not just short-term stockholders' interests but the greater social good?
Sen. Elizabeth Warren does.
But the Massachusetts senator says that — more than 13 months later — the group, known as the Business Roundtable, hasn't been living up to those ideals.
"Their actions show this was just an empty publicity stunt," Warren wrote in a Fast Company op-ed Tuesday.
Last August, the Business Roundtable — comprised of major American company CEOS, including the leaders of Amazon, Apple, Disney, Ford, GE, General Motors, and Walmart — announced it was changing it long-standing principles for corporate governance from the theory that corporations exist primarily to serve their shareholders to a model known as stakeholder capitalism, which Warren has advocated and sought to require for big businesses through legislation.
Instead of solely seeking to maximize near-term profits, the Business Roundtable's new philosophy stated that the long-term interests of their stockholders are "inseparable" from the interests of companies' employees and their communities. So in addition to serving customers, they pledged to provide employees with fair compensation and benefits, foster diversity, ethically partner with suppliers, embrace environmental sustainability, and make more long-term investments.
In theory, those commitments aligned with Warren's vision for a fairer form of capitalism. But the then-presidential candidate remained skeptical about the non-binding promises — made at a time when she was surging in the Democratic presidential primary race.
Warren is even more skeptical now. In a letter to the Business Roundtable leaders earlier this month, the Cambridge Democrat criticized the lack of meaningful action by the companies to keep to their words, especially amid the crippling economic effects of the COVID-19 pandemic.
"Rebuilding our economy so that workers, customers, and communities are able to share in prosperity requires real change in the way decisions are made in corporate headquarters and on Wall Street, not just the vague, empty-worded press releases that you have issued thus far," Warren wrote to Walmart CEO Doug McMillon and JP Morgan Chase CEO Jamie Dimon, the current and former chairs of the Business Roundtable's board of directors.
The letter came after a study released last month found that Business Roundtable CEOs who signed onto the new principles of corporate governance had done no better than other companies in protecting jobs, labor rights, and workplace safety during the pandemic, nor distinguished themselves in the pursuit of racial and gender equality, as The New York Times reported.
The study reportedly concluded that the Business Roundtable "failed to deliver fundamental shifts in corporate purpose in a moment of grave crisis when enlightened purpose should be paramount."
Warren's office asked 10 members of the group representing a cross-section of industries to explain how they were implementing the principles, as well as whether they would follow the steps laid out in her Accountable Capitalism Act. Only two companies, Amazon and BP, even responded; according to Warren, neither indicated any intention to make "meaningful changes" in their business.
At the same time, Warren noted that the Business Roundtable spent a total of $5.6 million on lobbying efforts to influence the federal COVID-19 response — including $800,000 in support of Republican legislation to shield companies from COVID-19 lawsuits and in opposition to the $3 trillion package proposed by House Democrats.
The Business Roundtable, which did not respond to a request for comment, has said it welcomes the opportunity to engage with Warren.
However, in a letter to Warren last October, the group's president, Joshua Bolten, expressed opposition to Warren's Accountable Capitalism Act. The bill would create a new federal corporate charter effectively requiring businesses with more than $1 billion in annual revenue to consider the interests of all stakeholders, ensure employee representation on company boards, limit executive stock sales and buybacks, and subject political spending to board approval. Companies that repeatedly violate those terms could get their charters revoked.
Bolten argued that Warren's bill would undermine the competitiveness of American companies.
"While we share the goal of increasing economic opportunity for all Americans, we believe the Accountable Capitalism Act would not advance that goal and, in many respects, would be counterproductive, hurting the very people we want to help," he wrote. "Given our diverse economy, business decisions about how best to serve employees and deliver high-quality goods and services to customers require flexibility within the private sector."
Bolten noted that the Business Roundtable did support a "higher federal minimum wage that takes account of regional differences," as well as infrastructure and data-privacy bills.
He also referred Warren to a Business Roundtable webpage with "hundreds of examples" of members taking it upon themselves to expand worker training, raise wages, launch new employee health and wellness benefits, promote sustainability, and support their communities,
Warren says those "anecdotes revealed little."
"The fact that they were one of the few examples BRT was willing to provide that appears to indicate that there have been no holistic changes to corporate governance in response to the new BRT statement," she wrote in her letter earlier this month.
And it's not that making those changes are impossible. Warren noted that there are "thriving large companies" certified as B-Corps — such as Danone, Allbirds, Ben & Jerry's, Cabot, and Patagonia — that have operationalized binding commitments to social responsibility and transparency (the country of Germany also requires that workers have representation on company boards). According to its website, the B-Corp Certification requires companies to meet a minimum score in a third-party assessment of their impact on workers, customers, community, and environment, as well as make those grades available online.
At the very least, Warren wants the Business Roundtable members to start by being transparent about their progress toward their new stated principles of corporate governance, too (her Sept. 17 letter asked for a response by Thursday).
"If the CEOs of the nation's largest corporations truly share my commitment to a stronger economy for workers, communities, and consumers, they should fully commit to the principles they claim to hold, put them into action, and publicly report on their progress," she wrote Tuesday.
Get Boston.com's browser alerts:
Enable breaking news notifications straight to your internet browser.