Politics
Poll: What needs to change about the presidential debate format?
Following Tuesday's presidential debate, the Commission on Presidential Debates announced it's making some changes. What should they be?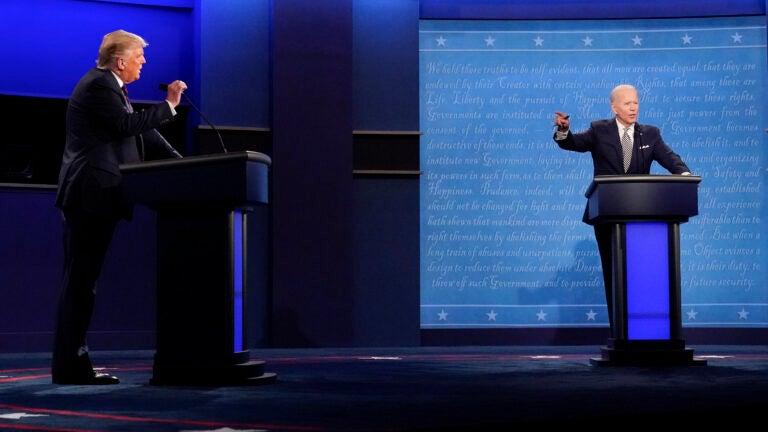 As a result of Tuesday's 90-minute presidential debate between Republican incumbent Donald Trump and Democratic challenger Joe Biden, which was fraught with incessant interruptions and flouted time constraints, the Commission on Presidential Debates released a statement that for the next two debates, the format would undergo change.
Statement from Commission on Presidential @Debates #debates pic.twitter.com/XCWOCVefdy

— CSPAN (@cspan) September 30, 2020
We asked readers what they thought of the debate, many of whom said it was disorganized, or difficult to watch. Over 15,000 wrote in, many mentioning that it was chaotic. A main issue with the debate's structure mentioned  by readers was the candidates talking over each other. During the debate, moderator Chris Wallace addressed this, addressing Trump, "the country would be better served if we allowed both people to speak with fewer interruptions. I'm appealing to you, sir, to do that."
Some readers suggested giving the moderator a mute button to silence the candidates while the other speaks. Others suggested extending the two-minute-per-question time limit so each has time to properly respond to an issue in greater depth. Some even suggested cancelling future debates altogether.
The next presidential debate is scheduled for October 15 in Miami in a town hall format where voters will be able to ask questions directly to the candidates.
So, we want to know: What changes do you think would help the format and structure of the presidential debates? Would you prefer it to be longer, or give the moderator an option to mute the candidates? Maybe you thought the 9 p.m. ET start time pushed back your bed time too far?  What might make it less disorderly? Let us know by taking the survey below or sending an email to [email protected].