Politics
Here's what Marty Walsh has said about the 2021 mayoral election
"I'm not a person who likes to look down the road too much."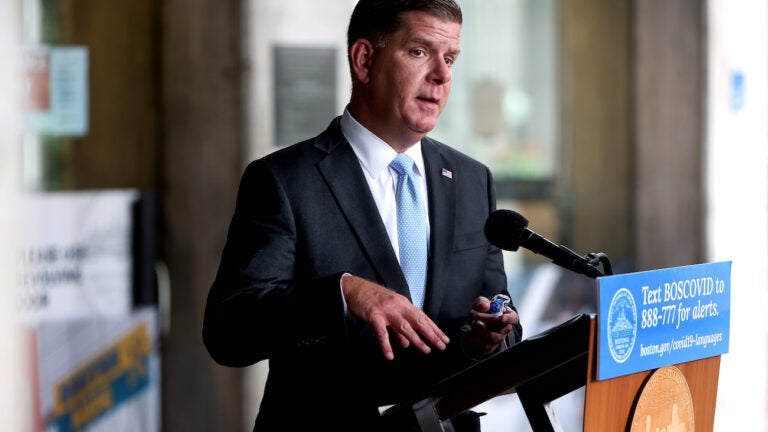 Mayor Marty Walsh has yet to officially say whether he'll try for a third term as Boston's chief executive — but that doesn't mean he hasn't dropped a few hints.
With what could be a three-way race shaping up over a year before Election Day, Walsh has been mum on the specifics of his own potential candidacy.
The city, he says, is facing a number of pressing issues in this moment, from the multi-layered ramifications of the coronavirus pandemic to the local dive into tackling the impacts of systemic racism and nurturing the push for racial justice that has commanded national attention in recent months.
The city's efforts around ending systemic racism were a major point of Walsh's yearly address to the Greater Boston Chamber of Commerce Tuesday.
"I don't want to be back here in this Chamber meeting three years from now, having this same conversation again," the mayor said. "We must do more."
The remark suggests Walsh plans on keeping his post through 2023, which means he would need to seek re-election next year.
During a Q&A session that followed, however, Walsh held back on divulging any re-election plans.
City councilors Michelle Wu and Andrea Campbell both launched their campaigns last month, each seeking to become Boston's first female mayor and person of color to helm City Hall.
"You have two people who have announced they are running for mayor, at least in part," Chamber Chief Executive Jim Rooney told Walsh. "They've suggested that it's time for change, so let me put it out there: Is it time for change or is there something you want to tell us today?"
The mayor said it's time for the city to focus on "what's in front of us" — primarily reopening Boston safely and keeping up efforts on tackling systemic racism. Walsh also pointed to the impending presidential election, now only weeks away.
"So my focus right now is on making sure that we continue to move Boston forward, and I think that, quite honestly, that's what everyone's, all of our focus should be on at this point," Walsh said. "There will be plenty of conversations and plenty of time to have you know debates and all that other stuff after, early next year and into next year. But right now I think it's important for us to stay focus on the job in front of us.
"I think I'm not a person who likes to look down the road too much because right now I don't know of any other time in the history of Boston or Massachusetts or our country that we've been faced with so many big, complicated issues, dilemmas in front of us," he continued. "What Boston and what this country needs I think is strong, steady leadership to move forward. And when I say that, I'm not necessarily talking just about me. I think collectively all of us, we need to continue to move forward and move our city forward."
Walsh's statements echo similar sentiments he expressed when discussing Campbell's entrance into the race last week.
"I look forward to having the conversations about advancing Boston at some point in the future. … There will be plenty of time to talk about campaigning and all that stuff," Walsh said on Sept. 25. "Right now I'm focused on my job as mayor of the City of Boston."
Campbell and Wu, who have both criticized how the Walsh administration has approached racial equity, have each offered they bring first-hand experience on what it's like to face racial injustices and disparities.
"I've lived my whole life knowing what it's like to feel unseen and unheard, even when you most need help," Wu, the daughter of Taiwanese immigrants, said in her announcement video.
Campbell, a Black Boston native, meanwhile, said the city "needs leadership that not only understands, but has lived the systemic inequities facing our residents every day."
After Wu officially unveiled her campaign last month, Walsh was asked whether the city needs to be more representative of its residents of color and for a response to Wu's criticism on how he has handled racial and economic disparities.
The mayor said those discussions will come at a later time.
"I'm not going to get into a political debate today," Walsh said on Sept. 15. "As I said, I commend the councilor on her decision. There will be plenty of time down the road to have many conversations about what direction Boston is going in, and, at that point, we'll address all those."
The mayor maintained his attention was not geared toward next year's election.
"We're housing hundreds of homeless individuals and families," Walsh said. "We are preparing to open a stunning new library in Nubian Square in Roxbury. We're advancing historic reforms with our police department, and at the same time we're focused on electing Joe Biden and Kamala Harris so my administration can have a partner in Washington over the next four years, and that's quite honestly what I'm working on right now."
Walsh, officially a candidate or not, still has significant support among voters.
A GBH/MassINC poll conducted in September found that Walsh had 46 percent of support in the potential three-way race. Wu carried 23 percent, and Campbell registered with 4 percent.
Should he step into the race, Walsh also has history on his side: No incumbent Boston mayor has lost a re-election bid since 1949, when acting mayor and city clerk John B. Hynes ousted James Michael Curley.
Get Boston.com's browser alerts:
Enable breaking news notifications straight to your internet browser.