Elizabeth Warren, Katherine Clark urge DEA in letter to finalize 'partial fill' regulation to combat opioid epidemic
The Massachusetts Democrats joined other members of Congress in condemning the agency's "foot-dragging" on the issue.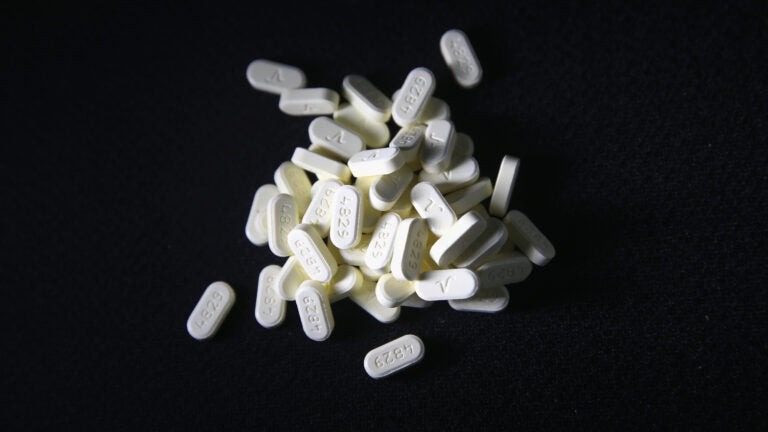 Sen. Elizabeth Warren and Rep. Katherine Clark are calling out the Drug Enforcement Administration for failing to finalize a regulation they say is "crucial" in combating the opioid epidemic.
In a letter released Tuesday, signed by the Massachusetts Democrats along with Sen. Dianne Feinstein of California, Sen. Shelley Moore Capito of West Virginia, and Rep. Steve Stivers of Ohio, the lawmakers urged the DEA to implement the "partial fill" regulation. The measure would help reduce the number of unused opioids in circulation, since it would allow patients to take home just a portion of their opioid prescription and return to the pharmacy for the remainder should it be necessary.
The current DEA definition only allows pharmacists to do a "partial fill" if they don't have enough medication to completely fulfill a prescription, the group of bipartisan lawmakers pointed out.
Warren and others wrote to the DEA with a similar request to update the "partial fill" regulation in 2018, two years after the Comprehensive Addiction and Recovery Act was signed into law. The failure of the DEA to update the regulation "prevents pharmacists from fulfilling the intent" of the section of the law that allows patients to take home a portion of their opioid prescription to reduce the number opioids in circulation, the lawmakers wrote.
Updating the regulation has taken on added urgency as COVID-19 exacerbates the opioid epidemic, the politicians stressed, noting a rise in overdoses amid the pandemic.
"The opioid crisis, meanwhile, continues to devastate communities across the country, exacerbated by the large number of opioids currently in circulation," the lawmakers wrote in their letter. "More than 50,000 Americans died in 2019 due to an opioid overdose — with tens of thousands more likely experiencing a nonfatal overdose. More than 10 million people aged 12 and older reported abusing an opioid in the past year, with over 50 percent of those who abused a prescription pain reliever reporting that they obtained it from a friend or family member, and just 37 percent as a prescription from their doctor."
Warren and her colleagues asked the DEA to provide an update on the regulation no later than Oct. 20.
"DEA's continuing foot-dragging on this issue puts Americans at risk," they wrote.
Loading...