Politics
Charlie Baker calls Trump's actions after COVID-19 diagnosis 'incredibly irresponsible'
"This is a very contagious virus, and it can have horrible consequences for people, period."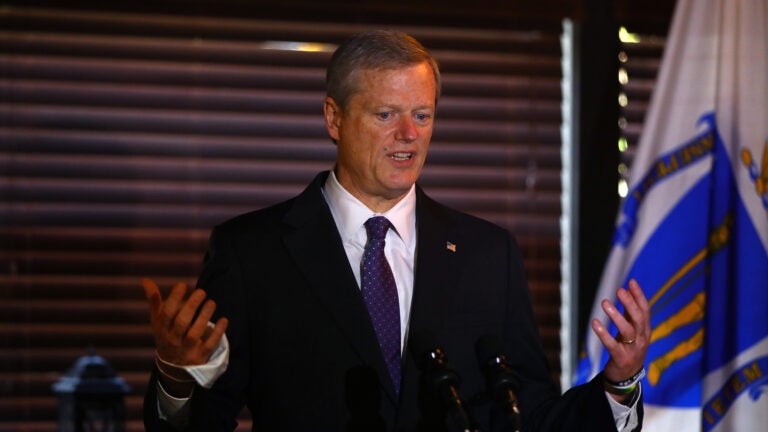 Gov. Charlie Baker says he is "incredibly grateful" for the fact that virtually all elected officials in Massachusetts have been consistent in their messaging about the seriousness of COVID-19.
He can't say the same for the federal government.
During a press conference Tuesday afternoon, Baker said he was "glad to see" that President Donald Trump and first lady Melania Trump were recovering from their "episode" with COVID-19.
"I think it's fair to say that anybody who's seen anyone or talked to anybody or dealt with anybody or any family that's dealt with COVID over the course of the past seven or eight months wouldn't wish that on anybody," Baker said, calling the pandemic an "enormous challenge" due to the disease's "contagious nature and the unpredictable way it affects people of all ages."
However, the Republican governor said it was "incredibly irresponsible" for Trump, a fellow Republican, to continue to downplay the seriousness of the disease. Upon his release from the hospital Monday following several days of treatment for COVID-19, Trump sent a tweet stating, "Don't be afraid of Covid. Don't let it dominate your life," which was criticized by public health experts. In his prepared remarks Tuesday afternoon, Baker joined in.
"I think it's incredibly irresponsible for the president or any other public official to ignore the advice of so many of the folks in the public health, epidemiological, and infectious disease community, who have made absolutely clear to us all time and time again that this is a contagion, it is massively contagious, and it will wreak havoc on many people if they become infected," Baker said, adding that he hopes the federal government "is able to continue to function throughout this difficult period."
His comment comes as a growing number of White House aides and several Republican lawmakers in Washington, D.C., have tested positive for COVID-19 in the past week.
Baker acknowledged that there are "many people" who will contract COVID-19 and not experience any symptoms — but he stressed that those people are still "perfectly capable" of transmitting the disease to those who "will be horribly negatively affected by it."
"This is a very contagious virus, and it can have horrible consequences for people, period," Baker said.
Baker noted that the Centers for Disease Control and Prevention has continued to stress the importance of face coverings, after Trump himself was seen removing his mask upon returning to the White House.
"I think all of us in public life — and I would include the president in this category — need to carry the message that while this thing may not be bad for some, it can be deadly for others," he said. "And if we are serious about being all in this together, we all need to do the things that stop the spread, and that starts with wearing a face covering."
Baker credited the emphasis on mask-wearing for creating a culture of compliance in Massachusetts. Asked if Trump was undermining that message, Baker reiterated that the president's "own CDC" says to wear a mask and that COVID-19 "can and will be deadly" for many people. The governor noted that his "good friend" Robert Lewis Jr., a local youth advocate, nearly died from the disease. He also referenced a Boston Globe story this week about a Massachusetts resident who died from COVID-19 after refusing to weak a mask, citing Trump's previous statements downplaying the disease.
"There are 200,000 people who died from this thing," Baker said "And many others who didn't die because they were saved by the health care system. It is a brutal, vicious disease for those it negatively impacts. And it is horribly contagious to begin with. Those are the facts."