Politics
President Trump signs Seth Moulton's bill to make 988 the national suicide hotline number
"This is especially important in the wake of increased isolation, fear, grief, and substance use due to COVID-19."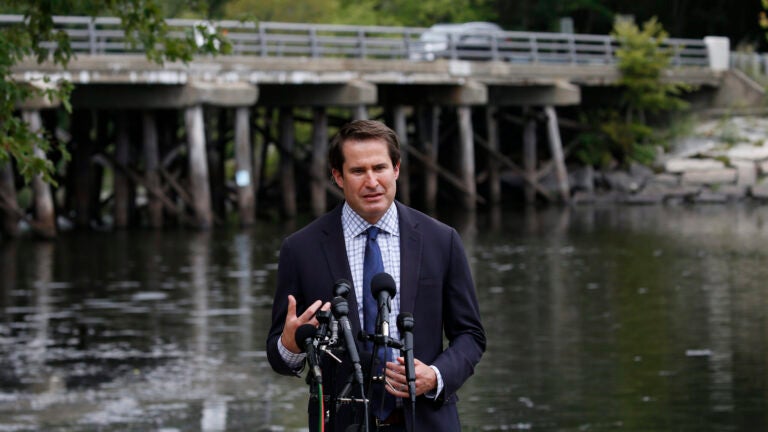 Across the United States, 911 is the number to call in the case of emergencies, 211 is the number for local community services, and 511 is the number for transportation information.
Now, under a bill co-written by Rep. Seth Moulton and signed into law Saturday by President Donald Trump, Americans will have a new three-digit hotline, 988, to call if they have questions or concerns about the mental health of a loved one — or their own.
Between re-election campaign rallies over the weekend, Trump signed The National Suicide Hotline Designation Act aboard Air Force One, according to Moulton's office. The bipartisan bill — introduced last year by the Massachusetts Democrat and Rep. Chris Stewart, a Utah Republican — unifies the country's existing suicide prevention and mental health hotlines run by local crisis centers under the simple 988 number.
According to the National Institutes of Health, suicide is the second-leading cause of death for individuals between the ages of 10 and 34, and the fourth-leading cause among those between 35 and 54.
"When your house is on fire, you can get help by calling 9-1-1," Moulton said in a statement. "A year-and-a-half ago, we set a goal to make it just as easy to get help in a mental health emergency. Today we finished the job and made 988 the national number for mental health emergencies.
The Salem congressman, who disclosed struggling with post-traumatic stress after his combat experience in the Iraq War and made mental health a focus point of his short-lived 2020 presidential campaign, called the new law "a win for every American who has been affected by a mental illness."
"It is a national step forward out of the shadows of stigma that prevent too many people from getting help and into a new era when mental health care is easy to get and normal to talk about," he said. "I'm so proud of my team and the partners that got this done. This will save tens of thousands of lives every year."
Callers will still be able to reach the national suicide prevention line at the existing 10-digit number: 1-800-273-8255.
But mental health advocates say the simplified number will make it easier for "millions" of Americans to access live-saving resources, particularly amid spiking reports of mental health struggles amid the COVID-19 pandemic. According to a survey by the Centers for Disease Control and Prevention this summer, nearly 11 percent of respondents said they seriously considered suicide in the previous 30 days, which was more than double the rate in 2018. Younger adults, people of color, and essential workers also reported disproportionately high mental health issues, from anxiety to depression to suicide ideation.
Chuck Ingoglia, the president and CEO of the National Council for Behavioral Health, said that Trump's signing of The National Suicide Hotline Designation Act "represents the single-most important development to reduce suicide in America to date."
"This is especially important in the wake of increased isolation, fear, grief, and substance use due to COVID-19," Ingoglia said in a statement.
The enactment of the law comes after the Federal Communications Commission approved a rule in July requiring all phone service providers to direct 988 calls to the existing National Suicide Prevention Lifeline by July 16, 2022. According to Moulton's office, the number could be ready sooner in many locations. In the meantime, individuals are encouraged to continue to use the 1-800-273-8255 suicide prevention number until the new 988 hotline is fully implemented.
The new law signed Saturday cements the 2022 deadline and provides permission to states to fund the often under-resourced suicide hotline similar to how they fund 911 call centers (for example, Massachusetts levies a small monthly surcharge on telephone bills).
Additionally, the new law directs federal agencies to develop a strategy to help National Suicide Prevention Lifeline counselors provide competent, specialized services fo high-risk populations, including LGBTQ youth, minorities, and rural individuals.
"This vital legislation will require the Lifeline to provide specialized services for LGBTQ youth and other high-risk groups, and make it so much easier for millions of Americans to find support in moments of crisis," Sam Brinton,  the vice president of advocacy and government affairs for The Trevor Project, said in a statement. "We express our sincere gratitude to Congressmen Moulton and Stewart for their leadership in championing the expansion of suicide prevention resources."
The 988 number is now the seventh three-digit number that the FCC has assigned for national use. According to the commission, the other numbers are 211 for community information and referral services; 311 for non-emergency police services; 511 for traveler information services; 711 for the Telecommunications Relay Service; 811 for notice of excavation activities; and 911 for emergencies.
Get Boston.com's browser alerts:
Enable breaking news notifications straight to your internet browser.