Politics
Joe Biden's campaign is reportedly discussing Charlie Baker for a potential cabinet position
The Massachusetts governor, who is among several Republicans on the shortlist, said Tuesday that he was "flattered," but intends to serve the rest of his term.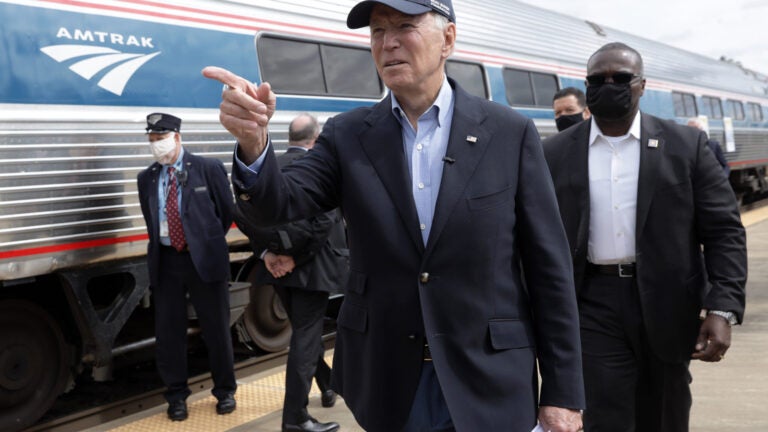 Massachusetts Gov. Charlie Baker has consistently insisted that he's focused on his current job.
However, some members of Joe Biden's presidential campaign are apparently eyeing his next one.
According to a Politico report Tuesday morning, Baker is among several Republicans being considered for potential cabinet positions in a Biden administration should the Democratic presidential nominee and former vice president defeat President Donald Trump.
Despite pushback from progressives, the Biden campaign is analyzing some Republicans' backgrounds in order to provide the Democrat some GOP options to potentially pick to lead federal agencies, according to Politico. A spokesperson for the Biden transition told the outlet that "diversity of ideology and background is a core value of the transition," while noting that no decision would be made until after the Nov. 3 election.
Baker, a moderate blue-state Republican who was easily re-elected to a second term in 2018, is the only current elected official on the reported shortlist. 
According to Politico, other names that have been floated include former eBay CEO Meg Whitman, who was the Republican candidate for governor of California in 2010; former Ohio Gov. John Kasich; former Arizona Sen. Jeff Flake; and former Pennsylvania Rep. Charlie Dent. Whitman and Kasich both spoke at the Democratic National Convention this summer.
For his part, Baker has repeatedly sidestepped the 2020 presidential election, while criticizing the partisan nature of national politics.
However, the report Tuesday comes a week after the popular governor — who has long criticized Trump, especially during the pandemic — affirmed that he would not support the divisive GOP president's re-election. Though unlike the other Republicans reportedly on the Biden campaign's shortlist, Baker has not declared support for the Democratic nominee.
During a press conference Tuesday afternoon, Baker said he was "flattered to be considered, but I like the job I have."
"Both the lieutenant governor and I said when we ran for re-election two years ago — seems like 100 years ago — that we were going to serve our terms, and I intend to do that," he said. "You're going to be stuck with me for at least the next two years anyway."
Baker, who comes from a long line of prominent New England Republicans, has never publicly expressed ambitions beyond the Corner Office. However, his father, Charles D. Baker, did serve in several different positions in the administrations of Presidents Richard Nixon and Ronald Reagan.
In late March, Biden praised Baker's response in the early stages of the COVID-19 crisis, though he mistakenly referred to the 63-year-old governor as "Charlie Parker." Biden also gave Baker a winking shoutout in a video message during the 2019 South Boston St. Patrick's Day Breakfast, after mentioning a number of local Democrats.
"I'd mention you, Charlie," Biden said, "but the last time I said something nice about a Republican, it got them in trouble, and I don't want to get you in trouble."
Get Boston.com's browser alerts:
Enable breaking news notifications straight to your internet browser.