Politics
Here's how readers watched the presidential town halls and what they thought
"Trump was attacked, Biden was thrown softballs," one reader wrote.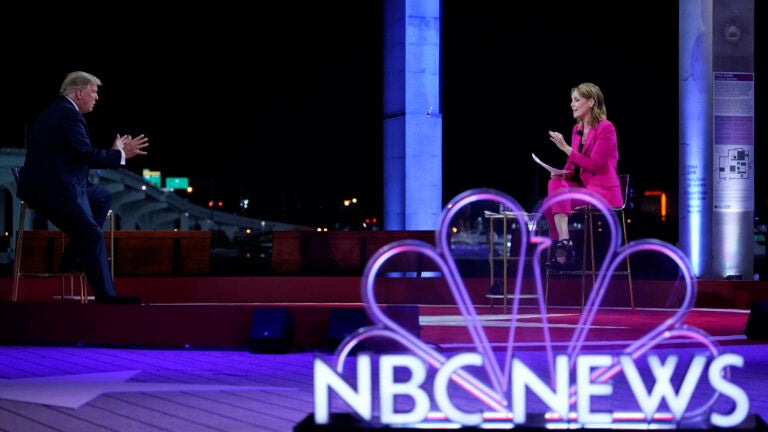 Last week, the two presidential candidates answered questions from moderators and voters during town halls on prime-time, just not on the same channels. Democratic candidate Joe Biden fielded questions George Stephanopoulos on ABC, while President Donald Trump sat down with Savannah Guthrie on NBC at the same time.
The previously scheduled debate was canceled, after Trump refused to participate in a virtual debate, rejecting the Commission on Presidential Debates decision to go virtual following the president's recent COVID-19 diagnosis.
Thursday night's town halls were a stark contrast from the previous debate, which was categorized by its interruptions and personal jabs between presidential candidates. Separated from one another, the candidates attempted to speak directly to the American voter on varying topics, like handling of the coronavirus pandemic, the spread of conspiracy theories, court packing, and fracking.
Prior to the town halls we asked Boston.com readers who they would tune into. Of the nearly one thousand responses (995) a majority said they would tune in to watch Donald Trump.
On reader wrote, "I would like to hear President Trump argue his side and have a chance to answer important questions." Another wrote, "I want Joe Biden to illustrate his kindness and caring for the American people, and call out the lack of name calling, etc." Several readers mentioned that the town halls wouldn't change their vote, or that they've already voted.
Interestingly, 16 responses used the buzzword "softball" to describe the line of questioning they assumed Biden would get on ABC. "I anticipate that Biden will get softball questions and refuse to give any substantive answers. I don't need to hear him say nothing. At least I will hear and honest opinion from Trump. I can't make an informed decision if Biden/Harris won't give answers," wrote one reader.
After the town halls aired, we polled our readers what they thought. A majority (45%) said they actually flipped back and forth channels, and when asked who "won" they picked Joe Biden (23%). More readers said they ended up not watching either town hall (15%) compared with our previous poll where only 10% did not plan to tune in. Several people were upset at the networks for scheduling the events at the same time.
Here's a roundup of reader responses
Some submissions were edited for length and clarity. 
"President [Trump] was vague and inaccurate as usual. Biden knew the issues and topics, but often went into long soliloquies to present them. I'd take Biden on being more presidential on topics, but appeared to come across as old. Trump spoke better, but deflected most details and issues, and came across as arrogant and dishonest on most topics. Biden was my choice."
"I watched Trump due to the same urge to slow down when driving by a car accident. It was awesome seeing Guthrie actually ask the same follow ups that intelligent viewers were yelling at the TV. You could tell Trump wasn't used to anyone confronting his nonsense."
"Stark difference between the two, Trump was being debated by the moderator which is fine, just should be consistent between the two candidates."
"I think it was asinine for NBC to stage its Trump event simultaneously with the prescheduled Biden event. Bad for an informed electorate. That bad faith programming 'won' my attention more than anything actually said during the dueling events."
"I saw the major moments from Trump's meltdown. He is horrible, I liar, not to be trusted. Hands down, Joe Biden was the winner. As were the 13.9 million who saw Trump, yet again, unprepared."
"Trump was attacked, Biden was thrown softballs. It was embarrassing. By default, Trump won as he was dealt the toughest challenge and kept up, answered."
"Trump won my attention. Biden's rambling seems worse even though he wasn't challenged in any way. Trump always seems to be treated unfairly but he holds his own and doesn't get flustered."
"Biden, for sure. He's a much better person than Trump, obviously. He also happens to be a far more nuanced and informed politician. I enjoyed hearing his views uninterrupted by the other guy."
"Biden kept me watching. I was going to turn to Trump during commercials, but by the time I remembered to do that his town hall was over."
"Very well spoken, and powerful. Tells it like it is, keep up the fantastic work Mr. President."
"One candidate answered clearly and mostly honestly. The other candidate struggled to speak in complete sentences. Unfortunately for our nation that second candidate is the a president. Lord help us for the next 3 months!"
"I like Biden but felt Trump won. He was calm and did a good job. Surprisingly, I thought Guthrie interrupted Trump and wouldn't let him finish. I thought Biden rambled on and was not on point when answering questions."
"Well Biden was very informative/educated on policy and government which I appreciated. Trump was entertaining because of the show he puts on dodging questions and simply just being the idiot he is. For me, Biden 100% won."
The final presidential debate is scheduled for October 22 in Nashville, Tenn. On Monday, the Commission for Presidential Debates announced that the upcoming debate will have a twist. This time, the candidates' microphones will be muted while the other responds during their allotted two minutes.
Do you think one more debate will influence your vote? Let us know in the survey below or by emailing

[email protected]

.
Get Boston.com's browser alerts:
Enable breaking news notifications straight to your internet browser.