Politics
Poll: Do you think Donald Trump or Joe Biden will win the debate?
Tonight President Donald Trump and Former Vice President Joe Biden will face each other, in-person, for the final debate before election night.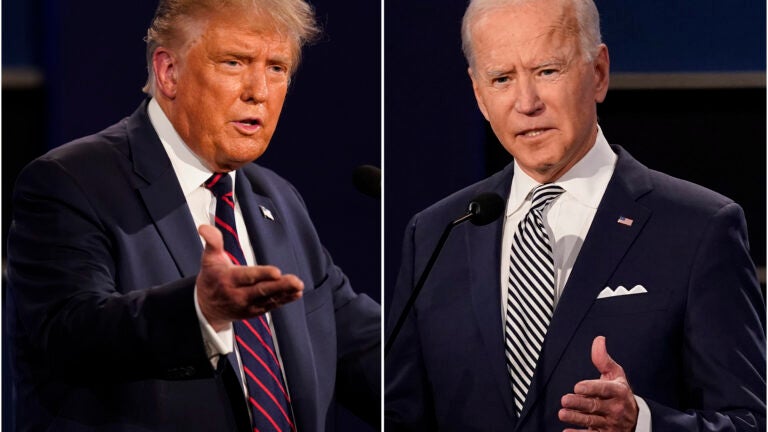 On Thursday night, the final presidential debate will take place in Nashville, Tennessee, where Democratic nominee Joe Biden will face incumbent President Donald Trump on stage, in-person.
Moderated by NBC News' Kristen Welker, the two candidates will argue their case for the presidency and speak on announced topics: fighting COVID-19, American families, race in America, climate change, national security, and leadership. Following the last debate, which was fraught with interruption, the nonpartisan Commission for Presidential Debates announced that during Thursday night's debate the candidate's microphones will be muted for the initial two-minute allotted response time. The mute button will not be used during the open discussion portion of the debate.
On Monday, Trump's campaign manager Bill Stepien, put out a statement addressed to the "Biden Debate Commission" urging them to change the announced topics to instead focus mainly on foreign policy. "As is the longstanding custom, and as had been promised by the Commission on Presidential Debates, we had expected that foreign policy would be the central focus of the October 22 debate," Stepien wrote.
The debate will air at 9 p.m. EDT on all major cable networks.
We asked our readers what they thought of the first debate. 15,000 readers responded, and a majority (54.9%) said Joe Biden won. One reader wrote, "Trump lost the second he wouldn't condemn violent white nationalists." Then, what followed were two separate town hall events, after Trump refused to participate in a virtual debate. We asked our readers who they watched and what they thought of each. Before the town halls aired more people said they would tune in to watch Donald Trump (43.8%) than Joe Biden. After it aired, a majority of folks said they actually flipped between both candidates (44.6%). A lot of readers noted there was a stark contrast between the two. Several readers wrote in that Biden was thrown "softball questions."
Many said the performances wouldn't change their minds, and others that they've already voted. So it begs the follow-up question: will either candidate be able to change a voter's mind just weeks away from the election? Is there a topic you would like Donald Trump or Joe Biden to address,? Let us know what you think about the last debate in our survey below or by emailing [email protected] We'll be monitoring the debate and asking readers their thoughts afterwards.
Get Boston.com's browser alerts:
Enable breaking news notifications straight to your internet browser.