Politics
A new map shows only two Massachusetts towns had more Trump donors than Biden donors
A total of three Bay State zip codes favored the Republican president.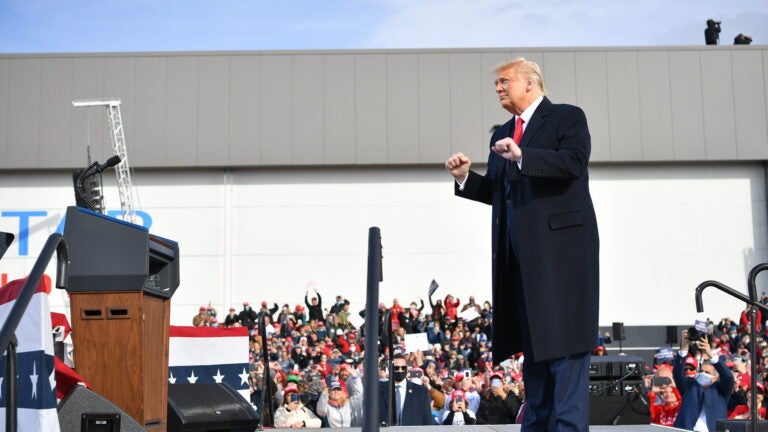 Massachusetts is often called a "deep blue" state.
When it comes to donations in the 2020 presidential election, it looks even bluer.
The New York Times released a map Monday that uses campaign finance data to break down the number of respective donors to Republican President Donald Trump and Democratic presidential nominee Joe Biden by zip code. And according to the map, just two of the 351 cities and towns in Massachusetts had more Trump donors than Biden donors over the past six months.
In fact, in the sea of varying shades of blue, only three Bay State zip codes stood out as lightly red: 01077, 01611, and 02743. Those numbers correspond to Southwick, the Cherry Valley neighborhood in Leicester, and Acushnet.
Even then, the number of Trump donors just barely outnumbered the number of people who sent money to Biden.
In Southwick, a western Massachusetts town of nearly 10,000 on the Connecticut border, there were 104 Trump donors and 101 Biden donors. In Acushnet, the similarly sized eastward neighbor of New Bedford, there were 90 Trump donors and 81 Biden donors. And in Cherry Valley, the incumbent president's donors outnumbered the former vice president's donors by the slim margin of 19 to 16 (however, the rest of Leicester gave to Biden by a wider margin of 74 to 43).
For the rest of the state, which hasn't voted for a Republican president since 1984, the balance was flipped in Biden's favor — sometimes strikingly. The more populous area around Boston presented as a near-solid dark blue blob.
Some zip codes in the Boston area had more than 10 times as many Biden donors as Trump donors. For example, the 02138 zip code, which includes Harvard University and most of west Cambridge (not to mention the home of Sen. Elizabeth Warren), had more than 3,070 Biden donors and just 78 Trump donors. The neighboring 02139 zip code had 2,558 Biden donors and 59 Trump donors. The 02155 zip code in Medford had 1,985 Biden donors and 275 Trump donors.
The results are emblematic of Biden's fundraising advantage nationwide, powered by some of the country's wealthiest and most educated zip codes amid increasing geographic polarization, according to the Times.
Consider: In ZIP codes where more than 65% were college grads — just over 1,000 out of nearly 32,000 ZIPs— Biden outraised Trump $478 million to $104 million.

Everywhere else? Trump was ahead by almost $40 million.https://t.co/F4aJJrrhxD pic.twitter.com/kK60oEky96

— Shane Goldmacher (@ShaneGoldmacher) October 26, 2020
The map — which consists of nearly 32,000 populated zip codes where donations were reported — merged direct donations to Trump's and Biden's campaigns, as well as their joint fundraising committees and donation-processing sites like WinRed and ActBlue. According to the Times, the analysis did not include donations sent directly to the Republican and Democratic national parties, but still accounted more than 90 percent of contributions to Trump's and Biden's campaigns during the six-month period (it also did not include the money Trump fundraised before Biden emerged as his party's likely nominee).
Despite the demographic differences, the average donation to the two candidates remained relatively close: $71 for Trump and $76 for Biden.
Overall, Biden out-raised Trump during the period, $1.07 billion to $734 million. Of course, Trump was also handily out-raised in the 2016 election.
Get Boston.com's browser alerts:
Enable breaking news notifications straight to your internet browser.